Facebook said Tuesday it removed over a dozen pages, profiles and accounts from its social network ahead of this year's midterm elections in November, warning of "bad actors" and comparing them to a previous investigation that concluded Russia-backed accounts abused the network during the 2016 election.
Top executives pledge to be more vigilant this time around. Facebook has so far removed eight pages, 17 profiles, and seven Instagram accounts for violating its ban on "coordinated inauthentic behavior." More than 290,000 accounts followed at least one of the pages, which had collectively already published 9,500 posts since the earliest page's creation in March 2017.
Facebook said the pages also paid in total around $11,000 to run 150 ads ― purchasing them through a third party in an attempt to hide their identity.
"We're still in the very early stages of our investigation and don't have all the facts — including who may be behind this," the company said in an announcement. "But we are sharing what we know today given the connection between these bad actors and protests that are planned in Washington next week."
Facebook COO Sheryl Sandberg said the company decided to take action Tuesday, ahead of a protest that an "inauthentic" page called the "Resisters" was helping organize over the Aug. 10 weekend in Washington, D.C.: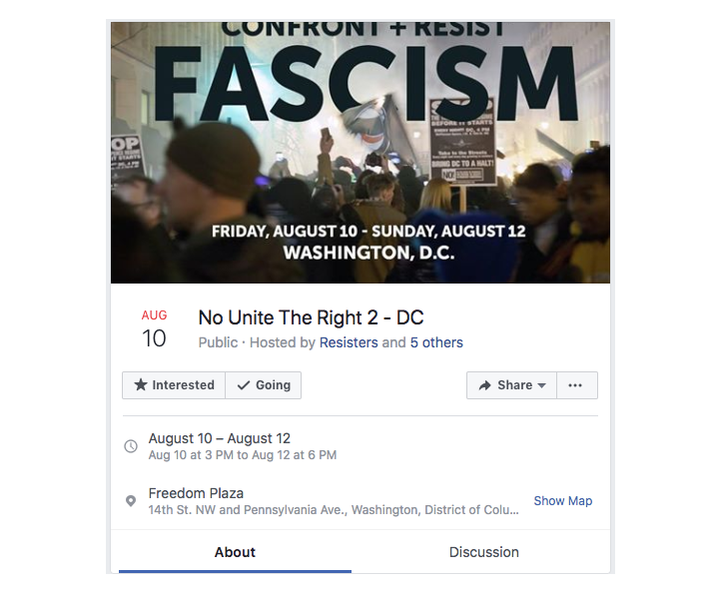 Around 2,600 people indicated they were interested in attending the "No Unite The Right 2" event, and 600 said they would attend. It's one of thirty total events the pages have organized, said Nathaniel Gleicher, Facebook's head of cybersecurity policy, some of which have already taken place.
While its executives aren't pointing the finger at Russia, they said it's strikingly similar to a previous internal investigation that concluded the Russia-backed Internet Research Agency pushed divisive content to 126 million Americans ahead of the 2016 presidential elections.
"Whoever set up these accounts went to much greater lengths to obscure their identities" than Russia did in 2016, Facebook COO Sheryl Sandberg said Tuesday.
The 2016 campaign focused on hot-button topics that often divide Americans, including subjects like immigration, gun control, race, religion and LGBTQ issues.
So, too, does the new undertaking; the new batch of most popular pages include "Aztlan Warriors," "Black Elevation," "Mindful Being," and "Resisters."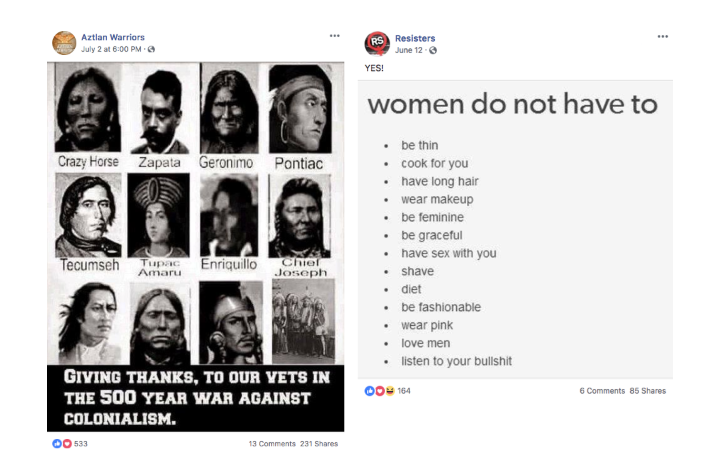 While Facebook still hasn't determined who created the pages, Sen. Mark Warner (D-Va.), the lead Democrat on the Senate Intelligence Committee, is blaming Russia.
"Today's disclosure is further evidence that the Kremlin continues to exploit platforms like Facebook to sow division and spread disinformation," Warner said in a statement Tuesday. "I am glad that Facebook is taking some steps to pinpoint and address this activity."
Support HuffPost
The Stakes Have Never Been Higher
Popular in the Community