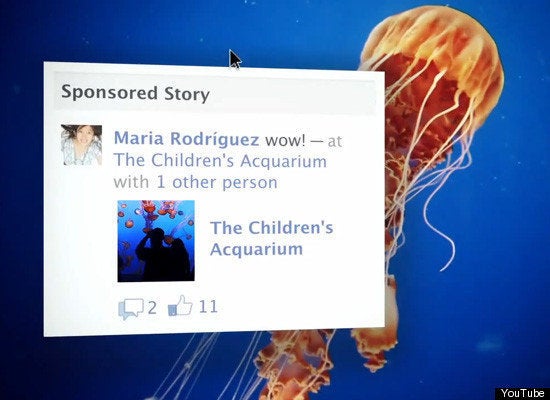 Facebook is rolling out a new advertising format called Sponsored Stories, which allows advertisers to prioritize content from the News Feed by turning your Facebook activity into promoted content.
Here's how it works: If one of your Page updates, Likes, app interactions or Place check-ins mention a participating brand, that story will appear in the column that appears at the right of your friends' News Feeds. "For example," writes Advertising Age, "if Starbucks buys a 'sponsored story' ad, the status of a user's friends who check into or 'like' Starbucks will run twice: once in the user's news feed, and again as a paid ad for Starbucks."
Sponsored Stories are seen only by your friends that would normally see your stories in their News Feeds. However, according to the product's help page , there is no op-out option for Sponsored Stories.
Coke, Levi's, (RED), Donors Choose, and Anheuser Busch are among Facebook's launch partners, Mashable reports, adding "anybody will be able to bid on Sponsored Story slots (by a per-impression and/or a per-click basis) starting January 25." [NOTE: A previous version of this story incorrectly identified (RED) as a non-profit. It is a for profit company.]
Already, similarities are being drawn between Sponsored Stories and Twitter's Promoted Tweets, which presented advertisements in the form of content for the site. But Facebook's approach goes a step further by turning the activities of its users into revenue for the site.
Facebook hopes that these Sponsored Stories (aka "word-of-mouth recommendations") will engage users more than the site's targeted ads. "Seeing that a friend has checked in at Starbucks is a much more compelling reason to visit than a standard advertisement telling a user to go get a coffee," Inside Facebook writes.
Watch the video (below) to see how a Sponsored Story will appear on your News Feed, then tell us how you feel about Facebook turning your activities into "recommendations" for your friends.
WATCH:
Related
Popular in the Community