 The more the merrier, right? Except, maybe not on Facebook.
According to a recent study from University of Edinburgh Business School, increasing your friend count on this giant social networking site can also increase levels of stress, particularly if your acquaintances originate from different social groups.
"[G]iven that social networks are primarily arenas for self-presentation, they are inextricably linked with the possibility for social anxiety," reads the study, sent to Huffington Post through email.
Researchers polled over 300 people recruited via Facebook for the report. Of the sample size, 84 percent were "in full time education," at the average age of 21. Participants answered questions about spheres of friends they have acquired, picking between 17 labels such as "family," "friends I met online," "employers," etc. Those surveyed were then asked to discuss which social groups caused them stress due to Facebook postings.
The study found that anxiety increases when a user presents a version of themselves on Facebook that will not appeal to all audiences. For example, the report cites pictures with alcohol or posts about a "reckless night out" can cause stress, often because this illustrates a form of personality not revealed to every social circle.
Basically, Facebook's all fun and games until your nosey aunt or your boss shows up.
While this news isn't exactly mind-blowing, it does raise a few questions about how we view people online, and how important our findings may be. What does self-presentation look like in the digital age?
Only about a third of responders used Facebook's privacy settings.
Users friended people from an average of seven different social circles.
These same users typically check the profiles of (aka "Facebook stalk") only three of these social circles.
Over 63 percent of responders are friends with former romantic partners, while only 56 percent are friends with current partners.
Related
Before You Go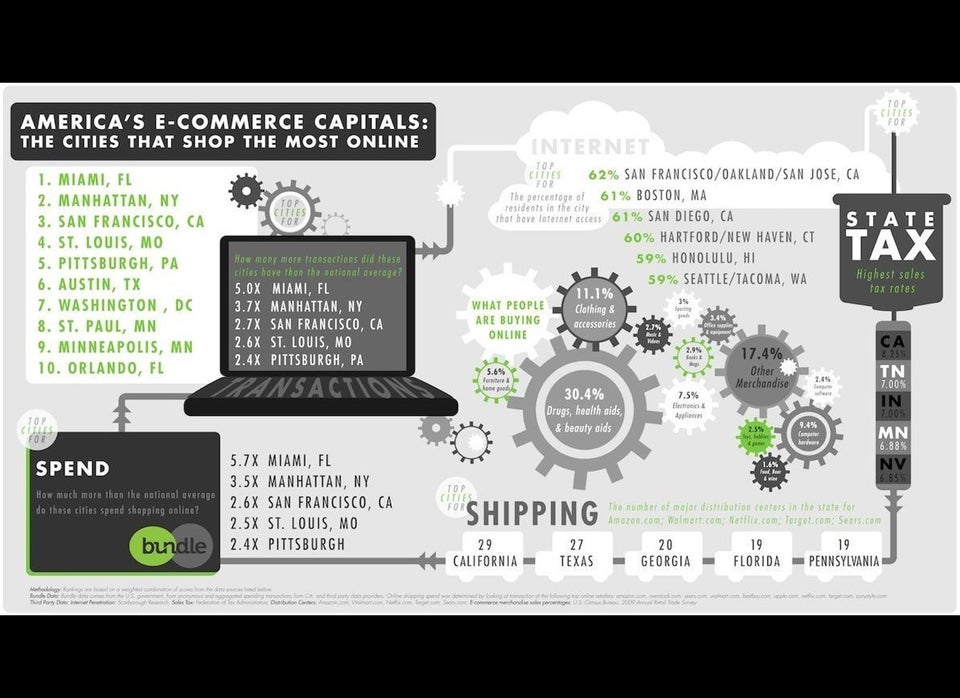 10 Cities Who Shop The Most Online
Popular in the Community