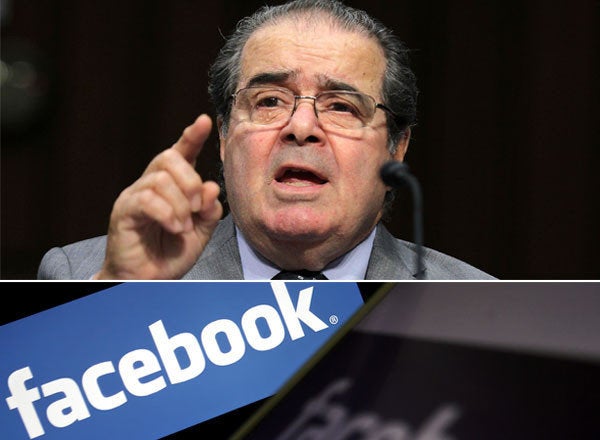 WASHINGTON -- What do Facebook and the conservative majority of the Supreme Court have in common? Based on Monday's oral argument, it appears they're both willing to make it more difficult for homebuyers to sue companies that have violated federal law in real estate transactions.
The critically important legal concept of "standing" -- or the ability to have one's claims judged in court -- lies at the heart of First American Financial Corp. v. Edwards. The Supreme Court has previously held that under the Constitution, standing in a federal court requires the plaintiff to show that the defendant's actions caused her "injury-in-fact" and that the injury consisted of "concrete and particularized" harm. Yet the law at issue in this case, the Real Estate Settlement Procedures Act, provides plaintiffs with a right to sue defendants who violate the RESPA kickback ban even if the kickback does not actually injure the plaintiff -- through higher fees or inadequate service.
Facebook, which is not directly involved in the case, submitted a friend-of-the-court brief not because the company has suddenly decided to supplement its business by venturing into the real property market. Rather, the social media giant wrote that it's supporting the title insurer defendant because a ruling for the homebuyer plaintiff could empower a Facebook user to launch a "potentially bankrupting" class action on behalf of herself and millions of other users. Facebook fears they could seek billions of dollars in damages under federal electronic privacy laws with similar provisions to the one found in RESPA.
Although the justices name-checked neither those electronic privacy laws nor Facebook during Monday's oral argument, it was clear they were concerned about the broader ramifications of their decision on numerous other acts of Congress.
First American's lawyer, Aaron Panner, began by arguing that the plaintiff showed "no misappropriation of her property, no loss of desired opportunity or benefit, [and] no injury to reputation" necessary to meet the Court's constitutional requirements for standing. Justice Stephen Breyer interrupted Panner (who was one of Breyer's law clerks 15 years ago) with a scenario in which Congress passes a law that gives individuals the right to sue for money damages when telemarketers call their homes during certain hours. According to Breyer's hypothetical, Congress determined that "the harm was getting the call," so if "my grandmother, who is always complaining no one ever calls her, loved the telephone call ... can she sue?"
Panner responded that Breyer's grandmother could not sue because she did not suffer an actual injury, despite Congress' determination that the call itself was intrinsically harmful. Justice Ruth Bader Ginsburg resisted Panner's answer. Returning to the facts of the case, she said that "the problem that Congress was concerned about was that you can't tell until the house is going to be sold in the end how adequate the title insurance was."
In addition, Justice Sonia Sotomayor expressed her dissatisfaction with the argument that Congress cannot presume injury from certain actions determined to be harmful. And Justice Elena Kagan voiced her support for not requiring the plaintiff to prove actual injury "because there's been a judgment made that these kinds of practices tend to decrease service and tend to increase price and therefore I don't have to prove those matters."
Amid the liberal wing's line of attack, Justice Antonin Scalia provided Panner with some moments of refuge. Almost 20 years ago, Scalia had cobbled together pieces of past cases to create a more conservative reading of the Constitution's command that the Court hear only "cases or controversies." That opinion, which instituted the injury-in-fact requirement, serves as the bedrock upon which the Court now rests its standing jurisprudence, and Scalia on Monday was not about to let things like congressional intent or the plain text of the law get in his way.
So when Jeffrey Lamken stood up to assert that RESPA gave his client, Denise Edwards, the right to sue when she bought title insurance tainted by what she alleges to be an unlawful kickback scheme, Scalia pushed back. "How does it harm her to get a title insurance policy for the price of $453 from what you call a kickback-free seller, as opposed to getting the same title insurance for $453 from a non-kickback-free seller? Is that an injury-in-fact?" he asked.
Lamken, who clerked for Justice Sandra Day O'Connor the year after she dissented from Scalia's seminal standing opinion, maintained that it was. "The very fact of the kickback undermines the incentive to pursue her best interest," Lamken argued. And because of the difficulty in proving which real estate settlement service is best for individual homebuyers, Congress sought to get itself and the courts "out of the business of trying to regulate the underlying economics" and instead created an enforceable "right to get the referral from somebody who has expertise and who doesn't have a conflict created by a kickback," Lamken said.
"But the issue here," responded Scalia, "is whether Congress can get out of the business, whether it is the function of courts to provide relief to people who haven't been injured."
Chief Justice John Roberts and Justice Samuel Alito also gave Lamken a rough time, with the chief taking up several minutes of Lamken's presentation to insist that violation of RESPA was too "conjectural" to be an actual injury. As for Justice Anthony Kennedy, he seemed to find the plaintiff's position simply without substance. "If you were to say he was entitled to it and therefore, there is an injury, that's just -- that's just circular," said Kennedy.
After Assistant Solicitor General Anthony Yang, offering the Obama administration's support for the plaintiff, faced similar skepticism from Scalia, Roberts, and Kennedy, it became clear that the Court would likely read into RESPA -- and with it, about a dozen other federal laws -- an injury-in-fact requirement unstated in the statute's text. Accordingly, Facebook may soon be able to boast on its wall that it has made five new friends who could very well save the company billions of dollars.

Popular in the Community