Facebook announced on its Facebook Page that it is trying out a new feature that aims to reduce inbox overload by cutting down the number of notification emails Facebook sends to its users.
"We're testing a feature for people who are very active on Facebook and receive lots of email notifications from us. We'll provide a new summary email and turn off most individual email notifications. If you want to turn them back on, there's a control in your account settings," Facebook wrote .
Currently, Facebook sends notifications "whenever actions are taken on Facebook that involve you." These "actions" span a wide range and include everything from being tagged in photos to receiving an event invitation to having a friend post to a Group. For active users who have enabled email alerts for a variety of features, this can quickly lead to an inbox overloaded with emails from Facebook that, to Facebook's chagrin, may then go ignored.
The social network also posted a screenshot of what the new tool might look like (see image below).
InsideFacebook, which has more helpful details about the feature, also noted that Facebook could irritate some users by automatically changing their email notification preferences as part of the test:
Those in the test will have their account settings automatically changed to turn off most of their email notifications, which might surprise and annoy some users, though they'll be able turn them all back on by unchecking the new "Email Frequency" account setting. [...] Forcibly changing account settings could upset some users even if it they eventually find the summaries valuable.
This new feature comes just weeks after Facebook unveiled sweeping changes to its sharing and privacy settings, which, among other updates, enabled users to review all tagged posts before they appeared on their profiles and to screen tags added to their posts, two changes that might increase the number of alerts users receive from the social networking site.
Facebook is expected to announce even more updates at its upcoming annual f8 conference, which will take place later this month.
What do you make of the new email setting: do you mind having Facebook automatically change your preferences? Are you overwhelmed by the emails you get from Facebook--or does this seem unnecessary? Weigh in below.
LOOK: Got a screenshot of what the new email digest looks like that you'd like to share? Email us: technology [at] huffingtonpost.com.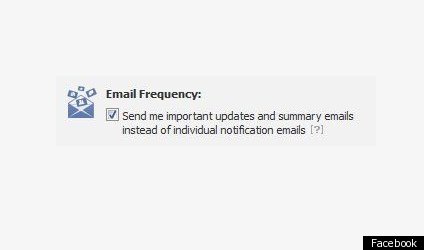 WATCH:
REAL LIFE. REAL NEWS. REAL VOICES.
Help us tell more of the stories that matter from voices that too often remain unheard.