After two months and as many lawsuits, Facebook is at last rolling out a revamped profile design that puts personal histories front and center.
First teased at Facebook's f8 conference in September, the new profile design, called "Timeline," has traded profile pages' discrete sections for an image-rich overview of people's lives. Rather than divvying up a user's profile into categories of content, Facebook's new profile pages deliver a portrait of a person composed of years' worth of relationship status updates, photos, and wall posts.
(See a screenshot of the new pages below).

Facebook's vice-president of product Chris Cox described Timeline as a "modern vehicle for scrapbooking," and indeed the new profile pages present a far-reaching archive of all a user has ever shared with the social networking site.
Scrolling through the Timeline can instantly take you back years, through graduations and breakups, and the fresh format can offer a glimpse at just how much Facebook knows about its members' lives.
In some cases, a Timeline will span decades: Facebook CEO Mark Zuckerberg's public profile begins at birth -- May 14, 1984 -- and extends almost through today -- the most recent post is of a photo taken some 48 hours ago at Facebook's headquarters. Click on any year in between and you can zero in on a particular point in the Facebook founder's life. You can see "highlights" from a particular year, or browse updates month by month.
"It's a great way to discover all the stuff people have done their whole life," Zuckerberg said of Timeline when announcing it at the f8 conference in October.
Timeline gives users greater control over the appearance of their Facebook profiles, enabling them to select a photo that appears at the top of the page and giving them the ability to feature some information more prominently, while hiding other updates.
"We want to design a place that feels like your home. Where you tell story online is very personal. You spend a lot of time curating it. We want to make timeline a place you're proud to call your home," Zuckerberg said at f8. "It's a completely new aesthetic for Facebook. It gives you the ability to curate all your stories so you can express who you really are."
The information showcased on users' Timelines ranges from life-altering to mundane. Thanks to Facebook's new "frictionless' sharing feature, which publishes to Facebook any action a user takes on approved third-party apps, Timeline might present the last few songs a person has listened to or the details of a recent workout side-by-side with news about getting married or having a child.
Facebook encourages users to go back in time an add "life events" to their personal chronologies to make Timelines more complete: the site offers a pre-defined list of "life event" templates, such as "bought a home" and "broke a bone," that can be added instantly to the chronology.
Facebook is giving users a seven-day grace period before which it will automatically update their profile to the new Timeline.
Facebook wrote in a blog post,
When you upgrade to timeline, you'll have seven days to review everything that appears on your timeline before anyone else can see it. You can also choose to publish your timeline at any time during the review period. If you decide to wait, your timeline will go live automatically after seven days. Your new timeline will replace your profile, but all your stories and photos will still be there.
Though many users took advantage of a Facebook shortcut to update their profiles ahead of Timeline's official release, others have been griping about the change and demanding a way to opt out of the new look.
"I FEEL EXPOSED [...] I WOULD LIKE TO KNOW HOW TO REMOVE." one user wrote in response to Facebook's blog post announcing the changes. A slew of other commenters chimed in asking if they could remove Timeline, while some who had used the new pages praised them as a positive change.
To update your profile, go to facebook.com/about/timeline. See our story on seven things you need to know about Timeline here, or visit Facebook for more tips on using Timeline here).
What do you think of Timeline? What problems does it present? What features do you love? Let us know in the comments below.
LOOK: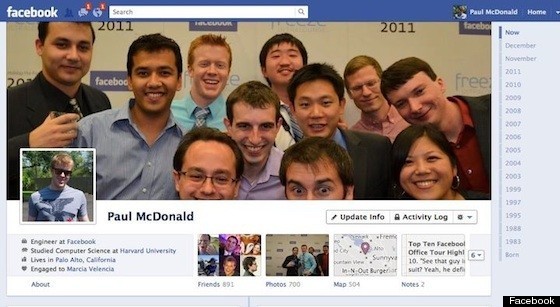 Check out 7 big things you need to know about Facebook's Timeline.
PHOTO GALLERY
7 Things You Need To Know About Facebook Timeline
REAL LIFE. REAL NEWS. REAL VOICES.
Help us tell more of the stories that matter from voices that too often remain unheard.
BEFORE YOU GO