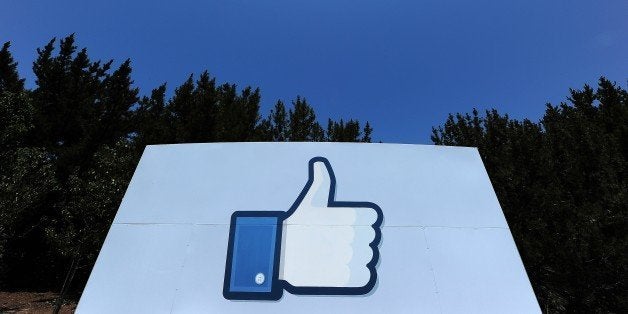 Whether you like it or not, you're probably on Facebook more often than you want to be. A lot of people wish they didn't feel compelled to check it over and over only to see the same boring people post the same boring things.
Thankfully, it doesn't have to be this way.
There are actually a whole lot of tips and tricks to make your Facebook experience a little less painful, both from Facebook itself and from third-party apps. We have 13 of them right here. Go forth and make your Facebook a bit more tolerable.
1. Set boundaries between real friends, family, exes and randos: You can sort everyone into groups
You have different friends from different areas of your life, so why should you have to share the same things with everyone? If you split your friends up into different categories, you can choose which specific groups of friends will see different statuses, links and photos you post.
Facebook automatically creates some groups (called Smart Lists) based on the schools you've attended, jobs you've had and places you've lived. Here's how to put someone in an existing group or create a new one. On a friend's profile, click the "Friends" button. There, you'll see which groups he or she belongs to and you'll have the option to create a new group.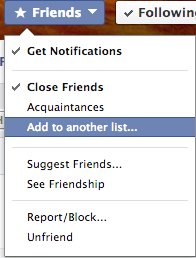 2. Stalk your favorite people
While you're there at the "Friends" button, you can click "Get Notifications." That will give you a notification when a chosen friend posts a new status or photo. Do it with your best friend or with a crush -- they won't know you set a notification for them.
3. Stop friends from sending you those annoying "Candy Crush" requests
Sorry, I'm not going to help you get more lives on "Candy Crush." Fortunately, you can stop those irritating requests from clogging up your page without having to say anything. Just go to this page, and type the offending friend's name into the search bar. And bam, they're ignored forever.

4. Block the people you hate without their knowledge
While we can't get your weird cousin to stop believing conspiracy theories, we can hide his posts from your News Feed. You don't have to unfriend him to remove him from your Facebook life.
To block someone from your feed, go to their profile and click "Friends." Then click "Report/Block." You'll see these options: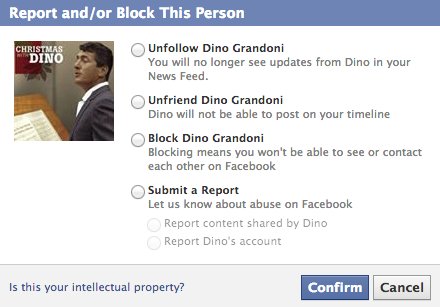 If you don't want this person's posts to show up in your News Feed (I don't mean it, Dino!), you can press "Unfollow." Your friend will never know, and you won't have to deal with his or her irritating posts anymore.
5. Fix your terrible spelling
Did you spell something wrong in a post? Sometimes you don't want to delete a status update (can't lose those precious "Likes"!), in which case you can edit things after you've posted them. Just click the little pencil icon near something you've written (comments, statuses, photo descriptions, etc.) and press "Edit." Be warned, though, your friends will be able to see how you've tweaked a post.
6. Erase your embarrassing past
If you're curious about what parts of your Facebook activity others can see, check out your activity log. From that page, you can change privacy settings and delete old posts. You can also see which photos of yours are public, by clicking "Photos," and then "Shared with: Public."
7. Replace things you hate with things you love
Rather is a Chrome and Firefox extension that lets you replace anything you don't like (links to Upworthy, TV spoilers, wedding photos, food porn, etc.) with something you do like (photos of puppies, your favorite celebrity, etc.). It can also remove offending posts altogether.
8. Never miss a status
By default, your Facebook News Feed is set to show you "Top Stories" first, which can be irritating, since it often means that your feed is filled with the same lame websites and articles your friends are sharing. A lot of people feel like they're missing things that happen in their friends' Facebook lives because of Facebook's algorithm. Facebook looks at the number of comments the item has, how many likes it has, who posted it and what genre of post it is (photo, video, status, etc.) to decide whether or not to include it as a top story.
Fortunately, there's a way to change your feed to reverse-chronological order, like it is on Twitter and Instagram. Either click here to find your "Most Recent" feed or look at the top of your News Feed for a way to toggle between "Top Stories" and "Most Recent."
9. Take a survey to improve your News Feed
You can take control of your destiny (and your News Feed) by telling Facebook what you like and don't like to see. All you have to do is take a survey about your likes and dislikes. Go to any post in your feed and you will find a little down arrow at the top right. Click on that and you'll see something like this: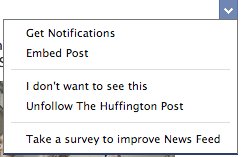 Click "Take a survey to improve News Feed." Facebook will show you a series of 10 posts from your feed and ask you to judge them. Here is what you're asked to say about each post:

You can take this survey as often as you want.
10. Mark posts as read
This tip and the next two are made possible by a browser extension called Social Fixer, which is available for free download for Chrome, Safari, Firefox and more. Social Fixer gives you a ton of options to customize your Facebook experience.
After installing Social Fixer, you will have a bar at the top of your News Feed that will give you the option to mark posts as read. Instead of seeing the same photo over and over again as more people comment on it, just mark it as read and send it away forever.

11. Look at photos like a normal person
Are you annoyed when Facebook expands a photo you click on and has it take up the entire page? With Social Fixer, you can turn that off. Click the big wrench at the top right of your Facebook page, and then click "edit Social Fixer options."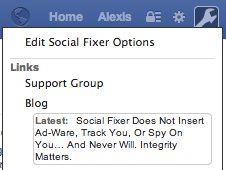 Then click "Disable the 'Lightbox' (aka 'Theater') photo viewer popup," and press save.
12. Weed out junk you don't care about from your feed
While you're in the Social Fixer settings, you can create some filters. Click "Filtering" on the right, and then create names and categories for filters. You can make filters for certain people, apps or keywords, and they'll show up in different tabs at the top of your News Feed.

13. Give yourself a lot of white space
Social Fixer lets you simply "delete" anything you don't want to see on your Facebook page. Pretty much everything you see will have an "x" at the top right, allowing you to delete it from your page. It's pretty magical.

Popular in the Community