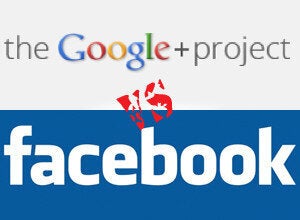 The report examined how the demographics of users searching for Facebook and Google+ compared to each other and concluded that individuals looking for Google+ tend to be younger and wealthier than Facebook searchers.
Google+ searchers overwhelmingly skew towards 18-34 year olds. Clearly Google+ is a popular brand with the younger segments, and good knowledge for Google to have as they develop their acquisition strategy and evolve their user base. Since Facebook is a much more mature brand in the social networking space, their search audience falls closely in line with the search population at large.

The income skews are even more distinct, essentially polar opposites of each other. More than 32% of Google+ searchers have a household income of $100K or greater, compared to 23% of Facebook searchers. Google+ is definitely off to a fast start in reaching the most desirable income segments, which may make it more attractive to advertisers.
Google CEO Larry Page shared some statistics on Google+ users in July, several weeks after the service launched to a limited group of people, and revealed that, at the time, Google+ had grown to over 10 million users. Third parties have offered additional estimates of the demographic breakdown of Google+ users. For example, comScore reported last month that around 5.3 million Google+ users were from the U.S. (India, with 2.8 million users, was the next popular country on the service) and that 63 percent of visitors were male.
Related
Popular in the Community