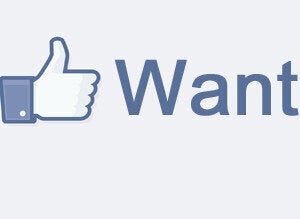 Facebook already knows what you "like." It could be near uncovering your desires, too.
"The button is not publicly listed among the other social plugins on Facebook's developer site. Waddington says the button will only work on Open Graph objects marked as 'products,'" writes Inside Facebook.
Asked about Waddington's find, a Facebook spokeswoman told The Huffington Post, "We're always testing new Platform features, however we have nothing new to announce."
Knowing what consumers "want" is the holy grail for advertisers, who could theoretically use that information to target Facebook users in real-time, reaching them a split second before they buy a competitor's product or customizing messaging based on what items they covet (combined with all the other personal data Facebook has compiled). For example, if I "want" a pair of Puma running shoes, Nike could instantly bombard me with ads for its own sneakers in a bid to win my business.
Next to "want," a "like" appears downright meaningless. "Like" doesn't imply a user intends to take any action. "Like" doesn't get people to throw temper tantrums in the aisle of a supermarket, or blow their paychecks at Barney's. That's all "want." Want implies consumers are going to do something -- like buy a product.
The Atlantic's Megan Garber argues that we don't want to know about each other's wants: "I care much more about what my friends are reading and listening to and watching than I care about what they're coveting at Crate and Barrel. Of all the categories that signal desire and activity, commercial cravings are among the least valuable to users," she writes.
Related
Popular in the Community