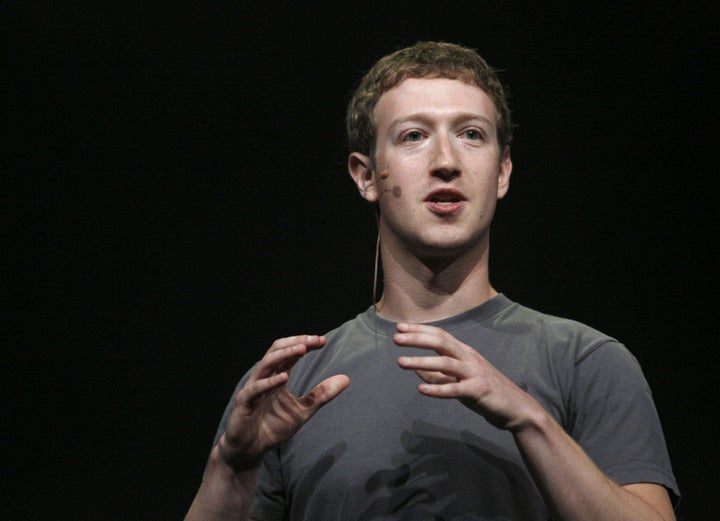 Young companies are often a reflection of their leaders. Facebook has in Zuck one of the greatest business leaders of our time. Wall Street just doesn't know it yet.
The Social Network, almost since inception, has been mired in controversy. From "Winkle-gate," to major privacy concerns, to a botched IPO, the young-cultured company has faced a slew of naysayers, some of whom have predicted its demise from day one. And the company's checkered history has been plagued from the start with high profile departures among the founding team and management, from the company's co-founder and first CFO Eduardo Saverin, to Chief Revenue Officer Owen Van Netta, to its former president Sean Parker, and a bunch of more junior executives.
But these have just been the growing pains of one of the most important technology companies of our time -- so fundamental to our lives that its visionary founder and CEO has aptly called it a "social utility." And they bare an uncanny resemblance to the history of that other iconic technology company, Apple. After all, Apple's technology co-founder Steve Wozniak was not long for the company, it also suffered a revolving door of high-profile management changes, and it too rose from its ashes much stronger than before.
Despite its valuation dropping 50% since going public, I believe Facebook, led by a business prodigy (Zuckerberg), is growing up in terms of its future outlook. Inside sources have hinted that the next three to six months are rife with promising roll-outs that will surprise and delight users while assuaging market fears of an all out stock plummet as more stock lock-ups expire.
As someone whose business is tapping into the strength of Facebook -- using open APIs like Facebook Connect -- I believe that as it grows up, Facebook will continue to make better business decisions. When companies mature, they begin to embrace the stability of proven market channels while innovating in terms of what is ultimately best for their customers. No startup has this insight in its nascent phase, nor should any business leader focus on monetization when growth and the user experience is the first priority. But Facebook is about to cross the Rubicon on its revenues.
There are big lessons that Facebook can learn from another tech giant started by another Harvard dropout: Microsoft. The Seattle colossus is a model of product and revenue diversification that can serve as a guide for its younger kin. Microsoft derives almost as much revenue from its Servers & Tools division as it does from its older Windows franchise at nearly $20 billion a year, each. Its Business Division, which includes Office and SharePoint, brings in even more cash at almost $24 billion. And the entertainment division that houses Xbox and Skype? A cool $10 billion a year. And then there's the "tiny" Online Services division (Bing): $3 billion (Bang!).
2. Leveraging social data for the enterprise
Facebook can diversify its revenues while leveraging its social graph and not destroying the user experience vis-à-vis one channel: the enterprise.
How? Today, Facebook Connect is an increasingly popular tool that disrupts how businesses connect with and deliver a more personalized experience to their users. By continuing to promote Connect to businesses, encouraging an evermore-personalized experience for their key constituents, Facebook is essentially powering the targeted personalization and advertising strategies of all online businesses. No other company in the world has the influence and reach of Facebook in terms of its users. One billion and growing.
This data is Facebook's ace in the hand, its silver bullet, its one true comparative advantage... you get the message... it's kinda big.
But not necessarily within Facebook's own advertising ecosystem -- where users come to socialize and communicate with friends, family, and - only sometimes -- brands. Rather, when this data is democratized -- with the user's consent using Facebook Connect (more on the "trust" issue below) -- and pushed to outside channels where users actually benefit from more personalized offers and experiences, everyone wins. It also enables other businesses, like my own, to better serve users.
Facebook's recent spate of announcements around Facebook Ad Exchange (FBX), liquid ads, mobile ads, and the like, are awesome and necessary. They show that the company's focus on revenues is paying off. But they may come at a cost if the user experience is disrupted and privacy eroded.
Less of a quantifiable business decision, and more of a cultural stance, building trust is and must be at the core of any company's growth strategy. Many critics and privacy advocates have chided Facebook for violating users' trust time and again, for example by making major changes to their terms of service without adequate user notification.
Part of this is true, but part of this is also a perception issue. The reality is that Facebook has become very pro-active with its privacy policy and is arguably more protective than some of its rivals. Google ads on Gmail, for example, are hardly less intrusive than Facebook's ads. Users too must assume some level of culpability, as the very nature of Facebook's product and "free" service presumes personal ad targeting, and it's this ad revenue that has afforded many benefits to us billion Facebook users. Fortunately, Facebook Connect and the enterprise opportunity it entails is consent based and, as far as privacy is concerned, totally kosher.
What Facebook must do is continue to be open and transparent about how data will be used. If the benefits to the user continually outweigh the disruption or negative effects, you can be sure consumers won't complain like they do when they are feeling violated, used, or betrayed.
As a culture, we should be excited about watching the growth of this singularly transformative company and entrepreneurial CEO -- someone who has quite literally changed the way we interact and engage with each other. Its IPO woes notwithstanding, what Facebook has accomplished in a few short years is astonishing. From building a leading culture where Facebookers are proud to work, to supporting entrepreneurship and innovation on its campus, the company will fight back and learn from its mistakes. And my belief, as an entrepreneur who has founded a company leveraging a Facebook asset, is that the years ahead will see a profound change in consumer sentiment towards "the" social network and witness the transformation of its business trajectory, this time for the better.
Shahram is a serial entrepreneur and the co-founder and CEO of GraphDive, a venture-backed startup focused on providing businesses with actionable insights from social graph data through its Social API.
Popular in the Community