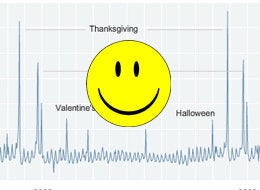 The Index mines our status updates for keywords and, based on the sentiments expressed in them (such as, "I'm so sad about MJ", or "I'm so thrilled it's almost Halloween!") measures the overall mood of people from the US on Facebook. A member of Facebook's data team explains in a blog post:
To protect your privacy, no one at Facebook actually reads the status updates in the process of doing this research; instead, our computers do the word counting after all personally identifiable information has been removed.

For our Gross National Happiness index, we adapted a collection of positive and negative emotion words built by social psychologists. Examples of positive or happy words include "happy," "yay" and "awesome," while negative, or unhappy words, include "sad," "doubt" and "tragic." We also did a brief survey of some Facebook users, which showed that people who use more positive words, relative to the number of negative words, reported higher satisfaction with their lives.
Here's a screengrab of the Index: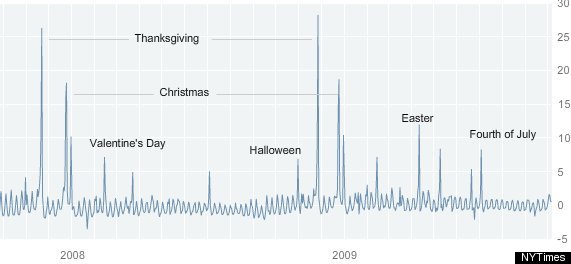 A few of the interesting findings so far:
Some of the happiest days include U.S. national holidays like Thanksgiving and Fourth of July, social holidays like Halloween and religious holidays including Christmas and Easter.

Wednesday, Nov. 5, 2008--when the U.S. was celebrating the election of President Barack Obama--was over twice as happy as the average Wednesday.

The index also shows two remarkably unhappy days. The lowest was Jan. 22, 2008, which was the day the Asian stock market crashed and coincidentally the same day as the tragic death of actor Heath Ledger. The recent death of cultural icon Michael Jackson on June 25, 2009, came in as the second least happy day in the past two years.

There is a 9.7 percent increase in happiness on Fridays compared with the worst day of the week, Monday.

Popular in the Community