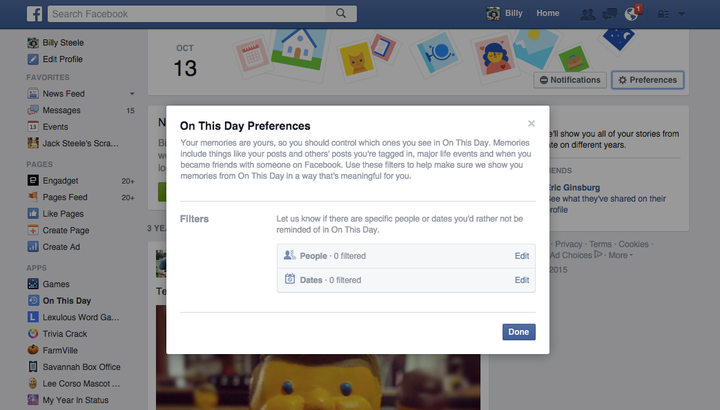 Facebook's On This Day feature has been casually dredging up blasts from the past for us to re-post, re-share, laugh and cry over: old conversations with friends, vacation photos, random status updates. But not all of these memories are happy ones.
On Wednesday, the social network rolled out some new tools to let you customize what memory lane it walks you down. This should give people more control over the individuals and dates Facebook chooses to spotlight. If you want to avoid the painful times, now you can.
"We know that people share a range of meaningful moments on Facebook -- from celebrating good times like a birthday to getting support in tough times like the passing of a friend or relative," a Facebook representative said in a statement, per ABC News. "As a result, everyone has various kinds of memories that can be surfaced -- good, bad and everything in between. So for the millions of people who use On This Day, we've added these filters to give them more control over the memories they see."
Since On This Day launched in March, the feature has been coming under fire for reminding users of traumatic or sad events.
One of my Facebook friends posted the following last month:

The new filters should keep the app from triggering unwelcome memories.
You can adjust the feature's preferences for your own timeline here.