The thing about Facebook that makes it so powerful is that it has the courage of its convictions.
When Mark Zuckerberg made his first play in virtual reality, it was a big one. He purchased the Oculus Rift for $2 billion back in 2014.
You can argue that Oculus hasn't had a big impact, and has had more than its share of internal drama and turnover. But the Oculus purchase brought some serious VR talent in-house. Facebook has been working hard to turn that early bet into a global phenomenon.
Now we're starting to see the output of this investment, which comes in three categories: hardware, software, and a vision of the long-term importance of AR and VR to users worldwide.
First, hardware. Facebook hasn't had a lot of success with hardware so far. The Facebook Phone back in 2013 was a famous failed attempt at hardware. But that hasn't stopped Zuckerberg.
Oculus Go is Facebook's most ambitious play yet. At a price point of $199, it's sure to be a fast-seller, reaching Facebook's user base with a light, sexy, and affordable entry into the world of virtual reality.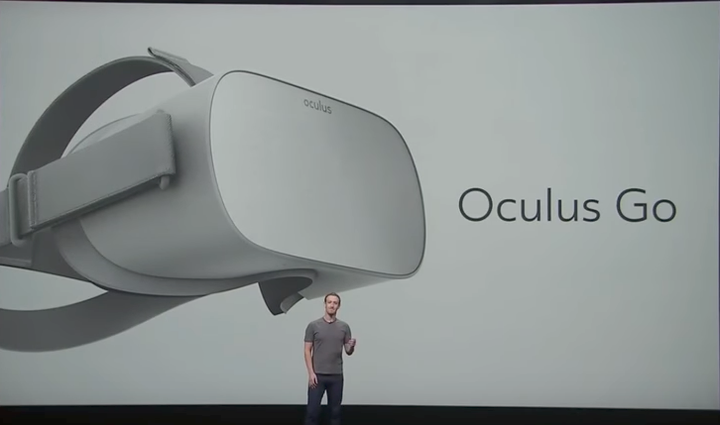 The device uses a "fast-switch" WQHD LCD screen and spatial audio. It is a standalone all-in-one virtual reality headset, designed with breathable fabrics and adjustable straps. It's set to drop in early 2018 -- just missing the holiday tech season, which is a bummer, but hardly a long-term setback. Just means it won't be on Santa's list this year.
Oculus Go opens a new market for Facebook, giving it an entry-level VR device to connect users. Much like Facebook's early and winning focus on its app, first-mover advantage at this price point could make them the first stop for users looking to join the VR world.
Zuckerberg told the audience at Oculus's annual developers conference he "wants to get 1 billion people in virtual reality," as quoted in a Recode post.
Software is going to be where Facebook wins or loses. Apple was rumored to have a big VR play this year -- but now Tim Cook is saying he's in no rush, which gives Facebook room to pull ahead.
Facebook is promising over 1,000 VR games, social apps, 360° experiences, and group VR environments. The company announced Venues -- what it's calling a personal, portable theater -- to enable groups of users to watch live events, concerts, sports, in a big virtual room together. Pretty sci-fi, but the group experience could be exciting.
Then there's Facebook Spaces, which is already up and running with Oculus headgear. While it hasn't been confirmed that Go owners can use Spaces, that could be the holly grail of social hangout.
Finally, there's vision. Zuckerberg gave a commencement talk at Harvard this spring where he spoke about Facebook's shift to community as core to a change in mission, a company-wide initiative that could have a profound impact on its 2 billion users worldwide. I wrote about it here.
Facebook's focus on a global community is fraught with risks, both social and political. "This is the struggle of our time," Zuckerberg told the Harvard graduating class, noting "the forces of freedom, openness and global community against the forces of authoritarianism, isolationism, and nationalism."
If proximity is no longer a barrier to human connection, the global community could be closer than we think.
So Oculus Go is important. Its price point means it will get a fast start. Its connection to your friends will allow for instant connectivity among people you know. And Facebook's mission of connecting a global community when tied to virtual reality games, experiences, and spaces has the potential to create a new human experience in the digital world.
It may just be that Philip Rosedale's Second Life is about to arrive.
(you can watch the entire Oculus presentation here)
Related
Popular in the Community