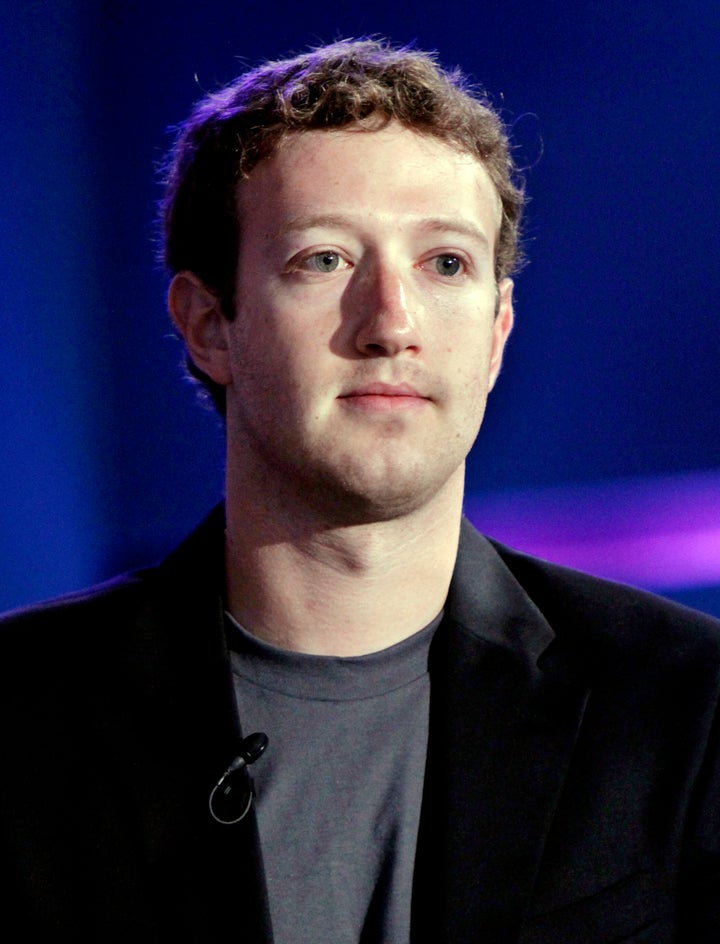 (Reuters - By Alexei Oreskovic and Sarah McBride) - Facebook unveiled plans for the biggest ever Internet IPO that could raise as much as $10 billion, but made it clear CEO Mark Zuckerberg will exercise almost complete control over the company, leaving investors with little say.
The Harvard dropout, who launched the social networking phenomenon from his dorm room, will control 56.9 percent of the voting shares in a company expected to be valued at up to $100 billion when it goes public. Facebook says it has 845 million active monthly users.
Wednesday's long-awaited filing kicks off a process that will culminate in Silicon Valley's biggest coming-out party since the heyday of the dotcom boom and bust.
In its filing Facebook says it is seeking to raise $5 billion, but that is a figure used to calculate registration fees among others and analysts estimate it could tap investors for $10 billion.
That would value the company at $100 billion, dwarfing storied tech giants such as Hewlett Packard Co, while validating the explosive growth worldwide of social media as communication and entertainment.
Zuckerberg's economic control of about 28 percent of the shares would be worth $28 billion at a $100 billion valuation, ranking him as the fourth-richest American.
The 27-year-old's ownership position means Facebook, a company dissected in 2010's Oscar-winning "The Social Network", will not need to appoint a majority of independent directors or set up board committees to oversee compensation and other matters.
The company's ownership structure and bylaws go against shareholder-friendly corporate governance practices put in place in the United States after years of investor activism.
As Facebook states in its prospectus, Zuckerberg will "control all matters submitted to stockholders for vote, as well as the overall management and direction of our company."
Zuckerberg struck deals with several Facebook investors that granted him voting rights over their shares in all or most situations. Those included Yuri Milner's DST Global, venture capital firm The Founders Fund, and entities affiliated with Technology Crossover Ventures, the IPO filing shows.
Google Inc's Sergey Brin and Larry Page retained control of the search giant through similar arrangements and the Sulzbergers did much the same at the New York Times.
"Zuckerberg, at the time, probably had his choice of investors," said Steven Kaplan, a professor at University of Chicago's Booth School of Business, who researches venture capital and corporate governance. "He basically had the ability to say 'my way or the highway.'"
"The downside of doing this is that the value of Facebook may be slightly lower than it would be if he were not retaining control."
Facebook could make its market debut in the middle of the year based on the usual timetable of IPOs.
Its IPO prospectus shows that Facebook generated $3.71 billion in revenue and made $1 billion in net profit last year, up 65 percent from the $606 million it made in 2010.
"We often talk about inventions like the printing press and the television," Zuckerberg said in a letter accompanying the documents. "Today, our society has reached another tipping point."
"The scale of the technology and infrastructure that must be built is unprecedented."
Facebook appointed Morgan Stanley, Goldman Sachs and JPMorgan as its lead underwriters. Other bookrunners include Bank of America Merrill Lynch, Barclays Capital and Allen & Co.
Zuckerberg agreed to cut his compensation from $1.48 million last year to $1 effective January 1, 2013, following the example of Apple founder Steve Jobs.
Facebook's chief operating officer and Zuckerberg's top lieutenant, Sheryl Sandberg, earned $30.8 million in total compensation last year.
Facebook's growing popularity has pressured entrenched Internet companies from Yahoo to Google Inc. In 2011, the social network overtook Yahoo to become the top provider of online display ads in the United States by revenue, industry research firm eMarketer says.
A $10 billion IPO would be the fourth-largest in U.S. history after Visa Inc, General Motors, and AT&T Wireless, Thomson Reuters data shows.
The $5 billion figure in Wednesday's prospectus was an initial, reference figure -- a basis for registration fees, among other things -- and could change based on investor demand.
The prospectus said 85 percent of Facebook's 2011 revenue was derived from advertising. Social-gaming company Zynga, creator of Farmville, accounted for 12 percent of Facebook's revenue last year.
The IPO will dwarf any recent debuts of Internet companies, such as Zynga, LinkedIn Corp, Groupon Inc and Pandora Media Inc.
Their IPOs had mixed receptions. The last debut, from Zynga, closed 5 percent below its IPO price during its first trading day in December.
Google raised just shy of $2 billion in 2004, while Groupon last year tapped $700 million and Zynga $1 billion.
Facebook aims to be more attractive to potential large advertisers. It has improved its ad targeting capabilities as it collects user data through new features such as the Timeline, said George John, founder of Rocket Fuel, a digital marketing company.
Advertising revenue increased 69 percent in 2011 from 2010, and its average revenue per ad increased 18 percent.
"As Facebook gathers more and more users' time and data, it makes sense for advertisers to get more serious about allocating more budget to Facebook," he said.
In its prospectus, Facebook revealed an effective 2011 tax rate of 41 percent and warned it could climb in 2012. That rate surpasses the average corporate rate of 35 percent and far outstrips industry peers like Apple, which through offshore businesses pay far less.
Yet in his letter to investors, Zuckerberg stressed Facebook's "social mission" over the pursuit of profits.
"Facebook was not originally founded to be a company," he said. "Simply put: we don't build services to make money; we make money to build better services."
He laid out his vision for a company that remained grounded in an engineering culture, devoting several paragraphs of his letter to what he called "The Hacker Way" at Facebook.
Some of Facebook's most successful products - including Timeline, chat and video - emerged from "hackathons" where coders gathered to build out prototypes and compare notes, Zuckerberg wrote.
"Hackers believe that something can always be better, and that nothing is ever complete," he said. "There's a hacker mantra that you'll hear a lot around Facebook offices: 'Code wins arguments.'"
(Additional reporting by Alistair Barr, Poornima Gupta and Gerry Shih, Writing by Edwin Chan, Editing by Peter Lauria and Tiffany Wu)
Related
Popular in the Community