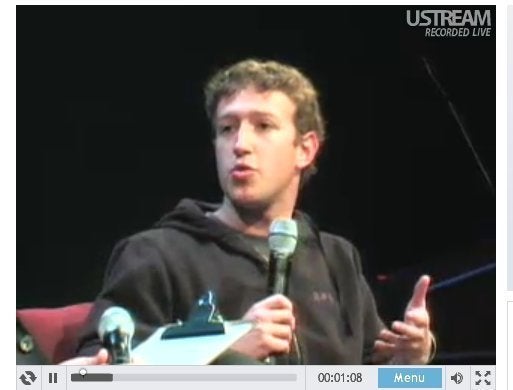 In a recent interview with TechCrunch, Facebook founder Mark Zuckerberg revealed that he had taken an "about face" on privacy and argued that privacy is no longer a "social norm."
Zuckerberg's stance on privacy resonates with recent controversial changes to Facebook's privacy settings, which not only reduced the control users have over their personal data and pushed more personal information public, but sparked a federal complaint.
Arguing that online users have become more accustomed to sharing information online, such as on blogs and other social media services, Zuckerberg noted, "if he had created Facebook today, as opposed to several years ago, he would have made user information public, not private, by default as it was for years until the company changed dramatically in December," ReadWriteWeb reports.
ReadWriteWeb transcribed the portion of Zuckerberg's interview in which he discusses his attitude toward privacy.
In response to the question, "where is privacy on the web going?", Zuckerberg responds:
When I got started in my dorm room at Harvard, the question a lot of people asked was 'why would I want to put any information on the Internet at all? Why would I want to have a website?'

And then in the last 5 or 6 years, blogging has taken off in a huge way and all these different services that have people sharing all this information. People have really gotten comfortable not only sharing more information and different kinds, but more openly and with more people. That social norm is just something that has evolved over time.

We view it as our role in the system to constantly be innovating and be updating what our system is to reflect what the current social norms are.

A lot of companies would be trapped by the conventions and their legacies of what they've built, doing a privacy change - doing a privacy change for 350 million users is not the kind of thing that a lot of companies would do. But we viewed that as a really important thing, to always keep a beginner's mind and what would we do if we were starting the company now and we decided that these would be the social norms now and we just went for it.
Watch TechCrunch founder Michael Arrington's six-minute interview with Zuckerberg in the video below, and read more about the implications of Zuckerberg's privacy stance on ReadWriteWeb.
Concerned about what information you're sharing online? Read these
.
WATCH:
Related
Popular in the Community