In 1999, in Burundi, a girl of primary-school age had just over a one in three chance of attending school; once in school, she had a 50 percent chance of completing primary education. By 2012, a girl of the same age in Burundi was almost certain to be in primary school. While this progress is partial -- an older girl, for example, has only a one in four chance of attending secondary school -- this represents undeniable progress.
These achievements did not happen by accident: it is only through deliberate choices -- through making commitments and providing the structures, plans and funds to deliver on those commitments -- that governments have been able to start meeting the challenge of securing the universal right to education.
The new Sustainable Development Goals push the ambition further. The education community has much to celebrate -- from the wide and ambitious SDG 4, "Ensure inclusive and equitable quality education and promote lifelong learning opportunities for all," to the commitment to free education for every child throughout primary and secondary education. These successes are a result of huge public pressure and sustained, targeted civil-society advocacy. In the UN MyWorld 2015 surveys of more than eight million children, young people and adults, education has consistently been voted as the top priority for global development; and the pressure from campaigners refusing to compromise on human rights has helped to ensure that governments do not reject their responsibility to provide education for all of their citizens.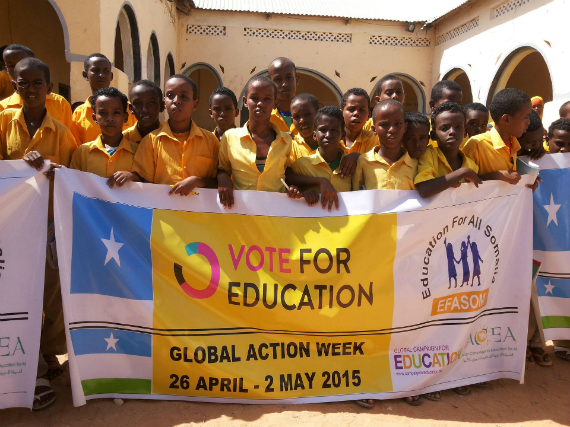 Photo Credit: Education For All Somalia (EFASOM)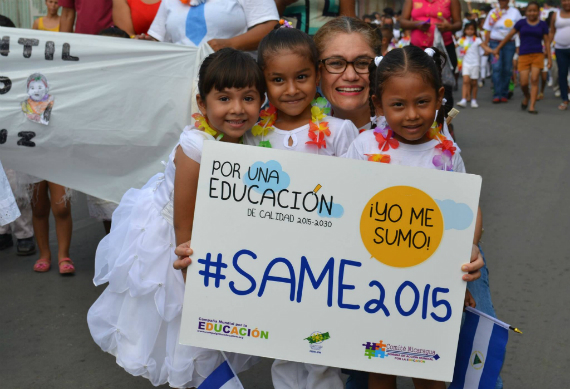 Foro de Educación y Desarrollo Humano de la Iniciativa por Nicaragua (FEDH-IPN)
Among those that pushed for this new agenda was the Global Campaign for Education, which is a civil-society movement that encompasses thousands of local, national, regional and international civil-society organizations and networks in more than 100 countries. This advocacy was rooted in 15 years of our work to ensure every child and adult has the right to education and that citizens have a say in how education systems are run. In Malawi, the Civil Society Education Coalition conducted a research program to identify successful approaches to retaining girls in school, and used this to successfully lobby the government. The Brazilian Campaign for the Right to Education ran a major campaign that successfully advocated for an early-childhood education strategy from birth to three years old. In Cambodia, the NGO Education Partnership conducted household surveys, school-level monitoring, and consultations with teachers, to present proposals on improving teachers' recruitment and welfare, resulting in the government announcing significant increases in teacher salaries, and a system regulating payments and preventing unofficial salary deductions. And during the development of the new goals, campaigners and citizens have been joining forces under Action/2015 and Beyond 2015, to show governments that citizens care about the issues, and want to take part in the decisions that will impact their lives.
The experience of the last 15 years has taught us valuable lessons in delivering the education goals. If the world is to have a chance of achieving this ambitious education goal, we know that domestic and donor funding needs to be in place; that it is state systems -- not private systems -- that ensure equitable access to quality education; that there is no quality education without trained teachers; and that targeted interventions to support the most disadvantaged across our societies are vital to ensure no-one is left behind. Importantly, citizens must have a say in the way their governments deliver not only the education goal, but all of the goals.
But governments have yet to heed all warnings. After July's Financing for Development Summit, a weak declaration left financing for all goals under question; and during last minute SDG negotiations, areas of the education goal were diluted, with countries pulling back from ensuring that all children are taught by qualified teachers, and no mention of adult literacy and education.
The UN Sustainable Development Summit at the end of September is not the end of the process. Campaigners are still working to ensure the measures by which the world assesses success across the goals do not shrink their scope; this process culminates in March 2016. Countries must commit to implement the new agenda.
Citizens' voices count, and citizen pressure works. Together, we have already made a vast impact on the ambition of the education goal. It is now up to us all to see this vision through by working for everyone, regardless of their age or context, to realize their right to equitable, inclusive and free quality education.
This post is part of a series produced by The Huffington Post, "What's Working: Sustainable Development Goals," in conjunction with the United Nations' Sustainable Development Goals (SDGs). The proposed set of milestones will be the subject of discussion at the UN General Assembly meeting on Sept. 25-27, 2015 in New York. The goals, which will replace the UN's Millennium Development Goals (2000-2015), cover 17 key areas of development -- including poverty, hunger, health, education, and gender equality, among many others. As part of The Huffington Post's commitment to solutions-oriented journalism, this What's Working SDG blog series will focus on one goal every weekday in September. This post addresses Goal 4.