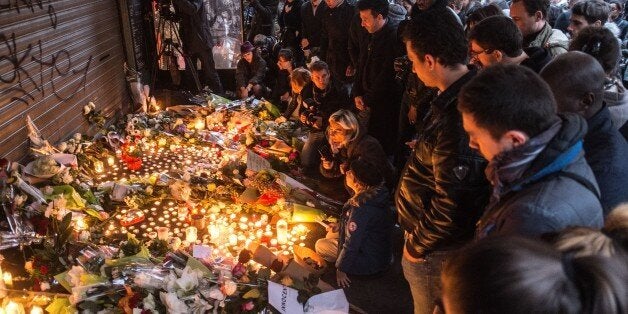 News flash: This is real life!
A strange feeling washed over me last night, and profound unease: I was driving home from the cinema, where I saw the latest James Bond film "Spectre," when I heard the breaking news on the radio, announcing what would become known as "the Paris attacks."
I was no longer at the movies! I had just watched, for more than two and a half hours, dozens of people dying, blood, explosions, torture scenes...and there, it had filled my head and my heart. This is real life knocking!
As a woman, mother, researcher, people ask me what these events inspire in me. Evidently for me, it isn't a matter of delivering political analysis. I'm just trying to understand what's at play right now, and moreover, trying to take a bit of a step back in order to, quite simply, keep moving forward, and living.
"Zero risk" doesn't exist.
Our so-called "modern" society believes in the principle of "zero." Zero imperfections, zero stock, zero error, zero risk! It's a huge farce, it doesn't exist, despite all the speeches that you might hear in medicine, politics, and especially, in management! Life is all about risk! It's about knowing how to accept it; "risk management" is nothing more than a day to day learning process, often painful, and always delicate. There is no truly comprehensive insurance! Faced with each decision, personal or professional, we are alone as individuals with our choices and our doubts, and these attacks cruelly remind us of this! That's what being human is about.
Accepting vulnerability is a strength. Our society favors strength, commitment, competition, power, ostentation..."values" that only lead to insult, to war, and to these attacks that claim to be demonstrations of strength, and that seek to escalate violence.
These attacks show us that we are vulnerable. Don't deny it! Vulnerability isn't an admission of weakness! We can turn it into a strength! We must turn it into a strength! It's by changing the hierarchy of values that we will steer the world toward change.
Women have an important role to play in these changes, and I am once again struck by their absence in the so-called "expert" fields. War, terrorist attacks, and crises are all men's games.
The chance to say "I love you, I'm thinking of you." Such crises push us to do some spring cleaning! To rank our misfortunes! When it's life that's at stake, it's certainly very important to exercise introspection, and to evaluate what we believed to be tragic events and which, in light of these events, appear to be tiny problems that would be very easy to dust off.
Abandoning one's habitual navel gazing and reaching out to others can turn these tragic moments into opportunities of sharing and exchange. It's the opportunity to make a phone call (not send a text!) to hear a forgotten voice and say "I love you, I'm thinking of you." This is so often forgotten in our hectic lives where what's urgent always triumphs over what's important!
Putting things into perspective, taking a step back. Right now, we are being saturated with news: Twitter, Facebook, television, websites, radio...it's a cacophony of emotions and news, of testimonies and expert analyses, of true or false questions! The media engine is running. Nuance and caution aren't part of their vocabulary.
It's up to us to protect ourselves, by switching off the television or the computer screen, taking a step back, and trying to put these events into perspective. We must work with our two brains: the left and the right, in order to gradually move away from the realm of emotion and to enter the realm of reason. It's a fine, delicate, and necessary transition. These attacks are currently overwhelming us, but they also exist elsewhere, in Beirut and in Bagdad, and Paris itself has experienced similar attacks, 30 years ago. History repeats itself, let's not forget that.
Once the wave of emotion subsides, we must learn a lesson from these tragic events, in order to move on.
Learning to live again: there isn't a magic solution. Hours pass, and we discover that we are more or less involved...due to random coincidences-- we had a drink out on that terrace a few days ago, or one of our friends was at the Bataclan. Or, on the contrary, we might not know Paris at all.
Life goes on, and oblivion takes its course, which is also part of our human nature. If forgetting is a normal process, being in denial is forbidden. There isn't a magic wand that erases the tragedies that affect us! We must accept the fragility of our journeys. And we must find happy mediums, often by trial and error.
It's not easy to share your feelings without exaggerating: I call my neighbors to share my feelings but I also want to reassure them.
It's not easy to protect yourself and to stay alert without being overly dramatic-- should I go to the theatre this evening, should I cancel my trip to the capital on Monday?
We keep living, despite everything, but without forgetting. And we must do something about these attacks, alone or collectively, at our own pace, with our strengths and weaknesses.
Our biggest mistake would be seeking to forget quickly and to swiftly move on to something else.
This post first appeared on HuffPost France. It has been translated into English and edited for clarity.
Calling all HuffPost superfans!
Sign up for membership to become a founding member and help shape HuffPost's next chapter