In 2011, I was sitting in a dark theatre when JR, the environmental artist, was announced as the recipient of the TED Prize. JR's canvas is the world. He uses his work as a photographer of faces to capture humanity and then prints out huge images, which he pastes on crumbling walls of the world ― to dramatic effect.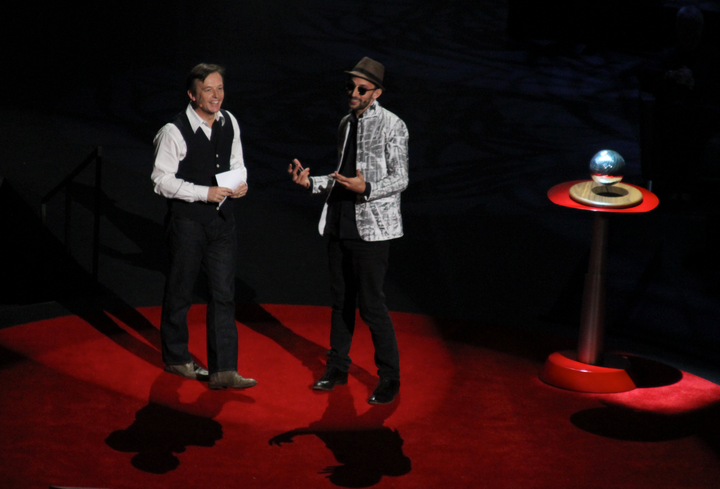 "Everything is about eye contact" JR said back then. And in the six years since he gave this TED talk, his work has continued at a rapid pace.
So, when I ventured to see his latest work, a documentary produced jointly by Agnes Varda, the 89-year-old New Wave French cinema filmmaker, and JR, I wasn't sure what to expect. The goal of the film was to chronicle French rural life. But beyond that, I went in with few preconceptions.
"Sheer perfection – that's the phrase that springs to mind when describing the humanist miracle that is Faces Places, the year's best and most beguiling documentary," is what Peter Travers said in Rolling Stone. And he's spot on.
Varda and JR take a journey into art, and faces, and Varda's history, and politics, and the frailty of life.
The film's conversational tone can be a bit misleading, as it operates at two levels. On the surface it's a buddy movie, but then just below the surface it's a deeply political work. Perhaps because of what's going on in this country - the conversations with french farm workers - who are using new high tech tools like computer controlled harvesters - seem to uncover a deep sadness. Yes, they have fancy tech - but they've lost their co-workers and now they are alone in the cab of the almost freakishly large farm equipment. This is the surprising power of this filmmaker/photographer combo. He makes things big, and she finds knowledge and beauty in small things. Together - they are the Thema and Louise of documentary film.
"Faces Places" is a film about friendship, memory, and the impermanence of things. JR 's work is printed on paper, pasted to walls, and then it seems often gone as the elements erase them.
REAL LIFE. REAL NEWS. REAL VOICES.
Help us tell more of the stories that matter from voices that too often remain unheard.