Labor weekend I traveled to Ferguson, linking up with local community activists and national activists who participated in the #BlackLivesMatter regional rides to Ferguson (co-organized by Dignity & Power Now founder Patrisse Cullors-Brignac and Managing Editor for The Feminist Wire Darnell L. Moore . With participants enduring in some cases 30 plus hour rides, the weekend of organizing kicked off with a march down to "Ground Zero," Canfield Green, the place of Michael Brown's memorial -- the precise location where 18 year-old Brown's bullet ridden body was left for more than four hours in the middle of the residential street on that Saturday August 9 afternoon.
But this was more than a call for a collective mass of bodies on a march. The weekend's programming included canvassing, collection of incident forms, breakout sessions, art installations, musical and poetry performances, a community clinic, a national advocacy discussion, and panels with local youth activists. It was at one of these panel conversations that I met and connected with youth activists from St. Louis who profoundly stunned me with their pronounced brilliance, moving determination and extraordinarily inspiring resiliency. Their stories, at the front lines of armored police vehicles and in the front row of city council meetings, shared striking parallels with unsung activists of the uprisings in MENA. They are those who are occasionally deemed the "go-to" voices for the "youth perspective" by media outlets, but the depth of their daily risks in pursuit of justice is insufficiently captured. We often are spared details concerning the unglamorous work they engage in outside of the shine of mass media lighting, and rarely are we privy to their dreams. What propels them to continue in the face dominating oppressive power structures?
I have always been interested in the social, political, economic and artistic forces that form a social justice activist, those who dedicate their lives to uplifting the dream of a dignified human existence. But during that weekend and the weeks that followed, I was fortunate enough to learn these details and dreams, through dinners, phone conversations, email correspondences and Twitter exchanges.
I wanted to share the stories of these extraordinary youth with the larger public by profiling their organizing work, personal narratives that shaped their activism, reflections on the national discourse on Ferguson and opportunities for readers to remain connected. In the course of these conversations, we also touched on the larger issue of anti-black racism and specifically the history of racism in the St. Louis area. Titled "Faces from Ferguson," the first youth profiled is 25 year-old St. Louis resident Johnetta Elzie (@nettaaaaaaaa on Twitter):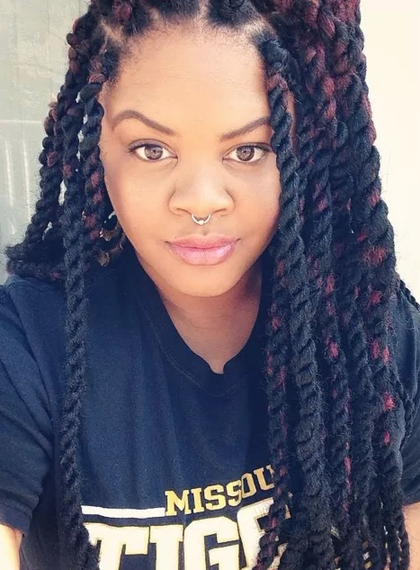 1) What was your organizing/activism background history before August 9, 2014?
Before the death of Mike Brown I volunteered with a girls group, called the Sophia Project in the city of Saint Louis. The group focuses on helping teenage girls navigate through life from a real world perspective.
2) Who were some of your s/heros growing up?
The only heroes I can remember having growing up are the women I was surrounded by; my mother, grandmother, aunt and great grandmother -- also, my grandfather. My family has been, and continues to be, my support. They are strong, loving, hard working people and they've instilled the same characteristics into my sister and I.
3) Why did his shooting activate you to protest and ultimately become substantially involved in the organizing process?
To see the killing of black boys and girls, women and men online always emotionally affects me, but to see it happen in the city where I'm from, I had to do something. On August 9, 2014 I went to Canfield just to pay my respects to the space, to the people, and the community. But, seeing Mike Brown Jr.'s blood so vibrant on the street; it was calling out to me. Mike Brown's blood was the call to action. I had no idea what my role would be but I could only think to take to my social media accounts and hopefully show the world exactly what I was seeing. People noticed my active involvement in cleanup efforts on West Florissant and food and water distribution to protesters during the evenings. As a result, I became a point person for folks who came from out of town to help. Everything happened organically, all from people's willingness to help a fractured community.
4) Set the scene for our readers: what was it like to confront and engage police, media, outsiders and community members day in and day out? Take us through the unanticipated challenges and the surprising successes. What motivated you to continue?
I'm often asked, "Was I afraid to be out in the protests?" And the answer is, "no." August 10, around noon, at the protest in front of the Ferguson Police Department, this was my first time seeing police dogs. That evening, was my first time seeing SWAT, police in riot gear, long batons, m-16's, rifles and other artillery. That night I wasn't concerned about the police, it became very obvious to me that in order to be involved in the protests there was no place for fear. Throughout my entire experience at the protests in Ferguson, I have been shot with a rubber bullet and tear gassed four times. Even still, there was not enough the police could do to me that would stop me from being involved.
Mike Brown Jr. motivates me to continue on, a teenage boy I never met, changed my life forever.
A few weeks into the protests I met his father, coming into my hotel lobby. He was standing there. I couldn't stop myself, I went up to him and continuously apologized for what had happened to his son. Being in his presence, feeling his energy and all the emotions surrounding him recharged me. Whenever I get frustrated or angry and upset, I always think about how Mike Brown's parents feel instead.
I never expected to be so attached to Ferguson. On most nights, usually around 2 a.m., I would leave the protests because things seemed to be peaceful. However, upon checking my Twitter timeline once I returned home, I would become quite disturbed. The police would wait until the media left the scene to start terrorizing the community. I would be devastated having to watch the events unfold from twitter instead of seeing it for myself.
5) You spoke briefly about being shot at by police and even receiving a rubber bullet to the collarbone. What happened? What are the details of that experience?
On August 11, I was standing on the corner of Nesbit and West Florissant with my friend and a reporter from the Washington Post, I was handing out waters to the neighborhood residents. The police, dressed in full riot gear, were making their way up West Florissant in an armored truck yelling and demanding residents "RETURN TO YOUR HOMES." The residents yelled back "THIS IS OUR HOME! YOU GO HOME!" While this was happening the police fired tear gas, aiming at anything or anyone.
I stood on the corner watching the scene unfold when I felt something hit me really hard on my left side, by my collarbone. It felt like someone had thrown something really small at me, very hard and very fast with a heavy impact. I couldn't even understand what had just happened to me, and looked around to see the people in the yard across from us checking themselves. I yelled to my friend "Something HIT ME!," and looked down and saw a small ball laying on the driveway. A guy next to me told me we had just been shot by rubber bullets.
Some took off running, some stayed in their front yard and continued to yell at the police and told them to go home and leave the community alone. I grabbed the water case and ran. Finding people who had been tear gassed and shot along the way giving them bottles of water to help ease the sting of the gas.
6) What does the history of racism in Ferguson and St. Louis look like?
As a resident of Saint Louis, I grew up in racism. St. Louis is by far one of the most racially segregated cities in America. That is not by coincidence, but by design. Housing in St. Louis was racially regulated for decades through restrictive covenants, the practice of homeowners only selling their home to another white family. In fact, the historic Shelley v. Kraemer decision was based on a court case in St. Louis where the Shelley's, an African American family sued to live in an all white neighborhood that was seeking to keep them out, because of covenants. In 1948 the United States Supreme Court ruled that racially restrictive covenants could not be enforced by courts since it would constitute state action denying due process of law by violating of the 14th Amendment to the Constitution.
Segregation manifests itself not just where people live, but also where their children are educated. Typically the best schools are in areas that are predominantly white, if you are publicly educated. However, I was fortunate enough to attend private schools, but there still was price I had to pay -- a socio-political cost. Going to private catholic schools for most of my life, I became the "spokesperson" for all black people, as I was oftentimes the only black person in the room. At an early age, young black kids in St. Louis and other cities, learn that they are different and have to work twice as hard to get equal treatment as others.
There are unwritten rules and invisible forms of segregation that still happen in Saint Louis. The Delmar Divide is a perfect example. Driving down Delmar, you will pass the blighted areas that were once thriving neighborhoods, but now are filled with low income housing, or burned out shells of once beautiful homes. However, you can literally go three city blocks or pass three stoplights and there are high income, exclusive lofts, the U-City Loop and Washington University dorms. This is wealth disparity is normalized and accepted. It is something that's normal to me because I was raised here, but from the outside looking in, to see the unfair distribution of wealth is disheartening.
7) How can national and international readers support your organizing efforts?
I am a curator on the #Ferguson protester newsletter, created by @deray. The newsletter highlights statistics related to the Mike Brown Jr case, current events and planned actions for protesters/concerned citizens to be involved in, articles that are directly related to Ferguson, Saint Louis, Mike Brown Jr and the local police departments, top 10 tweets of the day and a daily cartoon that relates to the Mike Brown Jr. Movement.
Popular in the Community