Last month when artist and web designer Theresa Wear arrived at her office, morning coffee in hand, it was clear that it was going to be a very different day at San Diego based web design and marketing firm, iMatrix. Wear and her colleagues were dressed in scrubs ready to hit the streets, paint brushes in hand, to paint the faces of innovators in the Internet and technology industry on large electrical boxes around San Diego. iMatrix designed this public art project called iMomument with the aim of telling the story and honoring the individuals who have made significant contributions in bringing the world together through technology.
"These innovators have changed our lives and society forever and most of us don't even know their names" said artist Theresa Wear. "Arguably the people who worked to create computers and the Internet have done more to connect the world than anybody else on the planet."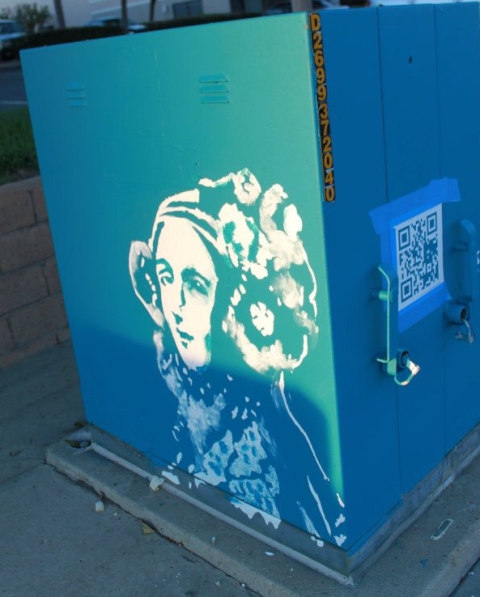 Local artists and iMatrix staff painted the faces of people like Nikola Tesla, who is responsible for the execution of wireless technology in 1891, Ada Lovelace, who is considered the world's first computer programmer for her algorithm developments in the mid 19th century, and modern day innovators like Google founders, Sergey Brin and Larry Page and of course, Apple Founder Steve Jobs. Along with each painting artists included a QR code that can be read by a smart phone and includes the background information of the innovator.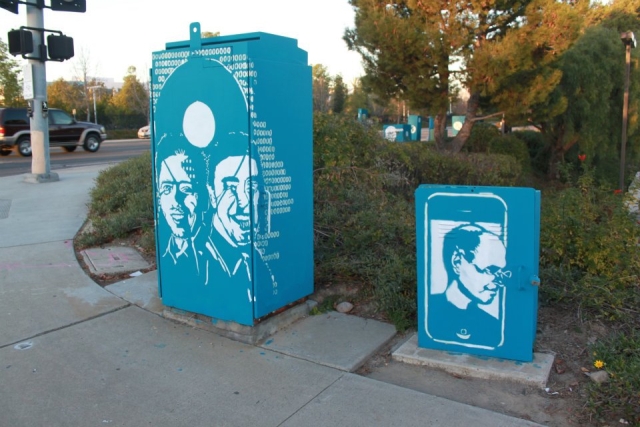 "iMonument is a way for us to honor great minds in our industry, as well as beautify and connect to the community." says co-founder of iMatrix, Yamia Benhaim.
The project falls in the same vein as other public art projects around the world where artists put their message on public space for mass consumption and beautification of their communities. For example the Heidelberg Project in Detroit works to beautify abandoned buildings in blighted neighborhoods or artist Jorge Rodriguez-Gerada's Identity Series in Spain in which he creates charcoal paintings of anonymous community members on the sides of buildings to challenge the notion that corporations should be the ones to choose our cultural icons and role models.
"We are using art as a way to attract the attention of people who may not be paying attention to news in the technology world" said Wear. "We often separate science, technology and art as if they are unrelated but these innovators have supported all industries and have enabled us all to connect, communicate, share stories and support each other around the world in a way that is pretty magical. What happened with Twitter and the revolution in Egypt, what happens on Facebook everyday, that connectivity is huge. It is bridging so much of the world. It is an honor to lift their stories up and bring them closer to the community."
If you would like to learn more about their project and see more photographs please visit: iMatrix

REAL LIFE. REAL NEWS. REAL VOICES.
Help us tell more of the stories that matter from voices that too often remain unheard.