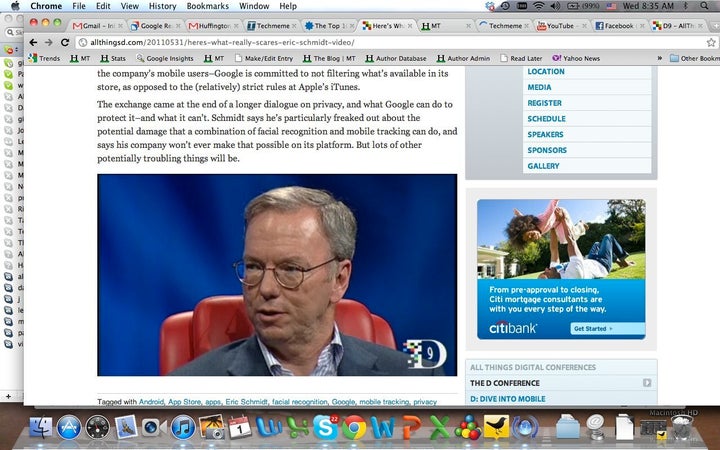 Google has been known for ambitiously developing technology that seems more science fiction than Silicon Valley, such as self-driving cars, but former Google CEO Eric Schmidt shared one technology he says is the only one Google has ever built, then withheld: facial recognition.
"We built that technology and we withheld it," Schmidt said of facial recognition at the All Things Digital D9 conference in California. "As far as I know, it's the only technology Google has built and, after looking at it, we decided to stop."
"I'm very concerned personally about the union of mobile tracking and face recognition," he explained, adding that the company feared that these capabilities could be used both for good and "in a very bad way." Schmidt described a scenario in which an "evil dictator" could use facial recognition to identify people in a crowd and use the technology "against" its citizens.
Though Google may not be releasing products with facial recognition capabilities, Schmidt acknowledged that the open nature of Google's Android and Chrome platforms could enable third parties to develop and distribute this technology.
"There are plenty of apps I don't like that are still legal," he noted.
Still, for the time being, Schmidt maintains that Google is "not going to go into" facial recognition in a "general way."
All Things Digital's Kara Swisher noted that Apple CEO Steve Jobs has repeatedly encouraged her to write about Google and privacy and said that Jobs refers to Google's Android smartphones as the equivalent of a "probe in your pocket." Schmidt countered that Google's privacy approach is to embrace transparency and "tell people what we know and give them a chance to delete it."
WATCH:
Related
Popular in the Community