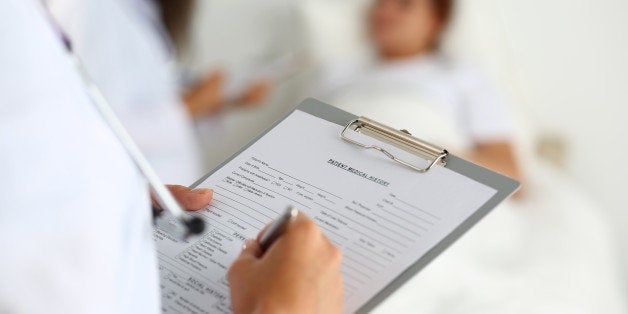 My head ached and the nausea was extreme as I awoke in the ICU last June.
I had just endured my second brain surgery in a week and with 47 staples in my head, I was relieved to be alive. I was determined to survive again since this wasn't my first life-threatening situation.
I suffered my first stroke almost 20 years ago. I was a healthy 21-year-old about to graduate college. My stroke symptoms were classic -- left-sided numbness, severe headache, confusion and trouble speaking.
I had to go to two hospitals before being correctly diagnosed with a stroke. Like many people, I didn't realize that stroke can happen to anyone. Over the course of three years, I suffered a total of three. It took six months for a disease diagnosis and four years of intense treatment and grueling side effects to get my health stable.
Wanting to help others, I became a volunteer and advocate for the American Heart Association. Disabled, I wasn't able to work. But I walked, spoke, lobbied, networked, jumped rope and attended fundraisers to share my story and raise awareness.
Eventually, I married my best friend and became a mother to two amazing children.

I was thrilled to become a 2014-2015 Go Red For Women National Spokeswoman for the American Heart Association. This was my opportunity to educate and create awareness for cardiovascular disease and stroke with a national audience.
I created a Facebook community called "ISurvivor Lisa Deck." This group garnered thousands of followers and was intended to be an educational resource. What started out to educate others became a real-time story of my survival.
Through my strokes and brain disease in my early adulthood, I learned how to be a survivor. Be courageous, think positive, accept help and find your inner strength. I just never suspected that I would have to be a survivor... again.
After living for 14 years without any major issues, the entire left side of my body went numb last year. At first I attributed this to my residual deficits of my previous strokes. I wasn't worried and tried my usual solution of resting and hydrating.
But the numbness lasted for four days and wouldn't subside. I knew I had to listen to the advice I had given: Take action when experiencing symptoms. I was shocked when the doctors diagnosed my fourth stroke.
Weeks of testing resulted in a diagnosis of incurable Moyamoya disease. Left untreated, Moyamoya will continue to cause strokes and can eventually prove fatal. The recommended treatment is surgery. I learned that I would need not one, but two brain bypass surgeries to help my situation.
Now being a mother, I had to be even more courageous and strong during this life-threatening battle.
My husband and I researched options for these specialized surgeries. This led us to Dr. Steinberg, an esteemed neurosurgeon who would perform bilateral brain bypasses one week apart. I was filled with extreme anxiety and fear anticipating the surgeries and leaving my children to travel across the country.
Saying goodbye to my children for three weeks was gut-wrenching. I worried about my survival and their well-being.
Fortunately, I'm blessed with amazing family and friends who selflessly supported me and my family during our time of need.
In June, my husband and I traveled to California for my surgeries. The three weeks at Stanford Medical Center passed in a blur of pain, fear and survival. I remember every scary and overwhelming moment.
My two brain surgeries lasted over 16 hours, had the blood flow in my brain totally stopped for minutes, and required 47 staples in my head and a blood transfusion. Immediately post-surgery, I suffered from speech difficulties, trans ischemic attacks, extreme nausea, debilitating pain, swelling and bruising.
Physical and emotional recovery were tough but successful.
I am now eight months post-surgery and I just learned from post-op testing that my surgeries were effective. The surgeon reported that my blood flow increased seven times which immediately decreases my risk of another stroke.
After four strokes, a Moyamoya diagnosis and two brain surgeries, I am blessed to be here to continue living my life. I now have another chance to hug my children, raise awareness of cardiovascular disease and stroke and encourage others to stay strong.
After all, I am a survivor!
This post is part of a series produced by The Huffington Post and the American Heart Association's Go Red For Women in recognition of National Wear Red Day (Feb. 5, 2016), the aim of which is to raise awareness that heart disease isn't just a man's disease, and 1 in 3 will die. But 80 percent of cardiac and stroke events may be prevented with education, lifestyle changes, and action. To read all the stories in the series, visit http://www.huffingtonpost.com/news/heart-disease/. And to follow the conversation on Twitter -- and share a picture of yourself wearing red -- find the hashtag #GoRed.
REAL LIFE. REAL NEWS. REAL VOICES.
Help us tell more of the stories that matter from voices that too often remain unheard.