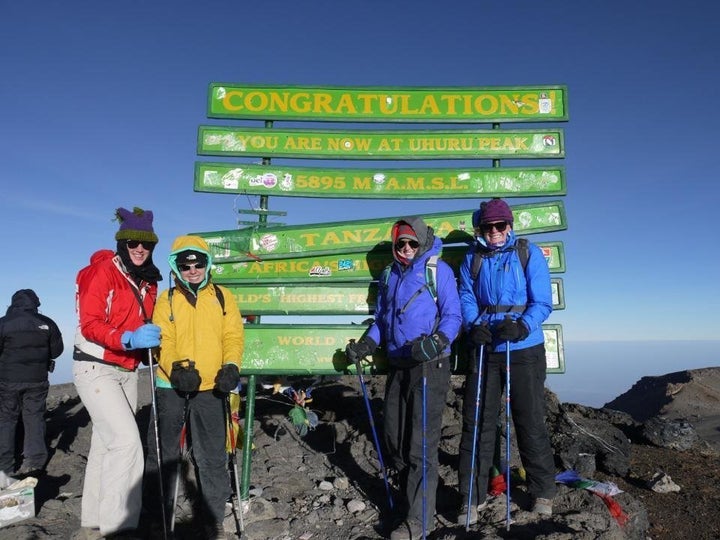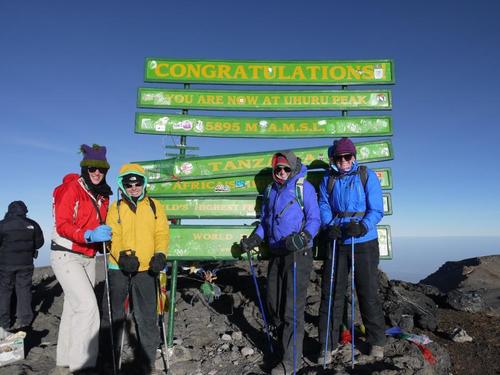 The View from the top of Africa is breathtaking. We have one mission: Get to the top in less than a week. These students are a part of a program we started a few years ago called The KIVU Gap Year. Students take a year from high school or college and travel the world learning new skills, interning in cultural emersion and finding out how they function in the world around them. I've never been more proud than to see these students standing on the top of the world. They did it.
When I was staring at this picture, a thought came to mind. I wonder how many of us have the opportunity to reach out and do something that seems impossible? A few years ago, I decided to run a Half Iron Man. I trained for 25 weeks, and when I crossed the finish line, I felt like I could have ruled the world.
My son is a snowboarder. He had his eyes on a particular section of our local ski resort. Each weekend, we traveled to give him the shot to "hit the jump" and after several failures, he hit it. He stopped his snowboard at my feet, threw his goggles off, and I saw the biggest smile and sense of accomplishment I've ever seen.
Sometimes, I wonder if we protect our kids so much from a sense of failure, we never really give them opportunities to do GREAT things. Has your kid ever climbed a mountain? Have they ever rafted a difficult stretch of river? Have they worked and trained for something where THEY can get the accolade and not just you?
Several of the students I'm working with are getting accepted to college now. 'Tis the season for acceptance letters to arrive in the mail. One got into Duke, another to Brown and still another is going off to one of our nation's elite military academies. In each instance, they call me and I can hear the excitement in their voice. "Andy, I did it!" they say in almost disbelief.
I love helping to set students up for success.
I love helping parents see how they can be successful at home.
I love watching college graduates get the job they want.
And I love being there when it doesn't go as planned.
I guess if everyone could climb to the top of Africa, it wouldn't be as special. But when I look at this picture, my heart swells with pride. I didn't do anything other than help the kids get there. They did the rest, and I couldn't be more excited for them.
What are you doing in your life today to help someone reach their goals?
How are you actively engaged in someone else's life to set them up for success?
True joy happens when we give our lives away, and don't merely focus on our own accomplishments.
I'd be lying if I said I didn't want to be there to celebrate with them, not to summit the mountain, but just to cheer them on to one of the most intriguing accomplishments in their life. Being a life's cheerleader brings more happiness than I could ever imagine.