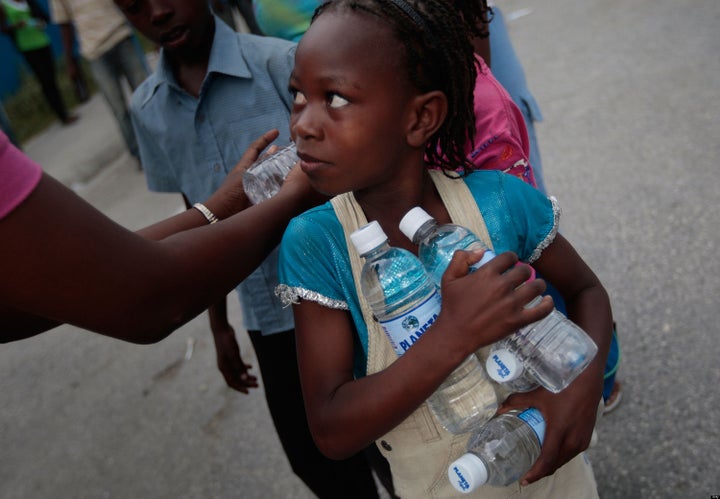 Like you, I've been following Arianna's sleep challenge. And I've been thinking about the kinds of things that cross our minds when we lie awake in the middle of the night.
Or any of the huge, complex challenges we face as a human family. Lots of good people are hard at work on these issues (I call them New Radicals - for more, please see archived articles). And now an interesting new organization has added its name - and an unusual approach - to the community.
The Skoll Global Threats Fund was created last year to address urgent threats like water shortages and pandemics. It was founded by Jeff Skoll, the first president of eBay who has been doing good works through his Skoll Foundation for the last decade or so. (I've written about Jeff before.)
This week, the fund announced their first grants. And I had a chance to sit down with its president, Larry Brilliant, a public health expert and technology entrepreneur whose last gig was running Google's philanthropic enterprise, google.org. (Check out a recent post by Larry.)
Where did this idea come from?
A few years ago, Jeff Skoll invited me to give a talk on "the case for informed optimism" at the Skoll World Forum. My thesis was that you can't shy away from the truth but you also have to be optimistic that we can solve the problems which were created by human beings. After that, Jeff and I spent a lot of time talking about what each of us saw as the gravest threats to humanity. And Jeff, in his clear-minded way, said that he wanted to spend the rest of his life working on "the things that could bring the world to its knees". I've worked with a lot of people from all walks of life but nobody has ever put it better. That's exactly what a global threat is.
Which of the threats will your team be working to address?
Climate change, water scarcity, pandemics, nuclear proliferation, and conflict in the Middle East.
To say it's an enormous challenge would be an understatement. What's your approach?
The challenges are huge and complex and there are many disparate efforts already underway to combat them. Our thinking is that these resources can be leveraged to become even more effective, and we're taking a three-pronged approach. First, support for groups to come together to work on these issues - people from the private sector, from government, from civil society, from academia. We'll also look for ways to strengthen, support, and invigorate the organizations themselves. And third, we'll mobilize action on these issues through advocacy.
We've got some pretty great assets that Jeff has put together. There's the Skoll Foundation, which helped create the growing cohort of social entrepreneurs. There's Participant Media, which Jeff funded - their projects include An Inconvenient Truth and The Cove - which is telling the stories that are changing the way we all think about these issues. We've got the contacts Jeff and I have in new media and technology that will help us frame these issues, spread the word, and build the community. And we've got Jeff's investment vehicle, Capricorn, which has given us $100 million to get started. Our hope is that with all of this in place - along with the team we're assembling now - we might extract a body of wisdom and a set of interventions that are applicable for any threat.
What are you announcing today?
Our first grants. Ploughshares Fund, which is working to combat nuclear proliferation gets $1 million to engage those who make public policy and expand public awareness and support. J Street, a new organization promoting more active American engagement in pushing for a negotiated solution to the Israeli-Palestinian conflict will get $200,000 in growth capital.
How can HuffPost readers follow what you're doing? How can we get involved?
We're launching a new website this week. The organizations we fund and work with will have their own sites, of course, and programs that people can get involved in. If readers haven't seen Participant's work, that's a good place to start. And they can also visit the takepart website that emerged from the incredible response to Participant's early projects.
Does "informed optimism" apply to your new work, Larry?
Absolutely. I don't know any other fund or foundation that's constructed the way we are with these assets and inclinations. Our hope is that something really innovative comes out of it.
Now it's your turn, readers. Have you been losing sleep over these urgent threats? What keeps you up at night? And do you share Larry Brilliant's "informed optimism"? Please share your thoughts by commenting below. As always, I invite you to email me directly at Julia (that familiar symbol) wearethenewradicals (punctuation) (familiar suffix).
Arianna speaks in Toronto.
If you're in Toronto on January 26th, there are still a few tickets available for Arianna Huffington's talk on "The Brave New World of New Media".
Event: Tuesday, January 26
Venue: RCM TELUS Centre for Performance and Learning
Time: 4:00 p.m. - 5:00 p.m.
Tickets

Julia Moulden is on tour talking about the New Radicals.