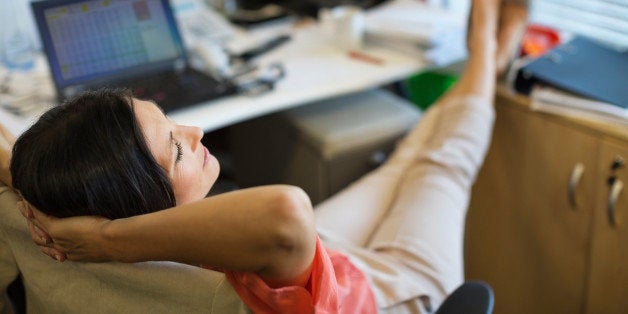 You know the effects of procrastination in your job search.
It affects your ability to concentrate on big things, such as completing your research, your application materials, and your submissions.
It tells you to postpone them. The outcome just might be another rejection, right?
We fear we're not capable of receiving the thing we want when we've been on a prolonged job search and have failed to land a job.
Job Search Fear and Procrastination
These fears lead to procrastination. Though we want to do those important assignments, we put them off.
We must push through procrastination, however, and do what needs to be done.
Why? Because procrastination weighs on you when it's motivated by fear. And when it weighs on you, it negatively affects your heart.
In a Science of Us article entitled, "Procrastination Is Not Great for Your Heart," Melissa Dahl concludes the following based on the Journal of Behavioral Medicine's study linking procrastination and heart disease:
". . . people who put undesirable tasks off still, eventually, have to actually do those tasks -- and when they do, they'll be under more stress than necessary, because they've allowed themselves less time to get the thing done. Stress, and its detrimental effect on the body's inflammatory responses, can also contribute to heart disease. "
4 Tips for Overcoming This Procrastination
I'll admit: the action associated with overcoming procrastination isn't the easiest to take. But, I'm presenting 4 tips you can test for effectiveness immediately. See whether they'll help you stop avoiding the things you need to complete.
1. Recognize Your Fears.

In her book, Feel the Fear and Do It Anyway, Dr. Susan Jeffers says something I agree with:
"Fear will always be a part of all our lives in one form or another. And this applies to people everywhere. ... no matter who we are, no matter where we live, no matter what we are experiencing in life, we all feel fear, but fear doesn't need to hold us back..."
When looking for a job, you face fears, a few of which I mentioned above. You're human.
Personally, these fears activated themselves all the more as my job search dragged on. I'd never before failed to accomplish something I'd set out to do. I'd never before experienced as much rejection as I've experienced in my search for a job.
As I fought these fears and kept applying to jobs, however, the hurt from the constant sting of rejections lessened. And, I began exploring various opportunities and avenues.
I still get rejected. I still feel the fears, but I now know how to deal with them and keep pressing.
Though it isn't easy to manage these fears, you can also do so with determination. Don't become a victim of fear.
2. Schedule a Planning and Organizing Period.
Diligence is required when looking for a job. Knowing this, it doesn't hurt to plan and stage your tasks.
When I'm scouting opportunities, for example, I break my job search activities up into different stages during my planning period.
1. Research companies and available positions.
2. Identify positions of interest and whether I meet the organization's required qualifications.
3. Prepare my cover letter and resume according to the company's needs. Display my ability to perform the job's tasks.
4. Proofread and edit my application material for mistakes and corrections.
5. Submit resume and cover letter for consideration.
You might also find it helpful to track everything you do through organization. With an organized to-do list, you determine what needs to be done for the day, prioritize them, set a deadline for completion, and check off tasks as they're completed.
3. Instead of Deterring, Take Action.
Even when you experience fears, don't let them stop you from taking action. Take action!
You set a timer for 10 minutes.
"By frantically racing the clock for that short period, you'll likely find you become engrossed in your tasks and continue working."
Take the first step with your timer in hand, if you need to. Commit to your task for 10 minutes and see how much you accomplish.
After 10 minutes, you might want to continue your task for another 10 minutes. Then another.
You see where I'm going, right?
4. Set Aside a Break Time.
Sometimes, you need time off from your tasks for refreshing. You'll stretch yourself too far otherwise.
I know how this feels, too.
In the beginning of my job search, I worked at it constantly - even when I became tired and knew I needed a break. I worked from a place of exhaustion because I didn't want to be "lazy."
With the passage of time, however, I knew I needed to take this break thing seriously for health purposes. It proved beneficial, too.
So to you: take a break when necessary. You'll know when you need one and for how long.
Use this time to engage in energizing activities. And don't forget to be intentional about the amount of "break time" you set aside and stick to it.
Procrastination doesn't mean you're lazy, especially if you engage in another productive activity.
The issue comes in when you allow your fears to permanently stop you from doing the very thing you need to do. Recognize your fears so you can overcome procrastination.
Popular in the Community