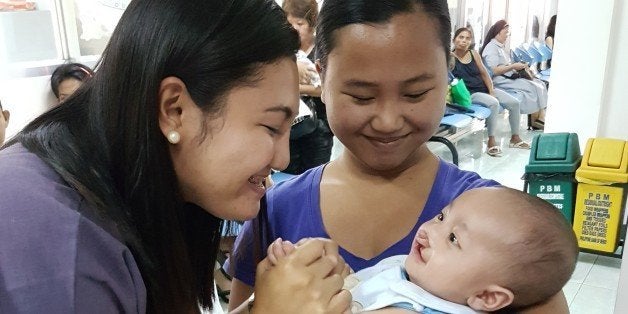 Take a deep breath. Think about the last thing you ate or the last time you spoke out loud. For many of us, we take these simple actions for granted.
Now, imagine struggling to breathe, eat, or speak, every second of every day. This was me as an infant and it is the reality for millions of children with untreated cleft lip and/or palate.
Approximately one in every 700 children worldwide is born with a cleft. In many developing countries, clefts are the leading birth defect and have a lasting negative medical, personal and economic impact. Frequently, children born with clefts are isolated by their families or shunned from others. They are unable to attend school or ever hold a job, which negatively impacts the entire family's social and economic well-being.
I had my first cleft surgery, called cheiloplasty, when I was just nine months old. My second surgery, palatoplasty, was completed before I was two, and I received subsequent comprehensive care surgeries throughout my childhood. Until I completed all my surgeries, I was bullied and got into fights with other kids. I was discriminated against at school and had very low self-esteem. When I was in public, others would stare at me ... it made me feel as if I didn't belong.
My surgeries helped me build the confidence I needed to face the world--especially bullies. The physical aspects of the transformation are very evident right after the surgery, which gives patients, like myself, and their families renewed confidence and hope for a better life. Because of my positive experiences with cleft surgeries, I became a nurse, serving children with cleft every day.
I continue to be amazed by the surgery process, even after helping thousands of children. The transformation is remarkable. I am especially proud to help with medical outreach programs in the provinces across the Philippines. Parents look to me to be a role model for their children who might be afraid to undergo cleft surgery. It's an amazing feeling to inspire others, and I am so happy to have the opportunity to share my services with so many young cleft patients and to help guide them on a path to a brighter future.
Today, in developed countries with sophisticated healthcare systems, like the United States, clefts can be repaired with a simple surgery during infancy and don't have the same long-term impacts for children and their families. Unfortunately, more than 400 million people worldwide lack access to essential health care and don't have access to the treatment at an early age.
You might be thinking "I don't know anyone with cleft. What does this mean to me?" I think my story is universal. We should all treat each other equally, no matter what. Our differences are what make us unique and special. People born with cleft lip and/or palate or who are differently abled are normal. Just like you, we are doing our best to live decently and peacefully. Together, we can end stigma against those perceived as different and smile in the face of hate.
This post is part of a series produced by The Huffington Post and the #GivingTuesday Team at 92nd Street Y, to celebrate #GivingTuesday. #GivingTuesday is a global giving movement, and the series (which will feature content throughout November) aims to celebrate how people are giving back around the world. For more information about #GivingTuesday, visit here. And to join the conversation on social media, use the hashtag #GivingTuesday.
Related
Popular in the Community