Back in his natural element, President Donald Trump on Wednesday evening gave a freewheeling, 70-minute speech at a rally in Cedar Rapids, Iowa, that had all the signatures of his presidential campaign.
Appealing to his core supporters, Trump exaggerated his accomplishments, railed against journalists (the "fake news") and Democratic lawmakers (the "obstructionists"), and derided as a "witch hunt" the ongoing investigations into whether his campaign colluded with Russian officials and whether he obstructed justice by trying to stem the probes.
But most of all, it was a classic Trump speech because it contained a cornucopia of muddled and unsupported claims — some flat-out false, many questionable at best.
Trump even noted as much, saying: "I have to be a little careful, because they'll say, 'He lied!'"
Trump falsely claimed that the Paris climate accord is a binding agreement.
"They all say it's non-binding. Like hell it's non-binding!" he said Wednesday.
Earlier this month, Trump himself said it was non-binding.
"As of today, the United States will cease all implementation of the non-binding Paris accord," he said during his June 1 Rose Garden speech, announcing the U.S. withdrawal.
He proposed a law to ban welfare for new immigrants ― which already exists.
"I believe the time has come for new immigration rules which say that those seeking admission into our country must be able to support themselves financially and should not use welfare for a period of at least five years," Trump said, to exuberant applause from his crowd.
He hailed his plan to end the estate tax, even though it would only help millionaires.
Trump received more applause when he suggested that his proposal to eliminate the estate tax, which conservatives call "the death tax," would help ordinary Americans, citing Iowa farmers.
"We're also working very, very hard to get rid of the death tax so that you can pass your farms onto your children and onto your grandchildren," he said. "This way you can pass your motorcycle on, OK. Forget about the farm."
"You should have a right to pass your farm onto your children and onto your grandchildren. You should have that right," he added, to more applause. "Without having them going out and borrowing a fortune, not being able to make payments, losing it to the banks. It's not fair. So, we're working hard. Let's see if we pull it off. We're going to try very hard, I can tell you."
Trump also repeated one of his most frequent false claims: that the United States is "the highest tax nation in the world," or at least "one of the highest taxed nations in the world."
Trump bragged about passing 39 pieces of legislation through Congress.
The full quote from Wednesday's speech:
We signed 39 pieces of legislation. That means going through Congress, folks. Because you know they tell you, these guys, the fake news. They tell you, it's fake news, fake.

Not all of it. Some of it's good. And some of the people are great, actually. But some are real bad and they're really fake.

But if you listen to them, we didn't pass any ― we passed 39 ― I'm not talking about executive orders, which we've signed a lot. I mean, we have really signed a lot. And we've gotten rid of a lot of really bad pieces that were signed by President Obama, believe me.

But, if you listen to the fake news, they say like, he didn't pass any legislation. Everything's ― that's wrong. Thirty-nine pieces as of today, some of them very important.
Some of his "very important" bills have rolled back regulations put on the books by Obama administration achievements. But the process did not involve much heavy-lifting in a GOP-dominated Congress. Republicans used the arcane Congressional Review Act, which allows lawmakers to undo regulations within 60 legislative days of being finalized.
But Trump, who had promised that major health care and tax reform legislation would reach his desk in his first 100 days in office, assured his supporters to remain hopeful for big-league bills in the future.
"Now, my biggest pieces are yet to come. Hopefully taxes. Hopefully health care. Hopefully infrastructure," he said.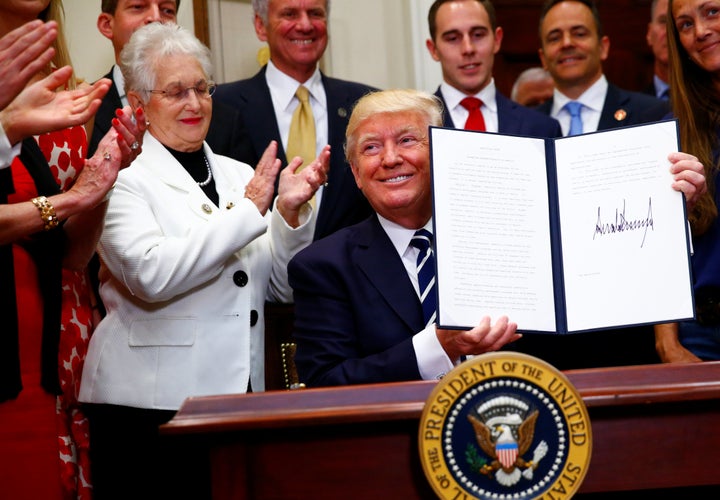 Trump falsely claimed Wednesday's event was not a campaign rally.
"We're not even campaigning, and look at this crowd!" Trump exclaimed.
Wednesday's event, advertised as a "Make America Great Again" rally, was clearly part of his 2020 re-election effort and was funded by campaign contributions, despite Trump being only five months into his first term.
Support HuffPost
The Stakes Have Never Been Higher
Before You Go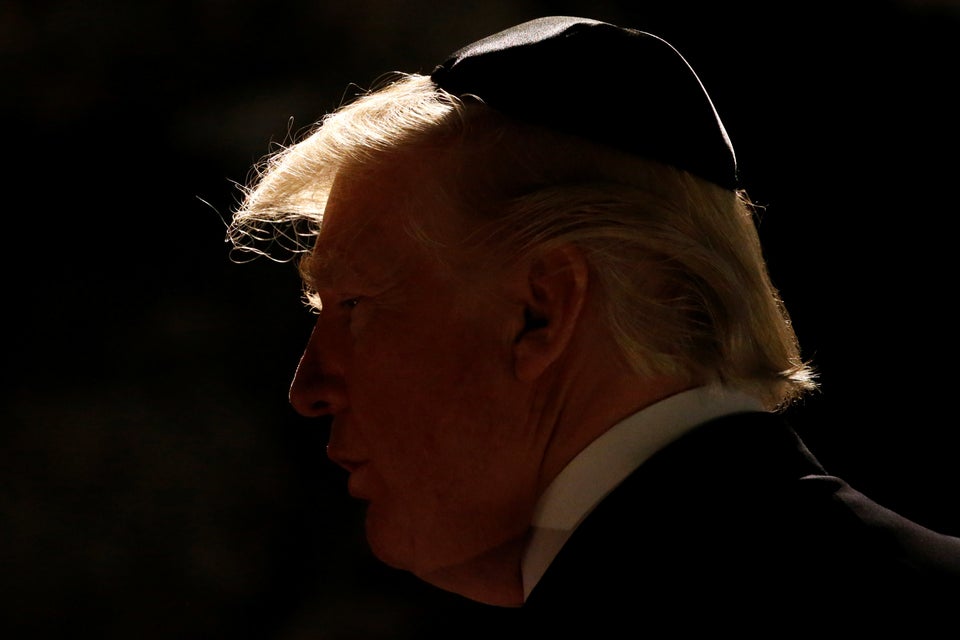 President Donald Trump's First Trip Abroad
Popular in the Community