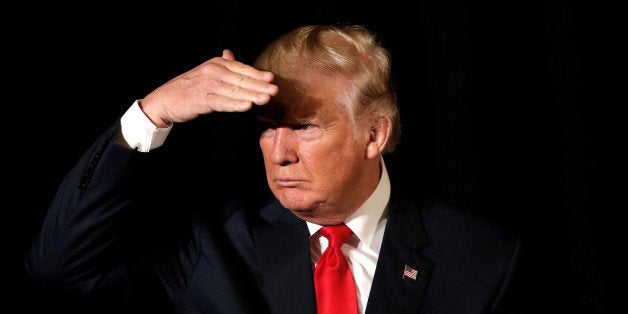 The leading fact-checking association in the United States has threatened to boycott the second presidential debate if GOP candidate Donald Trump doesn't meet their demands.
The National Organization of Fact-Checking Technicians sent an email to the Trump Campaign and the Commission on Presidential Debates on Monday that said none of its members would attend the next debate unless the billionaire real estate developer agreed to use at least one fact.
"We cannot in good conscience be a part of the debate as long as Mr. Trump continues to make a mockery of facts and of people like us who are willing to put our reputations - and even our lives - on the line to protect and preserve the value of facts and everything they represent," Faith Candor, president of NOFACT, wrote in the email.
"Is it too much, Mr. Trump," she asked, "to ask you to include at least one actual fact in your next debate with Hillary Clinton?"
Trump and Democratic presidential candidate Hillary Clinton will next debate each other at Washington University in St. Louis, Missouri, on Sunday, October 9.
Candor said that fact-checkers accept a certain amount of exaggeration, distortion, prevarication, and outright lying on the campaign trail. But, she added, that there is usually a "germ of truth" in most statements made by political candidates.
"With Trump, there is no truth to what he says. The only thing you get from him is germs," she said. "He appears to simply pull everything he says out of his rear end."
PolitiFact, the Pulitzer Prize-winning journalism website, supported Candor's comment. It reported that only 2.5 percent of Trump's statements during the presidential campaign were rated "true." More than 60 percent of his statements were rated either "false" or were considered "pants on fire" lies, which is the category given to statements without any basis in truth.
PolitiFact said Trump has made more "pants on fire" statements during the presidential campaigns than all other 21 presidential candidates combined. It awarded Trump its 2015 "Lie of the Year." It could not designate one particular lie so it gave Trump the award for his body of work.
Trump responded angrily to the email from NOFACT. He called the threat "politically motivated."
Trump responded to the fact checkers' demand in a separate tweet a minute later:
"Fact checkers are for losers. My supporters don't want facts."
Candor said she was encouraged by Trump's response.
"What he said about his supporters is actually a fact," she said.
Related
Popular in the Community