Politicians still lie despite fact-checking. Not all post-debate polls are worthy of attention. And Americans are divided on athletes protesting the national anthem. This is HuffPollster for Wednesday, September 28, 2016.
DOES FACT-CHECKING MATTER? - Danielle Kurtzleben: "In this election, with conspiracy theories and mistruths flying, though, fact-checking has taken center stage…. And yet despite all that truth-squadding, lies live on, (un)healthy as ever. Politicians keep spouting falsehoods, and Americans keep believing them…. So has fact-checking failed?... We dug into the research, and we have an answer: No. However, it also isn't nearly as effective as many fact-checkers/fact-check aficionados would like it to be…. 'We find that the audience skews toward people who are more politically knowledgeable, sophisticated and interested in politics,' said [Brendan Nyhan from Dartmouth College]… A recent study from Nyhan and [Jason Reifler from the University of Exeter] found that 46 percent of subjects who scored high on a political knowledge test were 'extremely' or 'very' interested in reading a fact check, compared to 24 percent of people with low political knowledge. Not only that, but there's a partisan divide in trusting fact checks. Among high-knowledge subjects, 59 percent of Democrats had 'very favorable' opinions of fact-checkers, compared to 34 percent of Republicans. That's stark, and it's also unsurprising, considering how low Republicans' trust in the media is compared to Democrats'." [NPR]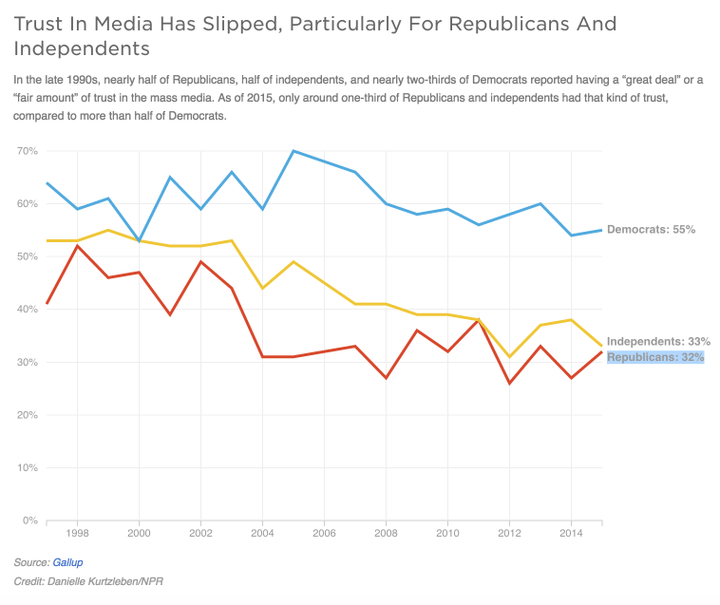 DONALD TRUMP TOUTS UNSCIENTIFIC 'READER POLLS' ON THE DEBATE - Jay Cost: "After the debate, Donald Trump and his campaign have claimed that the Republican nominee won— according to all the polls. One new press release from Trump's campaign says he 'leads post-debate surveys.' It's not true. CNN and YouGov gave the win to Hillary Clinton, while the Drudge Report poll, among several others, had Trump winning handily. Which of these to trust? The Drudge Report poll is not a scientific poll, and therefore its results do not tell us anything about what America as a whole thought. The same is true of other polls like those conducted by Time, CNBC, and the Washington Times. These polls are of no value for gauging public opinion…. Even proper post-debate polls are hardly my favorite type of poll. They have a lot of methodological problems that are very difficult to overcome. We should take them with a grain of salt. But online polls like Matt Drudge's tell us nothing about public opinion." [Weekly Standard]
Attempts to manipulate unrepresentative online polls illustrates why they're not trustworthy - Melanie Ehrenkranz: "If you see an online poll declaring Trump the winner of Monday night's presidential debate, don't be duped — it could be the handiwork of 4chan trolls…. As the Daily Beast pointed out on Tuesday, 4chan — a digital paradise of forums that cater to alt-right trolls — aimed to cheat the online polling systems of CNBC, Time, ABC News, the Hill, BuzzFeed, People, CBS, Variety and CNN to sway debate results in Trump's favor. Then, Trump flaunted these polls on Twitter as his declaration of victory. 'CNBC poll is the most important, guys!' a user wrote on 4chan. 'Get on it, we need to push past 50!'" [Mic]
The Huffington Post ran our own nonscientific Twitter poll to illustrate the point:
CLINTON HAS A 'MILLENNIAL MATH PROBLEM' - Sasha Issenberg and Steven Yaccino: "The youth vote was one of the pillars of the Obama coalition. But thus far it's proven perhaps the most difficult one for Clinton to rebuild. Polls show the nominee failing to earn the confidence of young voters—only 33 percent of those between ages 18-29 told Gallup this month that they approved of her—and running far behind where she would hope to be against her Republican opponent. The polls also show Clinton currently winning under half their votes, while Obama got over three-fifths of that demographic in both of his campaigns…. Traces of those holdouts may be even more evident in the northern tier of states... New Hampshire, Maine, and Minnesota are among the most homogenous of the battlegrounds. In comparison, the percentage of black Americans nationwide is twice as high as it is in Wisconsin, which has the most racially mixed population of these Sanders states. In large, diverse states, an effective mobilization campaign can make up for a lack of enthusiasm among youth voters. But the relatively small, overwhelmingly white states that Sanders won offer little opening to change the November electorate with get-out-the-vote efforts." [Bloomberg]
AMERICANS ARE DIVIDED ON PROTESTING THE NATIONAL ANTHEM - Marist Poll: "A majority of Americans think professional athletes should be required to stand for the national anthem, and nearly two-thirds of residents consider the anthem to be a symbol of Americans' rights and freedoms. However, Americans divide about whether or not it is disrespectful for a player or team to refuse to stand for the national anthem in protest of an issue. On many of these questions, opinions differ based on race, military service, and age…. 52% of Americans say professional sports leagues should require their athletes to stand for the national anthem. 43% think such a display should not be mandated. While a majority of white residents, 56%, say the players should be obligated to rise for the anthem, a majority of Latino adults, 55%, and nearly half of African American residents, 48%, report they should not be made to do so…. A divide exists about whether or not it is disrespectful if a team or athlete does not stand for the song. 50% say it is disrespectful to the freedoms the anthem represents while 46% assert it demonstrates the freedoms the anthem expresses." [Marist Poll]
HUFFPOLLSTER VIA EMAIL! - You can receive this daily update every weekday morning via email! Just click here, enter your email address, and click "sign up." That's all there is to it (and you can unsubscribe anytime).
WEDNESDAY'S 'OUTLIERS' - Links to the best of news at the intersection of polling, politics and political data:
-Farai Chideya profiles Donald Trump's evangelical supporters. [538]
-Theodore R. Johnson analyzes data on the black vote. [WashPost]
-Scott Clement and Emily Guskin look at which demographic groups are perceived as having undue influence. [WashPost]
-Pew Research compares American and Israeli Jews. [Pew]
-Abigail Geiger looks at partisan differences in views of institutions. [Pew]
-Politico and Morning Consult launch a polling partnership. [Politico]
Popular in the Community