Most fine art of the past hundred years has abandoned narrative and all its tropes. Kourtney Roy, a Paris-based, Canadian-born photographer coaxes viewers to more deeply involve themselves in her photographs by using the visual language of cinema to imply narrative. She models for the camera herself in an undefined role. The ambiguous narratives that she achieves are humorous, mysterious, and often reminiscent of something we might have seen in a movie way back when.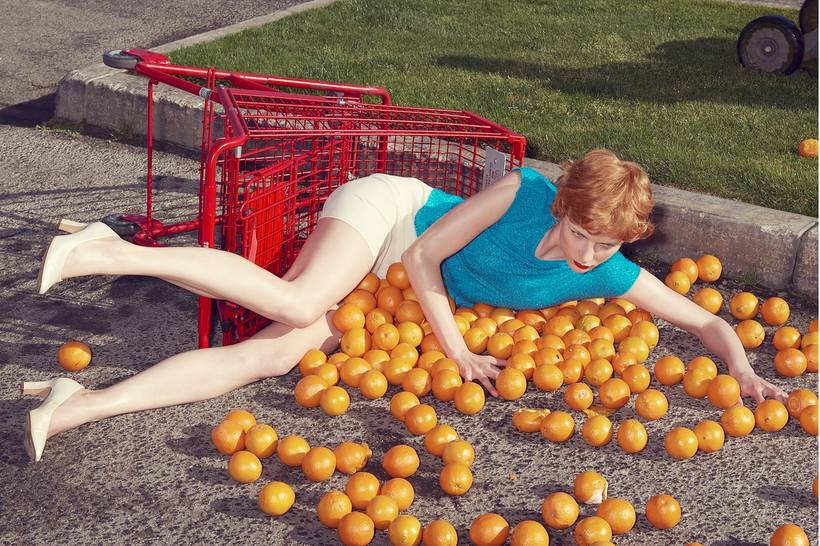 Historically, the advent of cinema allowed fine art to part ways with narrative. Chaplin signed with Keystone Studios in the same year that Duchamp scandalized the Armory show. Without needing to tell a story, object makers and fine art photographers were free to investigate the language of form, of abstraction, of pure concept. The tropes of the cinema, even at its most avant garde, became forever tied with the masses and with sentimentality. The smell of popcorn inevitably took the place of the indelible aesthetic advances of pictorial space that art for art's sake embarked upon.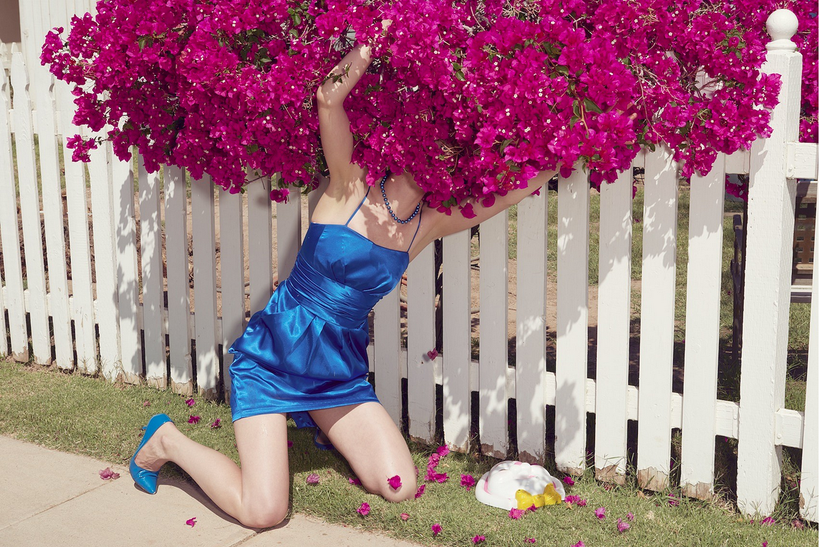 Narrative reintroduces itself in fits and starts into the fine art world over the years, trendy for a couple of seasons, then washed away in a tsunami of color fields or conceptualism. And yet, when engaging the viewer is the priority, narrative can be the bandage that closes the wound of cultural insignificance currently bleeding out from painting, sculpture, performance, conceptual art, and photography. But fine art exists to defeat predictability and the only thing worse than a plot a viewer can predict is a narrative so ludicrous that it never crossed their minds.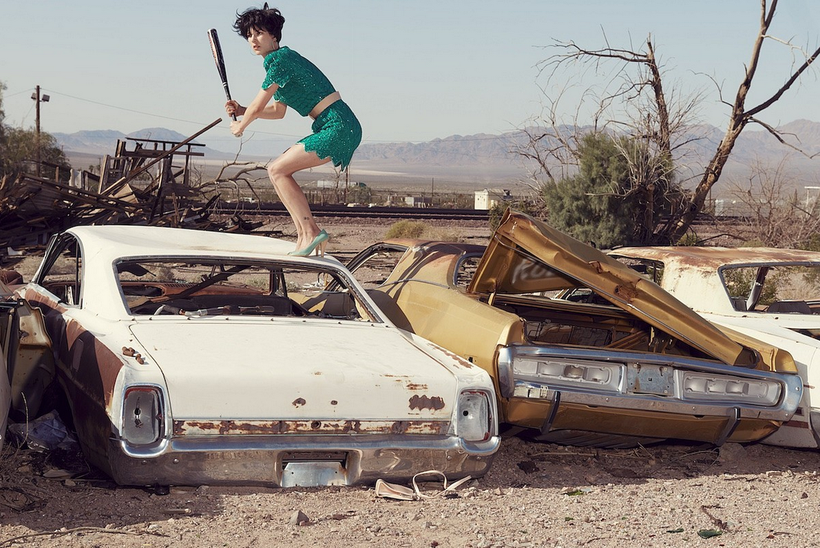 The solution that works best for all fine art mediums is the presentation of the ambiguous narrative. Such an endeavor doesn't have to have predictable pablum plots populating every picture. It could start with references to that bastion of telling stories, the moviehouse, and add hints that quote successful sources. Kourtney Roy cinematically frames her photographs and allows the viewer to enjoy the clues of homages to the silver screen with no specific point of reference. Is it Hitchcock? Is it Lynch? Is it something more obscure or, heaven forbid, from a more commercial source?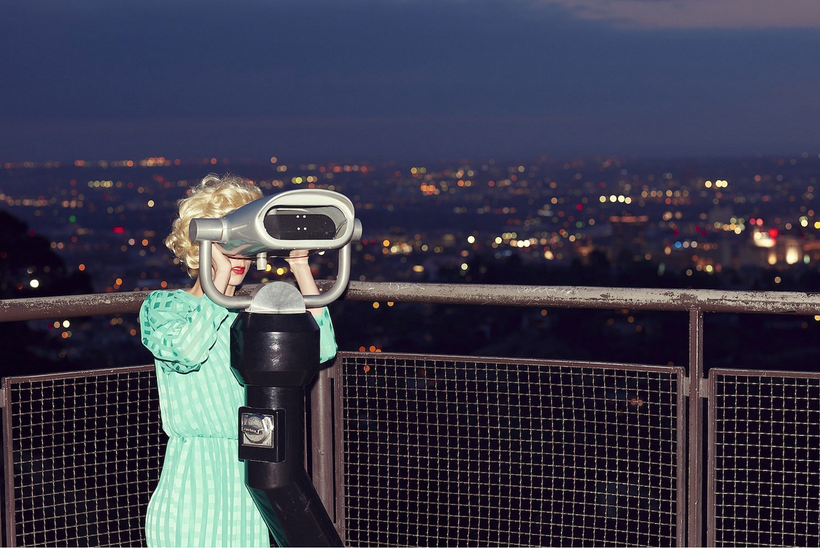 For decades, administrators in the institutional art world have managed to play favorites in delving out shows to friends and lovers with the justification, "the artist chooses to let the viewer decide the meaning of the work," usually accompanied by wan, incomprehensible art unworthy of the status conferred by the institution's approval. But when fine art hints at a story, it avoids browbeating viewers into following along while stirring their curiosity. With ambiguous narrative as a foundation, aesthetics can then be prioritized for co-existing with a conceptual foothold.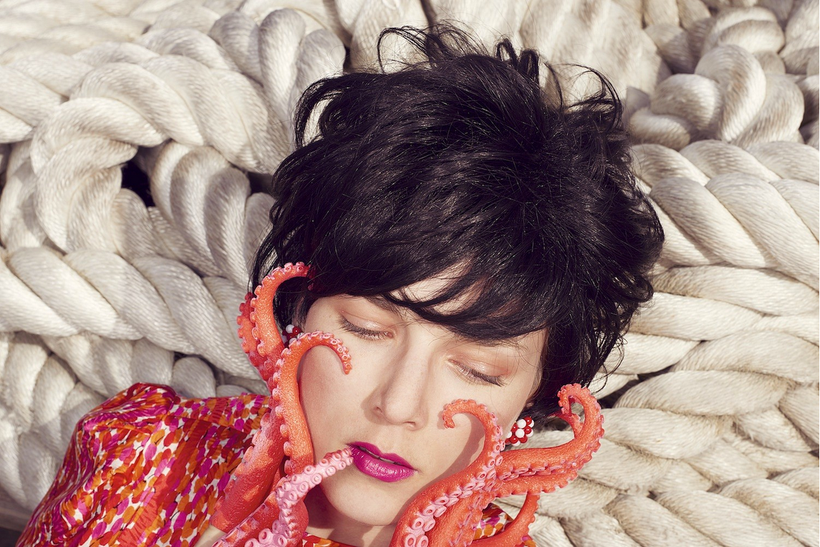 In her current show, Enter As Fiction, at KM Fine Arts on La Cienega Boulevard, Kourtney Roy delivers over twenty engrossing landscape photographs with a formal foundation in the visual language of cinema. To weed out epistemic certainty, she approaches her landscapes as film sets. Once something looks like a movie, the viewer begins to fill in the story. Embracing mundane spots, she casts herself in a movie role and models herself in a spontaneous narrative. Acting in a film that can be vaguely remembered by the viewer even though it didn't exist, her photography celebrates her usually awkward character interacting with edgy, empty spaces between our metropolises.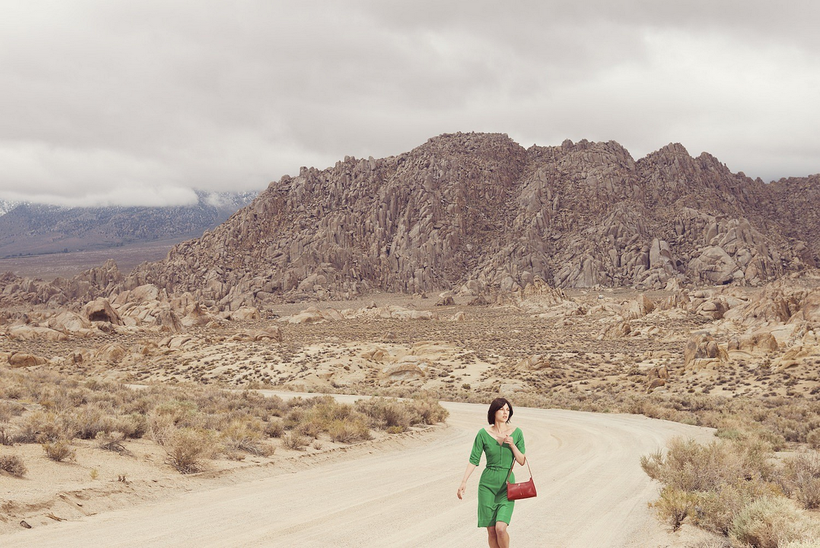 And yet, these pictures acknowledge cinema's iconic primacy, its ability to make the next great visual statement. Capturing all this is her job. Perhaps her background growing up in the wilderness of Northern Ontario informs her preference to avoid the city centers and established fairways in her work. Despite living in Paris for fourteen years, she identifies with the mysteries in the landscapes of North America. Away from the crowd, apart from the monuments, she seeks the liminal edges of civilization as her setting; empty spaces, landscapes far from the city centers, engorging on architecture that is never to be revered by those who name drop Gehry and Le Corbusier.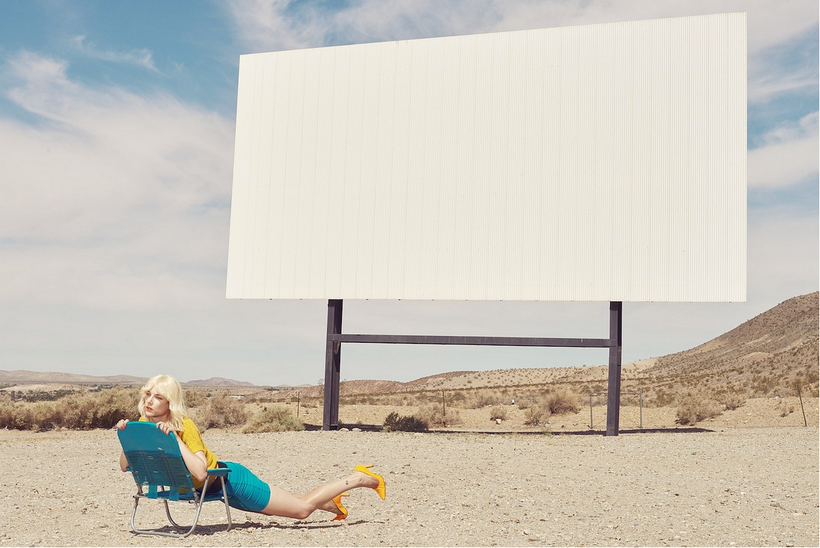 The process of achieving these photographed love letters to cinematic style is somewhat humorous. Picture a car loaded to the gills with midcentury wardrobe, wigs and props careening about the hinterlands looking for the perfect encounter with banal architecture or broad natural vistas. Don't ruin your evening out at the galleries looking for too many clues. Roy's work invites you to bring your own. The hints at narratives - some somber, some goofy, some mysterious, and others heroically aloof - are an artist showing the way for fine art to matter just a little more to more people. Her flare as a fashion photographer grounds the work in riveting beauty but her conceptual underpinnings point the direction toward which fine art really must go. We know the narrative of what happened based on our own connection to the movies we have loved over the years. While viewing Roy's acting and her composing, it is the viewer who does the editing, directing and producing.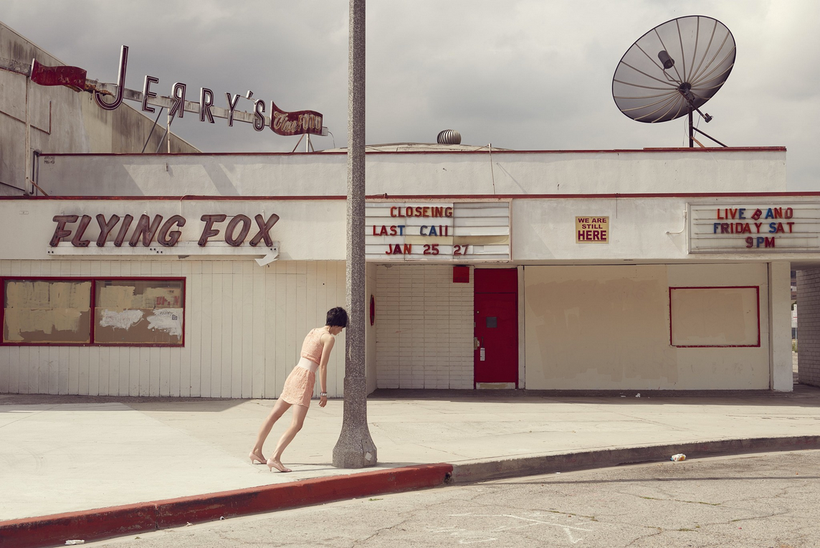 While this is her introduction to the Los Angeles art world, Kourtney Roy has a long, enviable exhibition record in the United States and Europe. She is also a top fashion photographer and a mix of fashion glitterati (look for Roy's contributions to an upcoming edition of Esquire's Big Black Book) were interspersed with us arties at her private Soho House West Hollywood exhibition, an extension of her KM Fine Arts show, itself drawn from the material comprising her book, California (LINK), a travelogue published as one of five Fashion Eye books by Louis Vuitton. Her Soho House show is limited to members of that private club thru November 30. Enter as Fiction is at KM Fine Arts (LINK) thru December 30.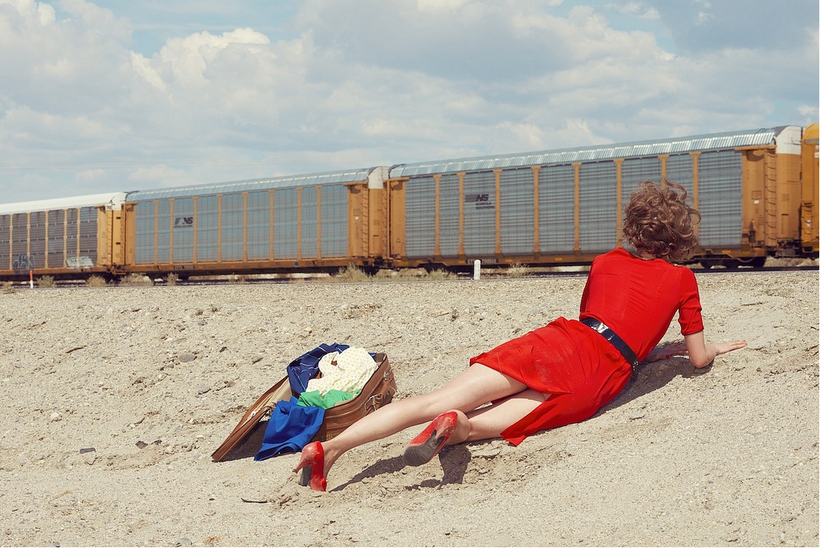 REAL LIFE. REAL NEWS. REAL VOICES.
Help us tell more of the stories that matter from voices that too often remain unheard.
This post was published on the now-closed HuffPost Contributor platform. Contributors control their own work and posted freely to our site. If you need to flag this entry as abusive,
send us an email
.