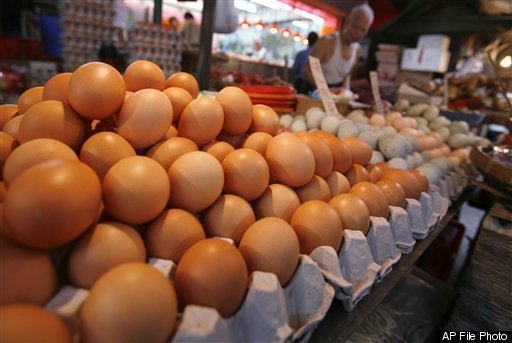 Interstate egg baron Austin "Jack" DeCoster offered an apology this afternoon during a congressional hearing into the mass recall last August of 550 million factory-farmed eggs contaminated with salmonella.
"We were horrified to learn that our eggs may have made people sick," DeCoster told the panel. "We apologize to everyone who may have been sickened by eating our eggs. I pray several times each day for all of them and for their improved health."
Seeing as two victims of DeCoster's slovenly egg production system were witnesses at the hearing, the apology was appropriate and welcome. But it was not nearly enough. We need tougher laws; not more contrite factory farmers.
More than 1,600 people were reportedly sickened by eggs from DeCoster's Wright County Egg and from Orland Bethel's Hillandale Farms, both from Iowa -- though the true number is probably many times greater than that.
But when it comes to eggs and other animal food products raised in huge, industrialized, often unsanitary factory farms, we need more than apologies: We need inspection, enforcement, and accountability.
Rep. Henry Waxman, the powerful chairman of the House Energy and Commerce Committee, whose oversight subcommittee convened today's hearing, promised tough questions for DeCoster and Bethel (Bethel took the Fifth and refused to answer any questions). He decried the "filthy conditions that caused food poisoning in thousands of consumers across the country," and charged that "these facilities operate with a shocking level of disregard for basic food safety controls."
FDA investigators inspected multiple facilities of Wright County Egg from August 12 through August 30, 2010. In the course of their investigation, officials found chicken manure reaching eight feet high, employees who did not wear or change protective clothing when moving from one laying house to another, and many live mice throughout the facilities. Inspectors also observed wild birds sitting near and flying over grain bins that contained chicken feed. In total, six samples taken from the facilities and feed supply tested positive for Salmonella Enteritidis.

FDA also inspected facilities of Hillandale Farms of Iowa. During inspections from August 19 through August 26, 2010, investigators found numerous unsealed rodent holes, liquid manure "streaming" from a crack in the manure pit, and uncaged hens tracking manure throughout the laying facilities. FDA found Salmonella Enteritidis in a sample of spent water from an egg wash station.
It's enough to make you sick. And no apology, no matter how welcomed and sincerely delivered, will prevent it from happening somewhere else.
As Rep. Edward Markey (D-MA) said in his opening statement, DeCoster is probably not the only bad egg actor in this whole mess: "There are many egg producing facilities with corporate ties that have not yet been inspected by the FDA," Markey said. "The corporate fox is in charge of the henhouse."
DeCoster's son Peter said he believes "at this time" that contaminated chicken feed, and not conditions in the barns, is what led to the outbreak. But the FDA "has not reached this conclusion," said FDA Principal Deputy Commissioner Joshua M. Sharfstein.
FDA investigators, he testified:
found significant objectionable conditions observed at poultry houses, such as the presence of live and dead flies that were too numerous to count, as well as maggots at Wright County Egg and live rodents and structural damage that allowed rodents, birds, and potentially other animals to enter poultry houses at both companies.
Sharfstein said that any number of factors could have contributed to the introduction and spread of the disease, and added that a newly adopted FDA "egg rule" will require "certain types of preventive measures that will keep salmonella from getting in eggs," including better rodent control, refrigeration and testing.
Currently, the FDA has "no ability to subpoena, the information they seek has to be given voluntarily, there is no obligation by the farms to report to the FDA even when they know there are food safety issues," Waxman charged. "This is unthinkable."
Waxman's committee unanimously approved the Food Safety Enhancement Act, which was overwhelmingly passed by the full House. The bill, which remains stalled in the Senate, would give the FDA new, sharp teeth to enforce inspections and mandate recalls of contaminated foods, including fruits, vegetables, seafood, milk and eggs. (The Iowa egg recall was voluntary).
As good as that bill is, it apparently would not cover inspections and recalls of meat, poultry and processed egg products, which fall under the auspices of the USDA's Food Safety and Inspection Service.
But the Food Safety Enhancement Act is clearly a necessary step toward the ultimate goal of protecting American consumers from all food-borne illnesses, especially if this country is going to remain addicted to cheap meat, milk and eggs produced at gargantuan "concentrated animal feeding operations" (CAFOs), better known as factory farms (traditional farms, while not free of these problems, are less likely to have such large outbreaks).
Democrats charge that Sen. Tom Coburn, Republican of Oklahoma, is singlehandedly holding up the bill in the Senate, something that GOP members of the House committee denied today.
Whoever is responsible for holding up this critical bill, just like DeCoster, they owe the American people an apology -- and an explanation.