When President Donald Trump stopped the Carrier Corporation from closing its Indianapolis factory last year, he did so recognizing that manufacturing remains one of the few sectors of the American economy that pays decent wages for people without college degrees.  
"My administration's policies and regulatory reforms, tax reforms, trade policies will return significant manufacturing jobs to our country," Trump said in February. "Everything is going to be based on bringing our jobs back. The good jobs, the real jobs."
For politicians across the spectrum, shuttered factories are a symbol of America's diminished economic greatness. But even good manufacturing jobs come with a downside that politicians overlook in their effort to valorize them: long, terrible hours.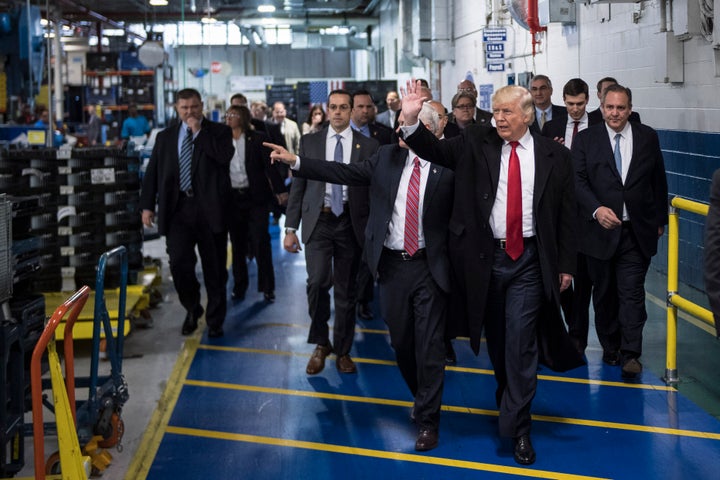 T.J. Bray has worked at Carrier, a company that makes heating and air conditioning equipment, for 15 years. He's among the 800 Carrier workers who will keep their jobs ― though another 500 or so are still getting laid off this year ― and is very grateful that Trump intervened on their behalf. When Carrier announced that a deal had been reached on the evening of Nov. 29, Bray was shocked.
"I just came back from my daughter's gymnastics practice," he told HuffPost by phone that night. "NBC just called me!"
Before he found out he would keep his job, he'd considered going to college for a degree in communications. Carrier workers of his seniority typically make between $23 and $25 an hour, and Bray didn't know if he'd be able to do better elsewhere without a degree.
Bray, 33, is an insulator. Every day he places a strip of fiberglass on a long metal part called a heat exchanger column, shooting five screws through pre-drilled holes to attach it to the furnace. He does that 1,120 times a day.
"We work our asses off, man," he said.
His regular schedule is 10-hour shifts Monday through Thursday, though he said he is usually called in on Fridays as well. And while he tries to avoid Saturday and Sunday shifts, that's not always possible.
Bray likes his coworkers, and the job provides for his family, which includes two children aged 4 and 7. But the work is drudgery, and the long hours mean he doesn't see his kids as much as he would like.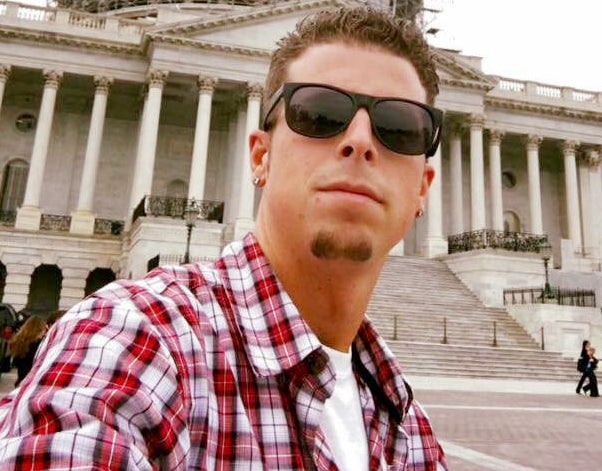 "You miss out on so much stuff in your life because you're freakin' in a factory all week, and then you get one day off and on that one day off all you want to do is sleep and rest," he said. "I don't want to spend my life ― six, seven days a week ― in a factory and next thing I know, my kids are going to be grown up and I missed out on everything because I was too busy making money."
The length of the average workweek for manufacturing jobs was 41.8 hours as of May, compared with an average of 33.6 hours for all workers, according to the Bureau of Labor Statistics. But the data includes part-time workers, which masks how long the days really are for full-timers. The weekly pay for manufacturing factory jobs is solid, averaging $1,077 in May compared to $901 across all sectors. The advantage practically disappears when you look at hours, however: The average manufacturing wage is at $26.47 an hour, compared to $26.22 for all sectors.
Compensation for manufacturing workers has declined relative to other industries in recent years. The Congressional Research Service reported earlier this year that high manufacturing wages may be a myth entirely; the average is higher because the sector tends to employ older, more experienced workers.  "Contrary to the popular perception, manufacturing workers, on average, earn significantly less per hour than workers in industries that do not employ large numbers of teenagers, that have average workweeks of similar length, and that have similar levels of worker education," said the CRS report.
I don't want to spend my life ― six, seven days a week ― in a factory and next thing I know my kids are going to be grown up and I missed out on everything because I was too busy making money.

T.J. Bray
Chuck Jones served as president of the United Steelworkers Local 1999, which represents workers at Carrier and several other plants around Indianapolis, for 26 years before retiring last month. He said manufacturing workers end up working more than 40 hours a week because their employers would rather pay overtime rates ― which are usually 150 percent of the base wage ― than hire more staff, which would involve health and retirement benefits. While the union can negotiate contracts that protect workers in various ways, most agreements still allow employers to require overtime work.
"Sometime along the line they figured out that with the benefit packages and stuff it could be cheaper if they just did extra production with overtime," Jones said. "If you're working 40 hours, that's unheard of."
The contract Carrier negotiated with its union calls for 40 hours of labor per week, but the company can require employees to pick up an extra shift as long as it gives proper notice ― but that notice can come as late as the previous day, making it difficult to plan family activities on the weekend, for instance.
"Time-and-a-half" pay, which is required under the federal Fair Labor Standards Act, can make those extra shifts more appealing. But it's not always voluntary; workers HuffPost spoke to for this story said they usually expect to be assigned at least one extra shift per week. Some workers love the extra cash and hate the idea of working only 40 hours.
Dean Baker, co-director of the liberal Center for Economic and Policy Research, a liberal think tank that has focused on blue-collar jobs, said it's not just the overhead costs that make manufacturing firms more interested in paying overtime than hiring additional workers.  
"Part of it is they have huge variability of demand and they want these workers to be there when they need them and they don't want to hire more workers, they don't want the overhead cost," Baker said.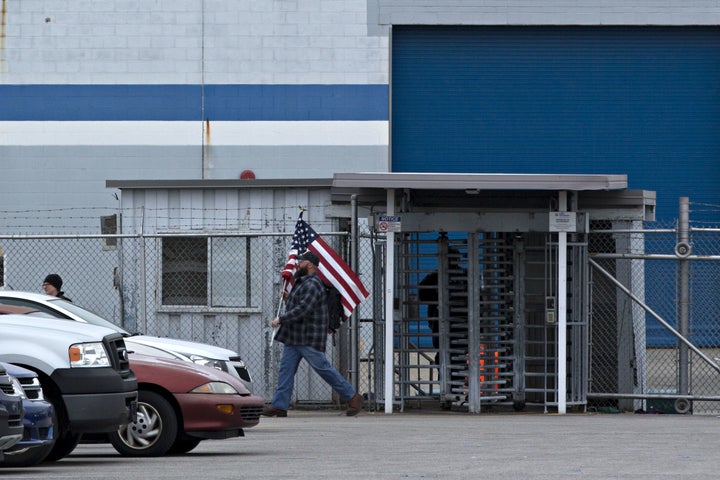 Ed Roell is the president of the United Steelworkers unit at an Indianapolis factory that manufactures and bottles Gatorade. He said that 30 to 50 percent of the workers there are on the job 12 hours per day, 13 days in a row. The typical base wage is about $23 per hour.
"I've been employed there for 23 years and it's been this way ever since that I've been there," Roell said. He and his colleagues take pride in the fact that they're making such an iconic product ― Roell said their factory produces every Gatorade flavor ― and they also like their pay. But not all of them like their hours.
"Most people there are unhappy," he said.
Spokespeople for Gatorade didn't respond to requests for comment. Roell said the company has rebuffed efforts to secure shorter hours in contract negotiations with the union, arguing that it would require new hiring that would be unaffordable for the company. 
Roell, 58, said while the pay is good, he's missed out on a lot of quality time with his friends and family. Around 2012, he bought 10 tickets to take his grandchildren on a scenic railway ride that included a staged robbery by costumed bandits, only to be robbed of the ride.
"I bought the non-returnable tickets and then at the very last moment on a Friday, because the supervisor failed to keep the schedule, I ended up forced working overtime," Roell said.
As he did with Carrier, Trump also criticized a company called Rexnord for its plan to close a bearings plant about a mile from the Carrier facility. But Trump seemingly didn't have much energy for the fight, sending only one mean tweet on the subject. Now Rexnord is moving ahead with its plan to close the factory and shift production to Mexico.
Brian Reed, 45, is still on the job at the Rexnord plant, but expects to be laid off sometime this fall. He said he has no complaints about working six days a week. The hours there are similar to what workers deal with at Carrier, though the Rexnord collective bargaining agreement gives workers more leeway to avoid consecutive weekend shifts. Reed would take the shifts anyway.
"I didn't want to put up with working every Saturday, but when they pay you 40-something dollars an hour, you drag your ass in here and do it," he said. He's glad for the overtime wages, since with the extra money he feels he has the freedom to "be able to take a vacation, be able to go out and eat, be able to buy a new fishing pole or a new gun." 
John Feltner got laid off from his Rexnord job at the end of May. He had been through a bad layoff that cost him his house in 2008, so he was dreading a second round of unemployment. But in a small way, he's glad for a break.
"It's refreshing," he said. "I'm not gonna have to work six, seven days a week."
Calling all HuffPost superfans!
Sign up for membership to become a founding member and help shape HuffPost's next chapter