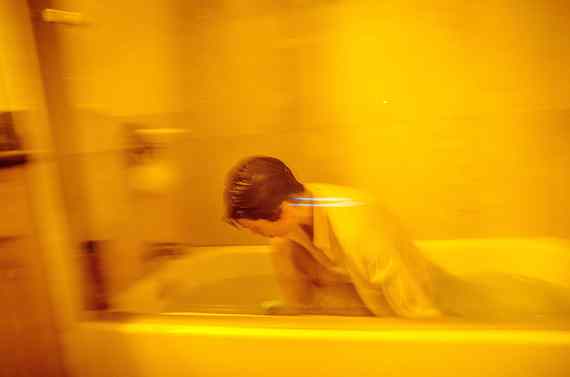 Relief by Charles Slender-White for FACT/SF opens on May 7th at the Joe Goode Annex in San Francisco (Photo: Robbie Sweeny)
It's no use trying to guess what Charles Slender-White will come up with next. Since its founding in 2008, his agile contemporary dance troupe, FACT/SF, has defied pigeon-holing. "Maddening" and "thought-provoking" are words that crop up often, both in reference to his dance theatre pieces and his more abstract work.
Slender-White's background in dance is unusual even by the eclectic standards of the Bay Area, which is fertile ground for makers of contemporary dance and dance theatre, and whose audiences are sympathetic to experiments. Trained as a gymnast and a springboard diver through his teens (he lettered at Cal), he started taking dance seriously at age 19, as a sophomore in UC Berkeley's dance program, under Marni Thomas Wood, distinguished alumna of the Martha Graham Dance Company. While the program gave him a rigorous grounding in Graham and Cunningham technique, he got his ballet fix at Berkeley Ballet Theater.
Summers at the American Dance Festival in North Carolina brought him in contact with Tatiana Baganova, who whisked him off to dance with her Provincial Dances Theatre, a pioneering modern dance company in Russia. So, straight out of college, the inexperienced Slender-White found himself in the industrial city of Yekaterinburg - the first and only American dancer in a company that was heroically fusillading centuries-old traditions of classical dance in Russia. He recalls his two years with the company as inspiring and grueling, surrounded by the highest caliber dancers and immersed in the revolutionary repertoire that Baganova was introducing to Russian audiences.
He was particularly proud of having danced in Baganova's updating of the 1923 Nijinska-Stravinsky classic, Les Noces, and in her surrealist Wings at Tea, inspired by a Chagall painting. The latter involved flying pigs, women made up like dolls, with massive coiffures, men in business suits, both sexes smoking cigarettes like chimneys. They danced the samba with buckets of water, into which the women dipped their hair, then flung their wet hair around. Which all made for treacherous partnering.
Lured back to California's sunnier climes, Slender-White formed his own company, and in 2012, in a fitting nod to his Russian influences, he took FACT/SF on tour to eight cities across Russia, with the support of the U.S. State Department.
Slender-White's creative process usually involves a subversive, often intellectual, and occasionally humorous unpacking of social or psychological phenomena. For his current evening-length work, he and his dancers kicked around a series of questions, both weighty and trivial, around the notion of relief, and satisfaction.
Relief premières this week, and though Ballet to the People sat through a rehearsal of the entire work, she knew she wasn't getting the full sensory experience that audiences will get when they enter the perceptual territory presently being fabricated at the Joe Goode Annex.
Without issuing a spoiler alert, she can tell you that the world of Relief will be... blue. That its denizens are partial to ambient sonorities and French electro-rap. That the FACT/SF dancers - who will be familiar to those who have seen the company's work in recent years - are powerful and lyrical, and when they alight, six inches from your seat, and fix you with a solemn, mysterious gaze, you will not look away. That you will probably be engrossed in working out the cues that the dancers are silently giving each other, the rules of engagement that they've worked out between themselves. And that you will likely be awed at the energy level that these dancers keep up for 70 minutes straight, with only the briefest of pauses.
Rehearsal over, Liane Burns, Michaela Burns, Catherine Newman, LizAnne Roman Roberts, and Amanda Whitehead flung themselves on the studio floor in various contortions of relief (which spell agony for ordinary humans) while Slender-White dispensed notes.
As a dancer in the piece, he too had been swept up in the maelstrom, but was aware of a slight flagging in energy toward the end. He reminded them that, "when choosing to be in motion, there should only be one speed."
FACT/SF presents Relief on May 7-9 and May 14-16 at 8 pm at the Joe Goode Annex, 401 Alabama Street, in San Francisco.
REAL LIFE. REAL NEWS. REAL VOICES.
Help us tell more of the stories that matter from voices that too often remain unheard.