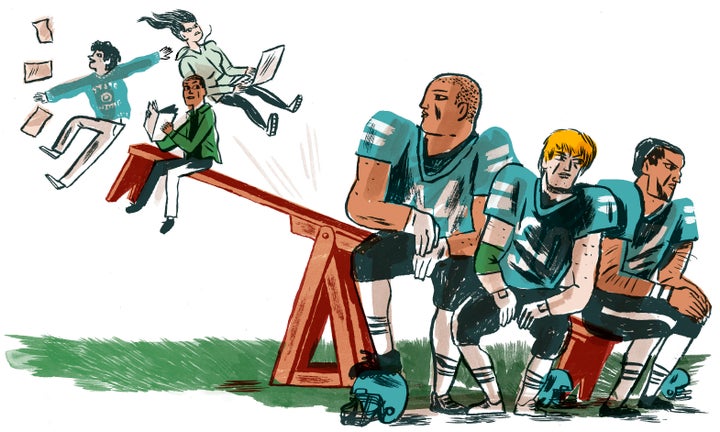 Faculty leaders at universities that compete in Division I, the highest tier of college sports, are sharply divided on whether their institutions should continue to pump millions of dollars into their athletic departments, a survey by The Huffington Post reveals.
"There is absolutely no doubt that continued massive support for athletics has directly affected the quality of education (as well as the level of debt) of our students," wrote Grant Sterling, former chair of the faculty senate at Eastern Illinois University, who was one of 110 respondents to the survey.
"I believe we strike the proper balance," wrote Adrian Bouchet, a business professor at the University of Tulsa. "However, recently we have had major monetary outlays (new coaching hires in football and basketball) in trying to keep up with peer schools." (Bouchet is the Tulsa representative to the Coalition on Intercollegiate Athletics, a faculty group focused on the intersection of sports and academics, which assisted in distributing the survey and crafting many of the questions.)
While a majority of respondents indicated they were satisfied with their institution's financial commitment to sports, 60 percent said they would be opposed if their college decided to boost its contribution to athletics. A November investigation by HuffPost and the Chronicle of Higher Education revealed that colleges have directed more than $10 billion in student fees and other subsidies in the past five years into their athletic departments -- and that most universities are spending more on their sports programs every year. The survey was conducted before that article was published.
Almost one-third of respondents (32 percent) said their institution had recently cut professorships, departments or other teaching professionals as a part of budget cuts. The same proportion responded that in their opinion, their college received "too much financial support" from students and the institution.
Twenty percent of faculty leaders who responded to the survey indicated that they think their college should "give more resources and attention to intercollegiate athletics, but not at the expense of its academic programs."
More than half said students at their schools do not "have a consequential say" in the allocation of student fees to athletics by their university. More than 40 percent said that students should be required to pay an athletics fee.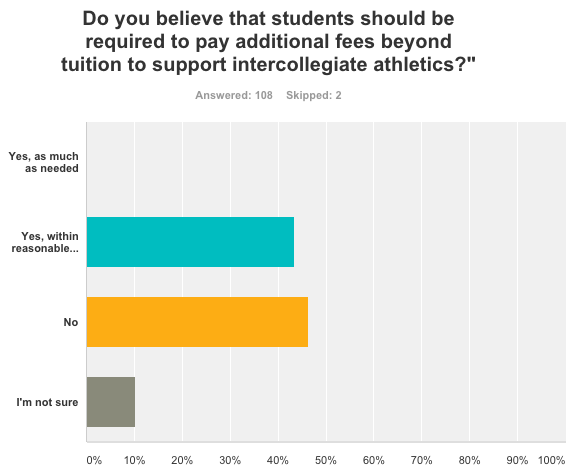 College sports, in general, were viewed favorably by a majority of faculty who responded to the survey. Nearly 60 percent said they "agree" or "strongly agree" that intercollegiate athletics benefit all students at the university, not just those who compete in them.
Concerns about rising costs were most pronounced among faculty leaders outside the so-called power five, the richest conferences with the most successful football and men's basketball teams.
"Declining state appropriations have forced my university to make deep cuts during the past few years and to rely on frozen wages and rising tuition to meet rising costs," wrote Kevin Binfield, an English professor at Murray State University, in Kentucky. "Nevertheless," he said, "the diversion of funding into athletics has increased."
From 2010 to 2014, Murray State's sports programs, including its successful men's basketball team, spent about $76 million. Of that, $54 million came through mandatory student fees, included in each semester's tuition bill, and from direct payments to the athletics department from the school's general fund.

Not surprisingly, perhaps, respondents who teach at colleges where the athletic teams bring in large amounts of revenue tended to express satisfaction with the status quo. "I think our university does a pretty good job of balancing investments," wrote Bob Brookhover, coordinator of undergraduate programs and outreach at Clemson University.
Of $344 million in revenue generated by Clemson athletics over a five-year stretch, just 7 percent, or $24 million, came from student fees or direct institutional support. (That a program as wealthy as Clemson is subsidized at all is another question, one recently addressed by a Washington Post article.)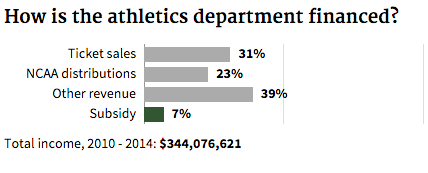 At Eastern Illinois, the question of using student fees and institutional funds to prop up sports has erupted into controversy. A former teacher's college in a deeply rural part of the state, it faces urgent questions about the future of its athletics program, and about the fate of the institution itself.
Enrollment has dropped sharply, down 20 percent in five years, as demographic changes have whittled away at the ready supply of farmers' kids and small-town students who traditionally made up the school's core population. The school's administration has responded by laying off and furloughing staff, and making deep cuts to the teaching faculty. Funding for athletics, however, has remained steady, at about $13 million a year.
Last year, not long after the university rescinded contract offers to 29 non-tenure track professors, the school agreed to a request from the athletics department for an additional $1 million in funding -- money that came directly out of school coffers.
Eastern Illinois' new president is actively enforcing a reduced budget for athletics, according to Jemmie Robertson, an associate professor of music and the chair of the faculty senate.
"I'm a supporter of athletics," Robertson said. "I just don't want it to encumber the rest of the university with debt."
Related
Popular in the Community