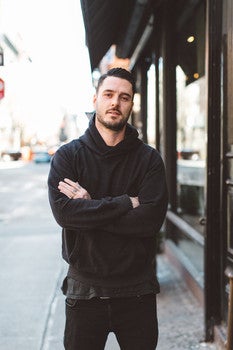 The Lower East Side of Manhattan has been the stomping grounds for European pushcart vendors, rebellious punk rock kids and, now, meticulously-groomed hipsters who troll its streets for Instagrammable scenes. And they can find it—and a flash of all of that New York history—in the grinds at Ludlow Coffee Supply.
In a perfect amalgam of downtown New York City history, the coffee shop now occupies the space that was once the punk bar Max Fish at 176 Ludlow, just a half block from the iconic Katz's Deli.
The employees are appropriately gorgeous and aloof. Customers flock from the cooler enclaves of the city or corners of Madrid, Prague and LA. You should probably have a few tattoos and at least one pair of Ray Bans before you go in. (A Moleskin notebook wouldn't hurt either.)
The coffee menu is short and simple. The beans are imported across the East River from Red Hook, Brooklyn. A maple latte is as heavy on the sugar as it is photogenic. Light bites include baked egg dishes, avocado toast, salads and pastries. But the coolest element is the Ludlow Barber Supply that sits directly behind the coffee shop through a swinging door. Three old-fashioned barber chairs offer another small menu of just six services: haircut, buzzcut, hot towel shave, beard trim, shape up and designs.
But Ludlow Coffee Supply can be forgiven for its hipster preciousness since its owner is the real deal. John Seymour is a New York-born Irish brawler who counts Biggie Smalls among his icons and Nas among his actual friends. He owns various restaurants in Brooklyn and Manhattan and is considering an LA venture soon. Raised in Yorkville among Irish and German immigrants, spending time getting blasted at Max Fish and now helping change the neighborhood, Seymour and his newest shop truly embody the Lower East Side in its ever-changing identity