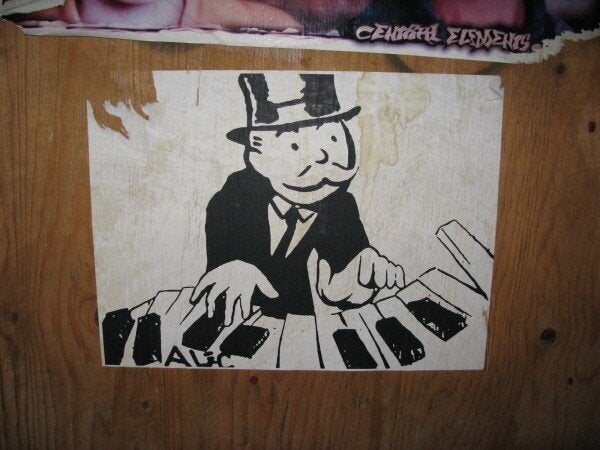 Visiting with street art collective Faile in their Brooklyn studio, we found the industrious duo at the center of a small cluster of assistants working on many simultaneous projects.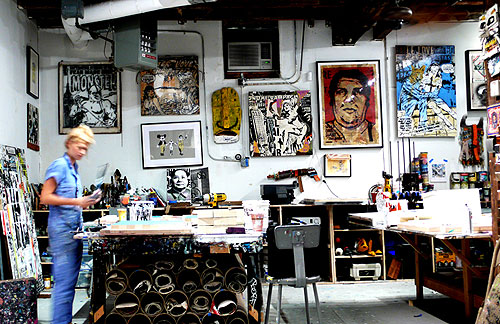 Faile's studio and print shop. (Photo © Jaime Rojo)
The air of collaboration is evident in this maze of activity -- as is an appreciation for process. The multilevel ex-industrial building has been reconfigured internally over the last decade to contain and accommodate the adventurous appetites of these childhood buddies, who took their street art from Brooklyn to the Tate, with many stops along the way. This doesn't happen for everybody, so in this first visit of two before their upcoming debut solo show at Perry Rubenstein Gallery in New York's Chelsea, November 4th, we looked for clues about the creative and working DNA of Faile. In the ten quick, long, rotten, beautiful years of this century, they've methodically plowed through many experiments, from simple, small one-color stencils on light posts to today's museum-quality, raft-sized wooden block collages that take months to screenprint, saw, sand, and assemble.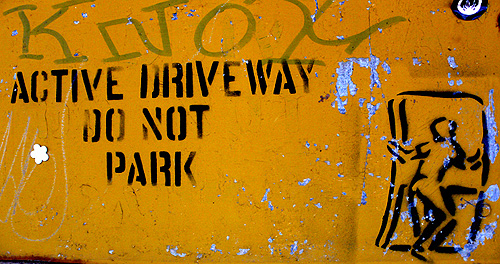 A small stencil on this sign was one of Faile's first in the late 90's early 2000's in Williamsburg, Brooklyn. (Photo © Jaime Rojo)
In a pretty remarkable run through the neighborhood and the globe, the two Patricks have used aerosoled stencils, screen prints, wheat pastes, roller tags, animated video games, carved wood, vinyl sculptures, spinning prayer poles, and even alabaster and tile reliefs in their ever growing collection of work. Cumulatively, the forays have given depth and resilience to their nearly iconic pop imagery.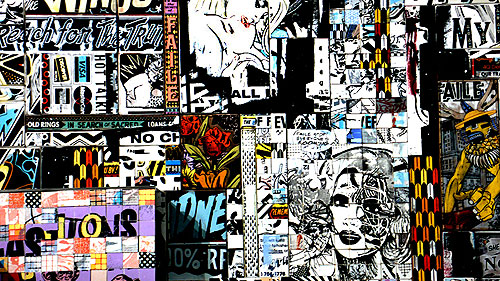 Details of multiple pieces currently in progress at the studio (Photo © Jaime Rojo)
Since their mid-summer return from a Lisbon temple installation, where their piece -- two years in the making -- became a focal point for that city's first biennial, the Faile dudes are now making a multitude of these "wood paintings" here in their Brooklyn studio. Among the many silkscreens stacked against walls, rolled canvasses in tubes, and pieces by Banksy and Shepard Fairey adorning the walls, there are open wooden boxes, maybe twenty or thirty, full of small wooden printed blocks laying open on tables and shelves.Brooklyn Street Art: When the blocks get that small they are almost like just a texture.Patrick McNeil: Exactly, or just color palette. It's so modular you don't get stuck with anything, you get to explore a lot and if it doesn't work you just put it back the way that it was or pull it apart.Brooklyn Street Art: That's right, you can reverse yourself pretty easilyPatrick McNeil: Yeah you just kind of build a piece and then realize it works better in something bigger -- so they are very loose in a sense. It seems very precision-y and thought out but it's much more looser than it looks.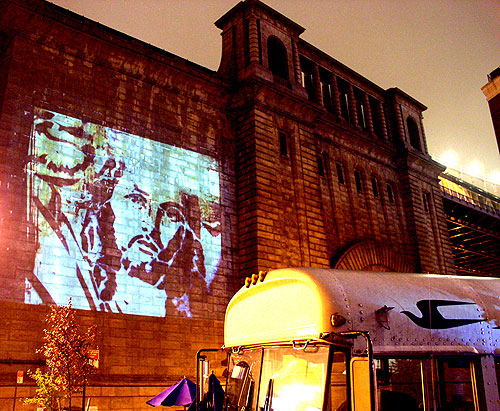 Faile's Jesus appears on the side of the Manhattan Bridge during Brooklyn Street Art's "Projekt Projektor" show in Brooklyn during the DUMBO Arts Festival in 2008 (Photo © Jaime Rojo)
The selective sampling of images that create the Lingua Faile has steadily grown into a library of totems, symbols, pulp art snippets, typefaces and signifiers, set free from their context and recombined with a lucid dexterity, a splash of irony, and an inner voice that says, "go for it." It's an old-school visual sampling that doesn't need autotune for anything, just a hyped sense for combining clips and dropping it on the beat. Talking to them, one sees that it's a loose intuitive sense that is guiding the process.
Patrick McNeil: And I like what is happening in this one, it's still coming along. That one, the bottom needs to be worked out. It's really top heavy. And we'll kind of pull some colors down. That one is just kind of getting started. This one's kind of in the middle right now; just slowly working on blacks and switching things up.Brooklyn Street Art: So you've used a lot of powdered pastels...Patrick McNeil: Yeah...Brooklyn Street Art: Let's see, blasting fluorescentsPatrick McNeil: Well a little bit, yeah. There are not too many fluorescents, well, that pink is probably the only fluorescent. Well, there's yellow on that one. But none of these have any fluorescent.Brooklyn Street Art: I'm thinking of the DeLuxx Flux thing you did with Bast.Patrick McNeil: Yeah, Perry made the rule, "no fluorescents".Brooklyn Street Art: Oh, okay. Well, it's good to have that guidance.Patrick McNeil: Yeah, we might sneak one in there. Then we were looking more at abstractions, breaking color groups up, pushing it really far.Brooklyn Street Art: Yes, that's an unusual combination of the violet and the grey. It looks fresh.Patrick McNeil: Yeah, it's kinda switchin' it up. We kind of like tweak things and leave them up for a while and then switch it out. It's kind of interesting.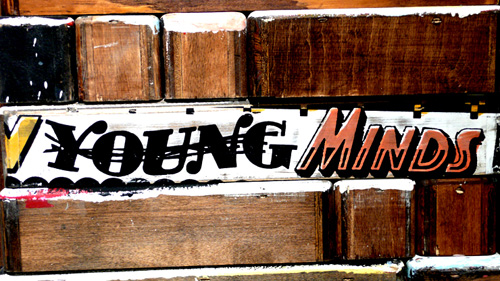 Detail of Faile materials in the studio (photo © Jaime Rojo)
Related
Popular in the Community