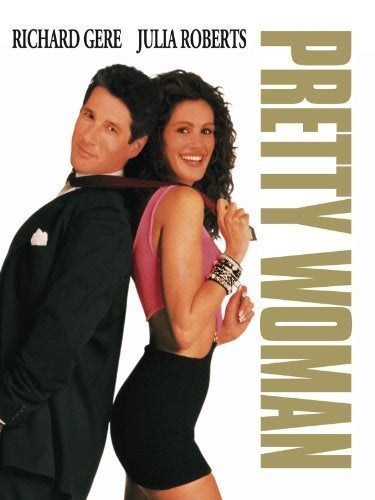 There is an art to naming movies.
Richard Gere and Julia Roberts starring as a prostitute and a business man who fall for one another in "$3,000?" Diane Keaton and Woody Allen as the two main characters in a quirky romantic comedy called "Anhedonia?"
That's exactly what the studio executives were worried about (it's a psychiatric disorder), and that's how officials arrived at "Annie Hall," the Wall Street Journal reports. And as for what became "Pretty Woman," even though $3,000 refers to the amount Edward pays for Vivian's services, it was decidedly too "sci-fi-futuristic" for the people in charge.
Any number of things can determine a film's final title.
The Journal notes that sometimes a standing title gets ousted late in the game because of advertising concerns. For example, "About Last Night," staring Demi Moore and Rob Lowe, was based on a play called "Sexual Perversity in Chicago," but the title proved too risque for television networks.

Other times, a focus group comes back with an entirely different interpretation of what the film is about. According to NPR, when focus groups were asked about a movie called "Shoeless Joe" based on a novel of the same name, the group thought they were in for a story about a homeless man. Moviegoers came to affectionately know that movie as "Field of Dreams."
As NPR notes, dummy titles can sometimes serve as placeholders for the real thing until the creatives figure out exactly what the final title should be. A film in the '90s was shopped around as "Teenage Sex Comedy That Can Be Made for Under 10 Million Dollars, That Your Reader Will Love But the Executive Will Hate." It later became "American Pie."
And as it turns out, there are also some titles out there that are purely accidental, such as when a secretary accidentally wrote "Tomorrow Never Dies" for the James Bond film instead of "Tomorrow Never Lies."
"A great title is one that immediately elicits viewers' interest regardless of how much they may actually know about the movie," Cohen said.
"The more a title describes the story, the less effective it generally is," Dennis Rice, a marketing consultant, told the Times. "You want people to know what they're getting. But you also want to leave them wanting to learn more."
Of course, a good title doesn't necessarily make or break a movie's ultimate success. According to the Journal, "The Shawshank Redemption" is often cited among the worst movie titles, and it ended up doing just fine.
Popular in the Community