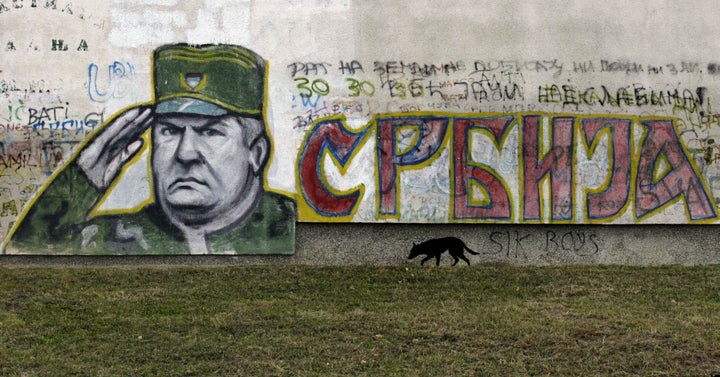 The chic, blond-haired, blue-eyed woman lit her cigarette with a flare reminiscent of Marlene Dietrich as we chatted in a Sarajevo café a few years ago. "I was twenty-eight years old when I lost my love, my husband," said Zlata Mujic, a Bosnian Muslim. She lost a total of eleven family members in the Srebrenica Genocide of 1995, when Serb forces systematically murdered 8,000 Bosnian Muslims and dumped their bodies into clandestine mass graves.
The body bags I saw piled eight-feet high at the International Commission for Missing Persons Headquarters evoked memories of my medical anatomy class, sans the sterility. Same nauseating odor of putrefied, rancid bodies, but with more chilling artifacts: wires used to tie people's hands behind their backs, blindfolds for the mass executions, a blood-stained ID card denoting the ill-fated ethnicity: Bosnian Muslim.
Today Gen. Ratko Mladic, who orchestrated the Srebrenica Genocide -- Europe's worst atrocity since WWII -- remains free, even though the ICTY has indicted him on 15 counts of crimes against humanity. It is rumored that "The Butcher of the Balkans" currently hides in Serbia. The handover of Mladic to UN officials has long been considered a condition before the EU accepts Serbia's bid for candidacy. For three years, the Netherlands and Britain opposed a trade agreement with Serbia, but this year they dropped their vetoes, despite Serbia's failure to extradite a vicious war criminal. Last week, a historic EU referendum was passed; it paves the path for Serbia's candidacy and can be seen as a reward for Serbia's softened stance on Kosovo's independence. Last year, a Bosnian television station aired footage of Mladic, contradicting Belgrade's claims of actively hunting him. The video showed Mladic at a family wedding, playing tennis and cradling a newborn baby -- all joys of life robbed from those exterminated in concentration camps under his command.
Fully ratifying Serbia into the EU would nullify its wartime atrocities and reward a government that is responsible for the slaughter, torture, rape, and ethnic cleansing of thousands of innocents, and that now abets war criminals. The Dayton Agreement, or as Bosnians call it, the Dayton Disagreement, left the fragmented Balkans entrenched in ethnic rivalries. The town of Bratunac holds the highest number of unprosecuted war criminals per capita in all of Bosnia, many of whom serve in the police force and roam freely, taunting Bosnian Muslims at school and beating youth reconciliation groups. During last month's elections, Serb nationalist PM Milorad Dodik was re-elected to the Republika Srpska, reflecting that the Balkans remains paralyzed at milestones of truce.
Plagued by an economic abyss and steady undercurrents of ethnic tensions, the Balkan states are drowning in their own seas of intolerance. Some Serbs have even asked to ban the annual commemoration of the Srebrenica Genocide. Commemoration or not, Zlata Mujic will not forget. Neither will Hasan Nuhanovic. A translator for the UN during the war, Hasan told his parents to leave Srebrenica, knowing they would be slain. When we met a few years ago, he recalled falling in love with his girlfriend, now wife, despite being cut off from her during the war. He once traded $1,000 worth of black-market tobacco for a three-minute phone call with her, during which he played her the guitar. "We were abandoned... during the 'open hunting season of Muslims,'" Hasan noted. This disdain for the international community's apathy is reflected in a monument in Sarajevo: a massive replica of the UN food cans that were distributed during the war, which bears the caustic inscription, "With Eternal Thanks to the International Community, From the Grateful Citizens of Sarajevo."
Must we commit the same crime of negligence repeatedly, trampling over mass graves and stories of tragedy each time? The volatile Balkan region will implode once again unless we uphold justice. The European Union should not choose the Serbian narrative for these gruesome pages of history. It should choose Zlata's: "They told me his [my husband's] body was dumped into the Drina River first. But the legs were found in one grave. The hands in another. The head was never found. Life has only been a fragment of existence since."
Srebrenica is but one horror in this grisly tale. According to the ICRC, approximately 10,000 remain missing. Just last month, the skeletal remains of 250 people were recovered from Perucac Lake in Bosnia. At the Foca Concentration Camp, also known as "Rape Camp," girls as young as twelve were violently raped by up to 10 men at a time. Last week, a Bosnian prosecutor indicted four Serb police officers on charges of mass killing and torturing Muslims during the war. Three are still police officers and only one is detained. Currently, over 5,000 war crimes cases are registered, but many alleged perpetrators wander freely, some even boast of their sadistic wartime acts.
When did we disintegrate into a depraved society that places trade agreements above punishing ethnic cleansing? We owe it to people like Hasan and Zlata to exert pressure on Belgrade authorities to arrest Mladic prior to consideration for EU membership.
In an attempt to save face, I told Zlata that the international community has good hearts, really we do. I told her how I am an American humanitarian aid physician who works in areas of conflict and post-conflict. She took a drag on her cigarette with a pathos that only a survivor of a nightmare could, and with her despondent cobalt eyes full of anguish, scathingly asked, "Where were you when the Drina River was overflowing with the blood of my husband?"