 Ah, the impending threat of death. What a warm and cozy feeling it is to know that each day presents new opportunities to face our own uncertain demise.
In the fantastically macabre Failure: A Love Story, playwright Philip Dawkins manages to find the quirky, heartwarming delight in the unavoidable. The three Failure sisters, Nelly (Baize Buzan), Jenny June (Emjoy Gavino) and Gertrude (Mildred Marie Langford), are shining, independent woman who have bold futures before them. But fate has other plans, and a series of unfortunate events lands each sister in the heavyside layer within a matter of a few short months.
Oh, life: what a vexing puzzle!
On one hand, I related deeply with this tale, which is set in in the late '20s just at the cusp of the crash -- an apt allegory for the impending death of the nation. Speaking of death, my sister, a shining woman in her own right, passed in July after her series of unfortunate events (a surprise diagnosis of stage four colon cancer at age 35). While our family is still reeling from the tragedy, I've come to accept that while life is random and unfair, it's also supremely precious. You simply have to make the most of it while you have it. And Dawkins, along with Seth Bockley's inventively resourceful direction, celebrates this notion through comical, fast-paced scene work.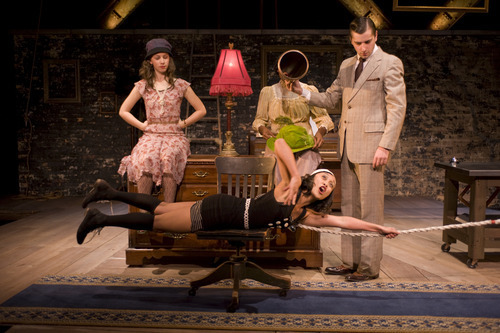 On the other hand, I feel Dawkins squanders this opportunity in turning death inside-out by leaning heavily on quirky tropes, such as the use of clocks to represent the incessant passage of time, and an attention-diverting subplot involving a reclusive adopted brother (Michael Salinas) who collects exotic pets (one of them a python played by the always game Janet Ulrich Brooks). The play also stumbles on its way to conclusion, with an epilogue that seems to forget that the most interesting aspect of the play is the sisters, who, by final blackout, have been sidelined for quite some time.
On the third hand, the unexpected love triangle between the sisters and the dashingly perpetual (or perpetually dashing) bachelor Mortimer (Matt Fletcher) provides an unexpected layer. Mortimer -- who at first falls in love with the free-spirited Nelly, but as the sisters expire one-by-one, forges a connection with tomboy Jenny June and stoic Gertrude -- presents the case that true love comes in many forms. Soul mates are overrated, man. Keep your eyes, and your heart, open to possibility.
"Failure: A Love Story" plays through December 30 at Victory Gardens' Richard Christiansen Theater. More info here.
Popular in the Community