 Like most difficult undertakings, the field of International Development is rife with failure. Addressing the natural reluctance of many donor-financed aid projects to discuss failures, sites like Admitting Failure and events like FailFaireDC 2012 have recently attempted to bring together stories of projects gone wrong.
Former Engineers Without Borders member David Damberger has recently argued that a major thread tying these stories together is a lack of reliable stakeholders in aid projects. This makes sense to us as entrepreneurs: You're not going to stay up all night worrying about someone else's idea, no matter how beneficial it could be. Damberger's water sanitation project in India ran aground after his team left. He argues, development aid projects must respond to the demands of the donor community that finances them, but do not have similar incentives to respond to the needs of the project's beneficiaries themselves, resulting in projects that are unsustainable or unresponsive to the communities they attempt to help. This stakeholder failure is also described by Anthony, a Returned Peace Corps Volunteer in his story of why the small bread baking business he founded in Benin stopped working.
The most direct way to address the stakeholder problem in development projects is to ensure that beneficiaries have significant commercial stake in the outcomes. Although this seems simple, it has been a distant future goal for many old school aid institutions.
Today, hybrid organizations are the phoenix rising from the ashes of failed projects, mixing commercial elements with traditional donor-financed development. These hydbrids seek to integrate the production of social value with the sustainability and responsiveness of commercial enterprises.
At Empower Generation we've been building a hybrid model to supply clean energy solutions to power-deprived rural communities in Nepal. We are building a market for solar lighting and other clean energy products by supporting local, women-led enterprises serving the energy poor. Initially financed with donor funds, the businesses we create are designed to be profitable commercial enterprises. This can create strong stakeholders to perpetuate clean energy distribution Nepal long into the future. We facilitate financing for the start-ups we work with and expect a return on our investment. We consult with our entrepreneurs regularly and provide them with tailored support services, including branding, marketing and technical training that they really need to make their business successful. In exchange, our entrerpreneurs pay a small commission on the products they sell. Our commissions support our growing network of entrepreneurs, while their profits help them grow their businesses.
Since integrating social value creation with commercial activities is still a fairly new phenomenon, part of the challenge for organizations like ours is finding the right model to balance these two goals. We know some revenue models won't work and some businesses will fail, but we will evolve stronger, brighter and more powerful than before.
For more information on our work and our failures, check out our current Give One Get One Campaign on our website.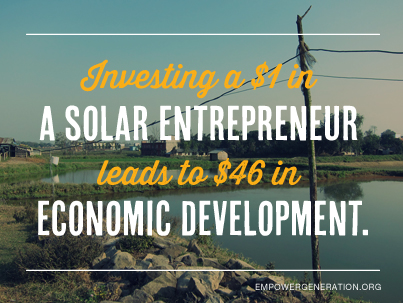 REAL LIFE. REAL NEWS. REAL VOICES.
Help us tell more of the stories that matter from voices that too often remain unheard.