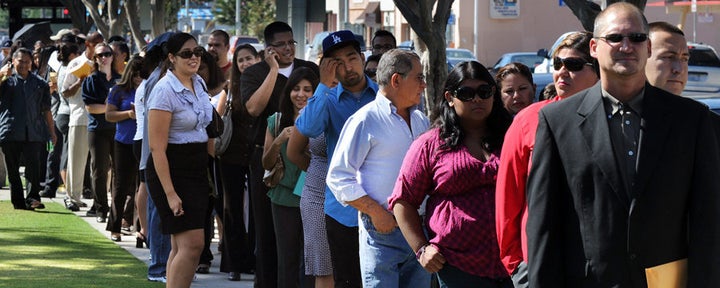 WASHINGTON -- The economy will suffer if the lame-duck Congress fails to reauthorize extended unemployment insurance for the long-term jobless, according to economists.
Zach Pandl, an economist with Nomura Securities International, estimates that the nation's growth in Gross Domestic Product will take a 0.4 percent hit from December through February without the extended benefits, which currently provide five million long-term unemployed with about $300 per week.
"We know a little bit more about what the impact would be because we experimented with this already," Pandl told HuffPost.
Over the summer, Congress spent nearly two months debating reauthorization as benefits lapsed for 2.5 million people. Among them was Lori Hancock, a 52-year-old woman in Weldon, Ill. who said she lost her job in November 2008. She received no benefits for two months starting in June and fell behind on car payments.
"I'd been submitting 20 to 30 job applications a week, and finally I got a job. But, after working for only 2 weeks, my car was repossessed, and without any transportation to get to work, I lost that new job," wrote Hancock in a post on www.unemployedworkers.org, a website by the National Employment Law Project. "If Congress hadn't let those benefits lapse last summer, I'd still have my car and my new job. Now I have neither. What happened to me could happen to almost anybody."
NELP estimates that what happened to Hancock will happen to two million people by the end of the year unless Congress acts before Nov. 30. Several economists told Bloomberg they're betting that the extended benefits, which in some states provide up to 73 weeks of federally-funded aid on top of the 26 weeks of state aid, will not be reauthorized at all.
Tom Porcelli, an economist with RBC Capital Markets, told Bloomberg that consumer spending will fall by 0.5 percent -- $50 billion -- over the next year without the benefits.
When it reconvenes next week, Congress will have just two weeks to reauthorize the benefits. Before Congress adjourned for its August recess, Senate Majority Leader Harry Reid (D-Nev.) filed three cloture motions for bills relating to natural gas, food safety and paycheck fairness.
A Senate Democratic aide said that after those bills are dealt with next week, it's possible Democrats will make a request for unanimous consent to reauthorize the benefits. Details are sketchy on what will be in the request -- whether it will be for a full year or a few months, and whether the cost of the benefits will be offset with tax hikes or spending cuts. Senate Republicans will certainly block any bill that is not fully offset.
Republicans and conservative Democrats have insisted all year the cost of unemployment insurance not add to the deficit, even though fiscal hawks outside of Congress don't consider unemployment benefits much of a deficit problem. The Economic Policy Institute estimates that reauthorizing the benefits through 2011 would cost $65 billion, or 1.7 percent of the $3.8 trillion projected budget.
President Obama went out of his way last week to encourage Congress to preserve the benefits. In the summertime, the White House stayed out of the debate until the last minute.
"The people who are advocating an end to extending unemployment benefits must be getting different data than everyone else," said Dean Baker, co-director of the progressive Center for Economic and Policy Research. "The economy is at best barely creating jobs at a fast enough rate to keep the unemployment rate from rising. All the projections show the unemployment rate will be much higher over the next year than it was when we originally extended benefits. It is hard to see what the rationale would be for ending extended benefits."
Calling all HuffPost superfans!
Sign up for membership to become a founding member and help shape HuffPost's next chapter