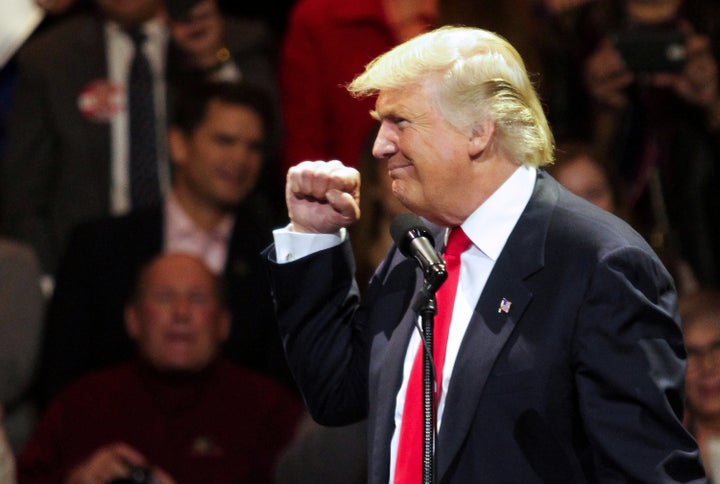 WASHINGTON ― A decade ago, Hazleton, Pennsylvania, passed controversial anti-immigration ordinances that rattled the country. The town declared English its official language, and vowed to punish landlords and employers who rented to or hired undocumented immigrants. Latinos faced discrimination, and some fled.
Civil rights groups sued. The legal affiliate of the Federation for American Immigration Reform, or FAIR, a group that wants to dramatically reduce legal and illegal immigration levels, swooped in to help defend Hazleton. Hazleton lost that battle. Courts blocked enforcement, and the town's Latino population later ballooned thanks to manufacturing jobs and an aging white population. But key people involved in both the Hazleton effort and FAIR's other work are now part of President-elect Donald Trump's team. They could push for harsh new immigration restrictions — on a national scale.
Kirchner could not be reached for comment.
FAIR says it is not a hate group, and in an email to The Huffington Post, the group's president, Dan Stein, called the SPLC "a crackpot operation at every level."
FAIR has never endorsed a political candidate, but it would be "dishonest to suggest that there was not an important symbiosis between the positions of the Trump campaign and many of the policy positions FAIR has articulated over the years," Stein said at a press conference on Tuesday.
FAIR has relationships with the people "on the Trump transition team, as well as his immigration policy experts," he said added. "A lot of the folks involved ... we know really well."
The Trump transition team did not respond to requests for comment.
FAIR announced its anti-immigration proposals for the Trump transition team this week. The group would like to repeal the Deferred Action for Childhood Arrivals program, which gave more than 700,000 undocumented young people temporary protection. They want to prevent children who are born on U.S. soil from being granted American citizenship under the 14th amendment, and reduce legal immigration to approximately 300,000 people per year.
It's too early to tell whether Trump will embrace these proposals. His critics don't want him to. "Trump's deviation from FAIR policy is the smart move," said Liz Mair, a Republican communications strategist who founded an anti-Trump super PAC. "While what he's proposing is objectionable on various different levels, taking an even more restrictionist line, as FAIR wants, is totally economically illiterate."
Trump's "rhetoric tends to be a little, how shall we say, unpredictable," Stein said. But he expressed confidence that Trump will align with his organization.
"If you look at this as a dartboard, kind of see where the center might be —counting on the fact that he's got superb advisers working with him— he'll be moving in the right direction," he said. (In a follow-up email to HuffPost, Stein added that "Trump is a man with his own ideas, and he will make his own decisions.")
Sen. Jeff Sessions (R-Ala.), Trump's pick for attorney general, has long been an immigration hardliner. The attorney general will have immense power in guiding how laws against undocumented immigrants are enforced. FAIR and Sessions agree on "many, many things—but not everything," Stein said.
Sessions' office did not respond to a request for comment.
Stein pointed out that FAIR's reach is broad. "Honestly there are potentially hundreds of people who may be part of this administration with whom we've worked with, coordinated with or interacted with at one time or another," he said.
Another one of those people is Kellyanne Conway, Trump's former campaign manager and senior adviser. FAIR has contracted with her firm for polling, focus groups and opinion research on a regular basis.
Brett Loyd, a spokesman for Conway's polling firm, told HuffPost that she may agree with some of FAIR's points, and not agree with others.
He added that pollsters "do not take positions, and are neither advocates nor lobbyists. Mr. Trump will be the one who decides his immigration platform."
Elise Foley contributed reporting.
Popular in the Community