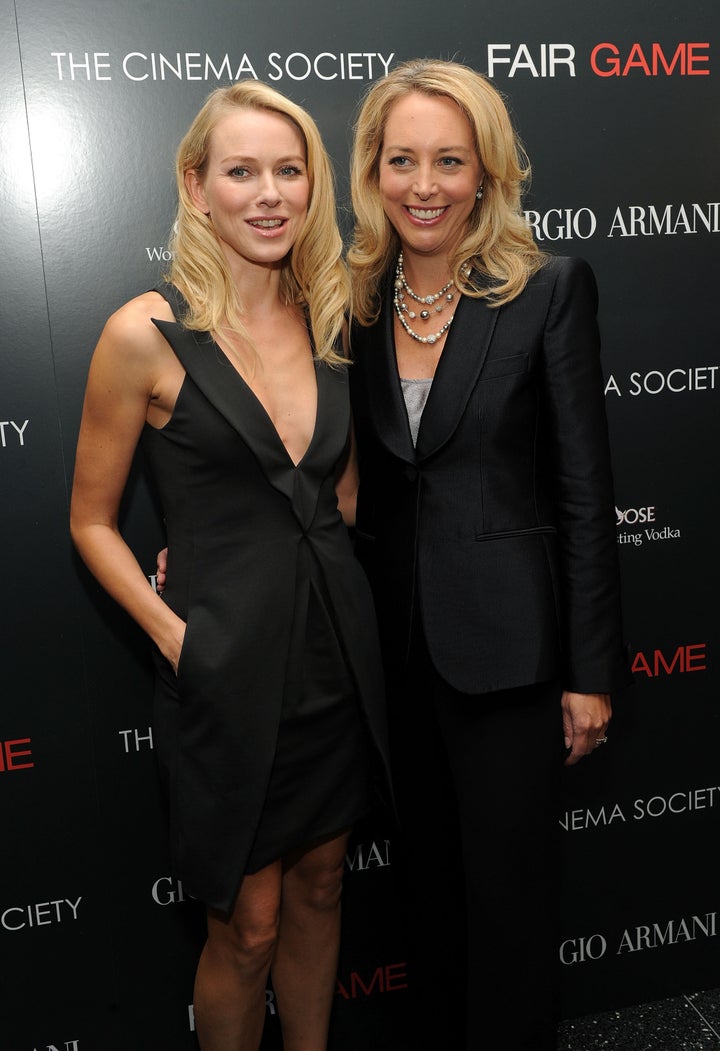 Thursday October 21, United Arab Emirates
We land in Dubai at 8 a.m. One of the perks of visiting what amounts to a monarchy is the VIP treatment. We are whisked off the plane, down a back set of stairs and into a Mercedes -- no airport, no customs. They can do whatever they want since it's their country.
Press tours always include some time to check into your hotel and "freshen up." We are in the UAE for exactly 24 hours and I plan to spend as little of that as possible in a hotel room. I suggest we use the hour and a half to ski instead -- there is an enormous indoor ski hill in the middle of a mall. The skiing isn't bad and is probably a better way to shake off the flight than a shower in the hotel.
We arrive at the Abu Dhabi Film Festival, in time for the filmmakers luncheon. One of the first people we run into is Dr. Sala. He was our Egyptian art director when Fair Game shot in Cairo. He is not a young man, and has worked on films going back to Cleopatra. No one in Egypt could tell us where the doctor part of his name came from. When we first set up shop in a dusty film studio in Giza, which is the town next to Cairo, I found Dr. Sala on the back lot, aging some of our sets with silt from the Nile. I had one of those moments where I thought life doesn't get much more interesting than this.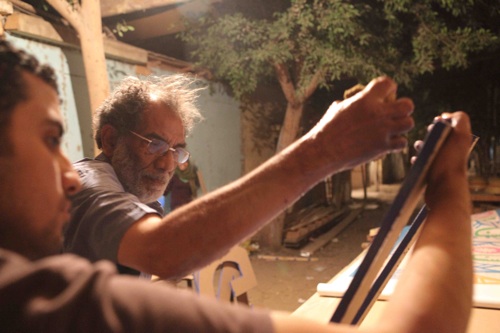 Dr. Sala uses silt from the Nile for Fair Game
That afternoon, I do a panel for the festival with Oday Rasheed, who is the Iraqi filmmaker who coordinated our shoot there. Last time I saw Oday, we were fleeing his office in Baghdad. It was June '09, we had just finished the shooting for Fair Game. Oday had been telling me about a movie he had made, using film stock he looted when Baghdad fell. While his countrymen were stealing televisions, food and desks, Oday was in Saddam's film building stealing as much film stock as he could carry. I was desperate to see his movie, but when we got to his office the head of our security team (we had five machine-gun-toting bodyguards for each American) said we could only spend five minutes there. Even then, as Oday launched the editing system to show us a scene from his film, I looked over at my bodyguards who were sweating and nervously checking their watches and I told Oday I couldn't possibly watch under these conditions. I turned to the lead bodyguard and said: "You want us to leave now, don't you." He said "Yes, please."
I would have another chance because Oday finished his movie and coincidentally it was also showing at the Abu Dhabi Film Festival. I was traveling with my film's co-producer, Avram Ludwig, and he, Oday, I did a panel discussion on filming in Iraq. After the panel it was back to more press, then get ready for the red carpet for that evenings Middle Eastern premiere of Fair Game.
Khaled Nabawy also joined us in Abu Dhabi. He plays an Iraqi scientist in the film, a role that has caused him an enormous amount of trouble in his native Egypt because I cast an Israeli actress to play his sister. During the shoot, Khaled was threatened with being kicked out of the Egyptian acting union if he acted in a scene with an Israeli, and our permits to shoot in Cairo were threatened unless I guaranteed that I would not bring the Israeli actress into Egypt with a personal letter to the Egyptian culture minister. At the time, I was happy to not bring the actress into Cairo because I really wanted to shoot her scenes in Baghdad. It turned out I couldn't bring her into Iraq either -- no Israeli's allowed. I was shocked to discover we had rebuilt Iraq as a foe of Israel. And Israel doesn't allow Iraqis to enter Israel, so like everything in the Middle East, there is no simple right and wrong.
Well, now that the film is done, and people can see that Khaled did in fact act in scenes with an Israeli actress (I had to shoot them in Jordan), he has been the focus of an enormous political firestorm in Egypt where right-wing TV commentators are demanding he explain himself. Khaled, to his credit, has been using the scandal to tell people to buy tickets to go see the movie -- probably the greatest act of turning lemons into lemonade I have ever seen.
That night we screen the movie for an audience of more than a thousand -- almost all from the Middle East (it is subtitled in Arabic). There is a massive ovation at the end, and I go on stage with Khaled, Avram and Oday to answer questions. It may be the most satisfying screening I have ever attended because this audience, which includes a number of Iraqis, appreciated the film on a level where I feel like it changed their previously negative attitude about America. The questions are tough and pointed: why we cast an Egyptian actor and not an Iraqi one (I cast the best actor for the part); the film might bring people to justice in America, but what about the damage we caused in Iraq (I'm stumped on this one)?
Finally someone uses their question to make a statement -- the man identifies himself as an Iraqi. He says that by the end of the film he cared more about the American family in the movie than the Iraqi family, an emotion he did not think he was capable of having after seven years of war. That is the answer to the previous question that stumped me. A late-night dip in the Gulf and then it will be time to head to the airport to fly home for more press and more screenings.
Popular in the Community