A pall of silence enveloped the dining hall as a young transgender activist stood up to speak. The pained expression in her eyes and a labored sense to her walk betrayed a grave announcement to come. The event was a who's-who of Metro Detroit's LGBT and law enforcement communities gathering together to support a new hate crime initiative. Someone accidentally scraped their fork against a plate and the sound carried across the room as the young woman announced how, that day, she had been assaulted. Audible gasps erupted from the crowd. The determination burned and boiled out of her rising voice as she spoke on the issues faced by women like her today.
This young woman, Julisa Abad, is the Outreach Coordinator for the Transgender community at Fair Michigan, a relatively new LGBT advocacy organization founded by Dana Nessel. Nessel is a local hero – she famously represented April DeBoer and Jayne Rowse, taking their high-profile case up to the Supreme Court. She did this in spite of rising opposition from many LGBT advocacy groups that supported more conservative, incremental legal approaches. Despite their opposition, Nessel's work helped foment the landmark Obergefell v. Hodges ruling that now makes gay marriage a constitutional right.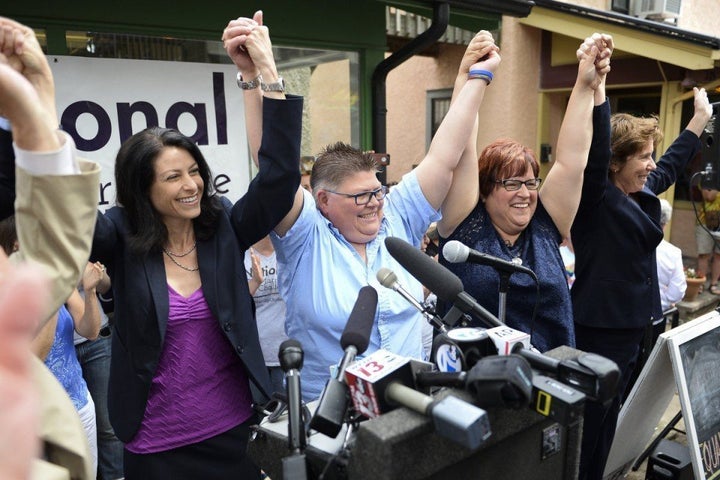 This ragtag group of activists and individuals at Fair Michigan are changing the way LGBT advocacy works in the post-Supreme Court era. While marital rights are secure, the employment, housing and safety needs of the LGBT community are not. Rather than simply forwarding victims to resources elsewhere like other organizations, Fair Michigan is taking a much more personal, and completely new, approach from any other LGBT organization in the country.
A true progressive, Worthy recognized there was a serious issue with LGBT hate crimes, but didn't have the resources to combat it. Victims were often reluctant to come forward, either due to misconceptions about the police or because of real issues being mis-gendered or dismissed when they did bring forward complaints. Worthy wanted violent criminals put in jail, but her department has been consistently underfunded relative to the crime in the area.
That's where Nessel and Fair Michigan came in. Nessel herself is a former Wayne County Prosecutor. She wanted to address the rising spate of hate crimes and found a friend in her former boss. Together in June they formed the Justice Project, which has a dedicated staff that includes a retired police officer and a former prosecutor, who both have been deputized by Worthy's office to investigate and prosecute hate crimes against the LGBT community. It also often involves Abad, who helps ensure that transgender persons are supported throughout the process of seeking justice.
This is important for people to understand: Fair Michigan isn't just forwarding victims to resources – they are actually doing the prosecution and investigations themselves. They have access to the same labs, the same resources and are for all intensive purposes are a part of the prosecutor's office in Wayne County. The only difference is that their purpose, and their paycheck, comes from the LGBT advocacy organization that they serve.
Jamie Powell-Horowitz, the Special Prosecutor for Fair Michigan, feels that this represents a new kind of activism, which both educates the public on hate crimes while creating true justice for the victims.
"Hopefully this project will help people understand the LGBT community is suffering from hate crimes and, I hope it will change people's minds," said Powell-Horowitz. "I think this project will call attention to the issue that our community faces."
Just recently, Fair Michigan had multiple convictions of persons for crimes – one for extortion, the other for an assault that the perpetrator videotaped and posted online. Since sentencing is still yet to occur, Justice Project officials were unable to comment on specifics about the cases, but the convictions represent a swift, and effective, use of their resources.
Abad concurred that this project is necessary and represented a model for other organizations. However, she didn't want to minimize the other work Fair Michigan does, which includes a wide variety of services for the whole LGBT community. Fair Michigan provides all kinds of services to the whole LGBT community, not just transgender persons and hate crimes victims, and has a handful of specialists like Abad that help out.
"One of the things I do is I help transgender persons get vouchers for housing, identification that matches their gender markers, helping them find assistance and medical care for hormone therapy, and I connect them with case workers if they're homeless, need food stamps or are seeking employment," said Abad.
While the other statewide LGBT organization in Michigan continues to be embroiled in controversy related to a number of issues that have alienated most, if not all, of the Michigan LGBT and progressive community in the process – Fair Michigan is rising to prominence as a hands-on, scrappy and grassroots LGBT organization that is doing the work other organizations don't dare to do. With their nose to the grindstone, it's clear that Fair Michigan is finding it's own voice for justice in the post-Trump era by fighting hate crimes and taking on the work that more established organizations have left behind.
Individuals interested in supporting the Justice Project can donate on Fair Michigan's website, which can be found by clicking here.
REAL LIFE. REAL NEWS. REAL VOICES.
Help us tell more of the stories that matter from voices that too often remain unheard.