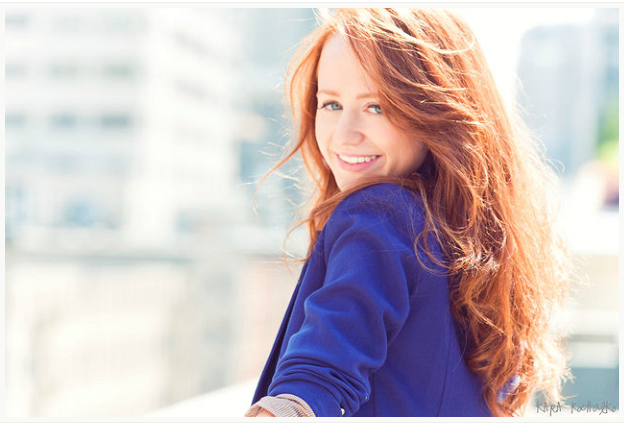 As a redhead beauty expert, I meet many ginger ladies and there is always one question that everyone asks, "How can I look younger?" I know it's hard to believe, but women in their twenties ask the most frequently. After giving advice and talking with redheaded women, I have discovered (and as a ginger myself can attest the same) that natural redheads who have sensitive skin usually worry about aging because the sun isn't as friendly to their skin as darker skinned women (this is why you fair skinned women must wear sunscreen!). And although most natural redheads don't go grey, but instead turn white, their red hair usually 'turns' earlier than brunettes and blondes because of the unique color. Because of these genetic occurrences, I guess it is only natural that redheads want to know how to look younger than the rest.
Below is my top advice for looking young -- no matter what age (or hair color) you are!
1. Get a Trendy Haircut: Your hair style can make you look 10 to 15 years younger. The trick is finding the right style for your face. Look to the redheads on the red carpet for advice. If you want a more mature look, opt for a medium length, voluminous style like Christina Hendricks. If you have longer hair, look to Nicole Kidman for how she styles and keeps up her red locks.
2. Grow Your Hair Longer: Having long hair that extends just below the top of the shoulders can make you look younger. The best example of this is Julianna Moore. It is truly hard to believe that the woman is in her 50s! What I love the most about women her age who rock longer hair is that they go against the tale that women need to keep their hair shoulder length to look age appropriate. It's not true. Let your hair grow and add volume with waves and curls.
3. Keep Your Color Enhanced: If you're going white, visit a salon to get your hair colored. I was once told by my stylist that white or grey hair is instant age and I completely agree. There are, of course, some women that are exceptions, but in most cases a woman should never allow herself to go completely white. If you're a redhead, you probably have a stereotypical fun and spunky personality, so stick to your natural roots and keep your hair beautifully red!
4. Keep Your Eyebrows Maintained: Eyebrows completely shape the face, so it is super important to keep them groomed. Make sure to give them an arch and cut them so they don't get bushy. If you're missing hair, simply use an eyebrow pencil to fill in your brows.
5. Start Anti-Aging Regimens Immediately: I've always recommended that women use anti-aging lotions and treatments from the moment they start to use products. Why? Because it doesn't hurt to start early. My grandmother always had flawless skin without one wrinkle and her advice was anti-aging creams and staying out of the sun.
6. Makeup Tricks: Thank goodness for makeup because it can transform a look in a matter of minutes. One of my favorite tips is to wear sparkly eyeshadow to brighten the eye and wear eyeliner and mascara on the top lid to open the eye.
Keep beautifully Red and Rock it like a Redhead!
Image courtesy of How to Be a Redhead! Photo by Kara Kochalko.