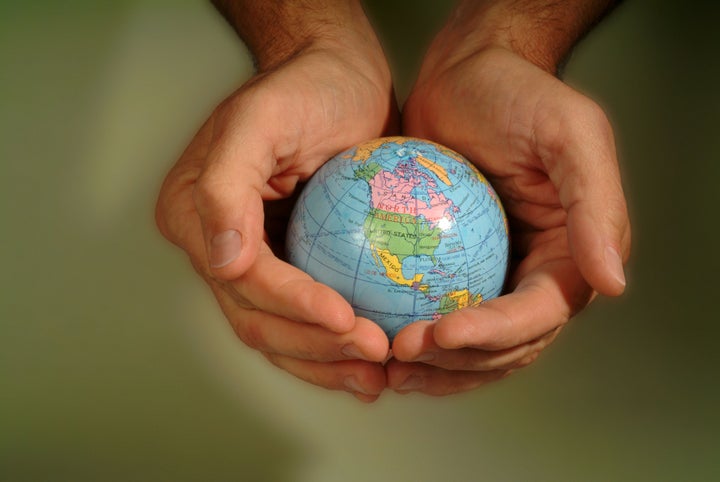 The idea of fair trade as a development tool is old news. But, last week's extension of the fabric provision of the Africa Growth and Opportunity Act has brought into focus a whole new way of doing it. What was once the realm of coffee beans and chocolate is now becoming increasingly populated with beads, bracelets, sandals, colorful fabrics and head wraps. It seems that local and international development organizations have found that a whole new sector ripe for fair trade partnership: fashion.
In the last few years, more and more high-end designers have turned to African artisans to help source fabrics and designs. Aside from pumping money into the local economy, the fashion projects are putting extra focus on local women, who often make up the majority of artisan co-ops. And, it seems that the African artisans aren't just supplying labor: perhaps by coincidence, perhaps not, African prints and styles have begun popping up with increasing frequency on runways in Milan and Paris, and September's Mercedes Benz Fashion Week will feature a Sol Afrik event concentrating on fashions from the African diaspora.
The number of organizations that approach development through fashion is still relatively small compared to more traditional fair trade NGOs. The organizations generally break down into two categories: fashion brands whose main purpose is to source from developing countries, and third party intermediaries who connect high-end, socially conscious brands with artisans in developing countries.
Perhaps the most interesting player in the first category is Maiyet, a clothing company co-founded by the former Executive Secretary of South Africa's Truth Commission, for the sole purpose of using fashion to promote peace and economic sustainability. Maiyet debuted its most recent line of clothing, shoes, bags and jewelry at Barneys New York this March. The fact that a big-time human rights lawyer decided that fashion is the best way to promote peace and sustainability came as a shock to me. But it seems Paul van Zyl is far from alone in his philosophy.
The UN and the WTO have partnered to create what is probably the most high-profile player in the second category of fair trade fashion organizations: the Ethical Fashion Programme, which connects haute couture labels with African artisans. The most public partnership to date has been with British designer Vivienne Westwood, who used 7,000 women in Nairobi to create a line of handbags that sell for $135 online.
A local, quickly rising player (disclaimer: I have done volunteer work for this organization) is Indego Africa, a social enterprise that partners with female artisans in Rwanda to create bracelets, necklaces and scarves for the likes of Nicole Miller and J. Crew.
As CEO Conor French explained to me, the goal of most social enterprises that source from developing communities is two-fold. The first step is to plug producers from limited-source communities into an existing supply chain. This step quickly pumps money into a community and drastically expands the artisan's marketplace. However, the more crucial, and arguably more difficult, step is to help the artisans achieve economic independence. The goal is to educate the local artisans in essential skills, thereby transforming them into sophisticated parties that can operate on the world market without the help of an intermediary.
Indego Africa, for example, achieves this step by using its profits, combined with donations, to create programs in business management and entrepreneurship, English and computer skills for Rwandan artisans. Edun, a clothing company co-founded, not surprisingly, by Bono, uses part of its proceeds to teach Ugandan cotton farmers about rotational crop growing (8,000 farmers have enrolled for the 2012/2013 season). The goal is for the intermediary to let participants run their own show, and to shift its programmatic emphasis on new participants.
Measuring the success of this second step isn't easy. Indego Africa obsessively tracks its impact on participating artisans and their communities, transforming it into detailed reports that measure everything from average income to percentage of artisans who have bank accounts and electricity. In 2011, the percentage of artisans earning $1 or more per day increased to 67 percent, from a scant 7 percent in 2008. Even at $1, the increase in income seems to have made the difference between having, and lacking, the most basic amenities. For example, in 2011, 92 percent of artisans reported that they and their families ate two or more meals per day, compared with only 39 percent in 2008. Similarly, in 2011, 39 percent of the artisans had electricity, compared with just 11 percent in 2008.
So, why fashion? Part of it may have to do with the celebrity factor of designers. When the owner of a local coffee shop travels to Tanzania to source fair trade beans, nobody pays attention; but when Nicole Miller hops on a plane to go to Rwanda, the national press responds. Alternatively, perhaps fashion has emerged as a way to reach a new sector of charitably-include consumers who had not previously had an occasion to spend for a good cause. Just as foodies of the world have flocked to back sustainable foods, so development organizations hope that fashionistas will clamor to invest in feel-good fashion. Or, it may just be that wearing a piece of fair trade clothing or jewelry is a more visible statement than chowing down on fair trade chocolate. We are, after all, exhibitionists, and what good would social responsibility be if we couldn't broadcast it to the world?
Related
Popular in the Community