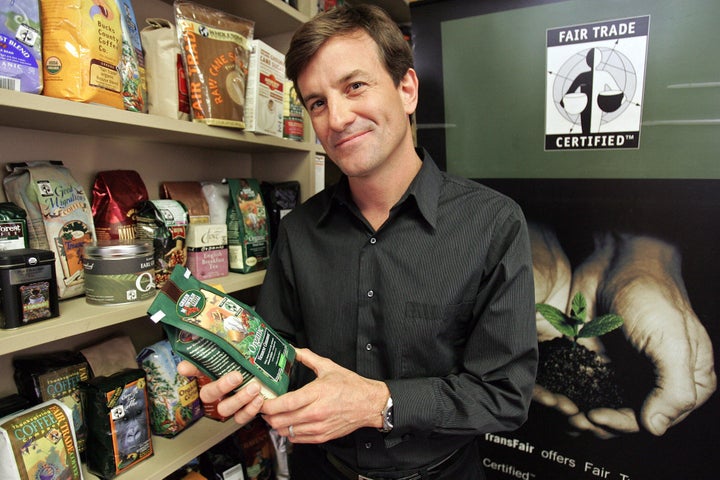 These days, companies that sell fair trade-certified food might be doing much better than "fair." Sales of products with Fair Trade USA's seal of approval for ethics and sustainability rose 75 percent in the fourth quarter of last year over the first quarter of 2011, according to a recent report by retail research company SPINS.
The spike in sales took place even though fair trade-certified products, about 95 percent of which are edible goods, almost always cost more than alternative items.
"[Recent growth] reflects consumers' interest in being able to vote with their dollars to make every purchase matter," Mary Jo Cook, chief impact officer of Fair Trade USA, told The Huffington Post.
Cook's employer, a nonprofit organization, is best known for certifying products like chocolate and coffee, which are predominantly made from one agricultural commodity. But Fair Trade USA also certifies products composed of multiple ingredients; this is the category that experienced the most vigorous sales growth. Sales of fair trade-certified frozen desserts rose 394 percent and purchases of fair trade-certified snack bars climbed almost tenfold during the 12 weeks ending March 19, 2011, as contrasted with the 12 weeks ending Dec. 24, 2011.
A major reason for the tremendous growth in sales is the recent embrace of fair trade by a few major brands, Cook said. Ben & Jerry's, for example, committed to using fair trade ingredients in February 2010 and has slowly been moving toward universal adoption for all its products. That means that some consumers may have started to buy fair trade-certified products without realizing.
Commodity products, like bananas and coffee, must be 100 percent sourced from fair trade producers to bear the vaunted label, according to Fair Trade USA. Foods that carry the "made with fair trade ingredients" label must meet a lower threshold: Just 20 percent of the dry weight of the product has to be sourced from certified suppliers.
Many customers are more concerned about ethics than they used to be, according to surveys and market studies cited by Cook. "If price and quality are similar, over half of consumers now say they will switch brands in favor of a company with more ethical practices," she said.
It's not a given that the price will be similar, however. For a product to become certified by Fair Trade USA, the ingredients must be produced according to certain ecological standards -- which Cook said are somewhat less stringent that those for the U.S. Department of Agriculture's organic certification. Also, a certain amount of money from the product's sale goes toward improvement of the communities where ingredients are sourced (the surcharge varies from product to product).
Many customers seem willing to pay up. A 2011 study by MIT researchers found that consumers were willing to pay about 8 percent more for fair trade coffee than for equivalent coffee without such certification.
"Customers are beginning to recognize that there's a great story behind the label," said Carol Madeiros, a global grocery coordinator for Whole Foods Market, one of the biggest vendors of fair trade products. "It's definitely a plus when our customers see that. It's a great attribute, like organic or local."
Not everyone's convinced, however.
"If you're ceasing to buy coffee from a rich place and starting to buy it from a poor place, that's great," said Tyler Cowen, author of "An Economist Gets Lunch," which will be published next month.
"But in general, that's not what happens. Instead, you're creating a slightly privileged class of very impoverished workers," Cowen said. "I don't think, on net, fair trade hurts people. It hurts some people and helps others. But when people feel very magnanimous about buying fair trade, that's when it starts to be a problem."
Fair Trade USA has been dogged by accusations of mismanagement and naivete. Some have argued that the extra money spent by consumers on fair trade-certified products ends up in the hands of the wrong people -- or even in the wrong country.
Cook said Fair Trade USA goes to great lengths to be transparent about the distribution and use of funds allocated to grower communities and points to its impact reports on its website.
Related