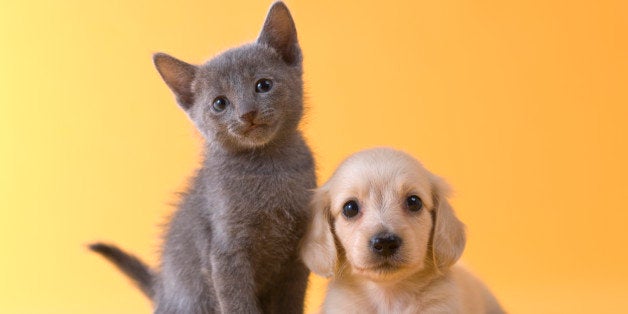 Ordinarily, an animal shelter running out of kittens would be great news.
"We wanted to have a Valentine's celebration that would bring cheer and joy to everybody who came through our doors," says Kristen Auerbach, spokesperson for the Fairfax County Animal Shelter in Northern Virginia. "We decided that we had to offer kitten and puppy 'therapy' during this event as part of the promotion. Because if you're feeling a little bit down, there's nothing like cuddling baby animals to make you feel better."
Here's the rub: Now is the "quiet time of the year," before the shelter is flooded with puppies and kittens in the spring and summer months. "We have some older kittens, which we call 'cattens,' but they are almost full grown. We have no young kittens available," Auerbach says.
Puppies, luckily, have been secured: nine siblings, on loan from a rural shelter. "They're chocolate labs crossed with Australian shepherds," says Auerbach. "So cute."
As yet, though, none of the rescue groups or shelters that Auerbach has reached out to has been able to meet FCAS's need for kittens. It's a problem not just because kittens have been promised, but because people often end up adopting older shelter animals after snuggling with younguns.
From Feb. 13-15, which is when the cuddle-able kittens and puppies have been advertised, fees are waived on animals who have been at the shelter the longest. Auerbach says that last year, all these long-timers found forever homes during the Valentine's Day kitten and puppy event. That's why, she says, there's some urgency to getting hold of some tiny cats -- and fast.
"We do have a lot of cuddly animals like bunnies and guinea pigs, but the we are determined to have some kittens on hand for our visitors," she says. "We're looking for around ten kittens, give or take a few. A couple of litters would do it."