When we were planning our girls trip this year, Bermuda was not one of our first choices. We were looking into Charleston, Vegas, Miami.. and other similar stereotypes. But when our schedules didn't workout and Bermuda was thrown in as a option I reluctantly agreed - thinking as long as there were some beaches and decent weather and my girl friends to keep me company we will be ok. My lack of excitement was more because of my ignorance and the lack of convenient flights from Dallas. But after researching a little we found perfect connections from the East coast and there were several of them from Newark, Philly, Toronto. My friends were joining from the East coast, so apart from the lonely 2 hour flight from Dallas to Newark, I had company.
The Resort
Once we decided on Bermuda, the resort choice was easy - we wanted to be by the beach and in a beautiful property. Fairmont Southampton fit the bill perfectly. Located in Southampton parish and perched on the highest point of the island, Fairmont Southampton Hotel overlooks the surrounding lush tropical gardens, pink sandy beaches and its own 18-hole lush golf course. We spent four great nights here with beautiful views of the bay from the balcony. Lots of sports and leisure activities including some of Bermuda's finest dining are all here in this 100 acre luxury estate. The resort has its own private beach and beach club steps away from the main lobby. We loved how everything was pink - from the golf carts to the shuttles. Even though Bermuda is located closer to North America than Britain, it definitely has a European vibe to it. Bermuda has long been a British colony in the past and we saw a lot of British influence in Bermudian culture including the clothing and dress code. Unlike in the US, Bermuda in general follows more conservative attire and clothing customs. Men were in their sport jackets or polo shirts for dinner and women in nice dresses. I particularly loved the men's fashion - they were so dapper in their Bermuda shorts, jackets and long socks - so Bermudian!
The Restaurants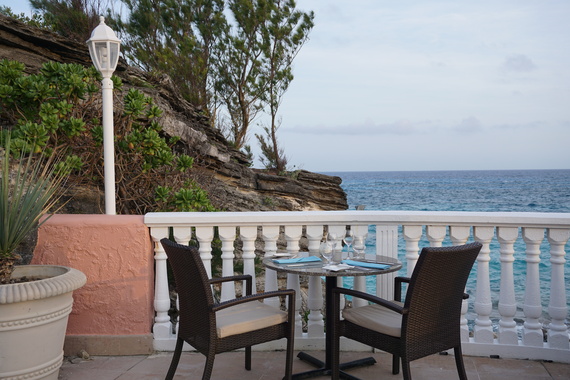 The resort boasts of nine restaurants and eateries with unique cuisine and ambience, and a great spa. We ate all our dinners in the resort. The Ocean club overlooking the bay was our favorite. It is open only for dinner and you can showup in your swim cover-up or seersuckers. The mild Atlantic ocean breeze was caressing us in our borrowed pashminas as we enjoyed our sundowners, listening to the breaking waves as our soundtrack. My friends enjoyed the seafood - the Prawn Curry and over Jasmine rice was exceptional said one of them while I devoured the Tomato Artichoke tart filled with Bermuda farmed Goat cheese and caramelized onions. We had late night snacks at Jasmine - the blacked Mahi mahi tacos and flat breads were pretty good. We had dinner one night at the Italian restaurant Bacci - it was mediocre, nothing to write about. I would skip that and try the Steakhouse, Waterlot Inn next time.
We loved soaking in the Jacuzzi late night under the stars. The pool area was relatively quite since we were there during shoulder season and heard it is popular with kids come summer. Their Kids' programs are exceptional offering art and craft lessons as well as beach toys to the kids. The hotel is recipient of several awards including AAA Four Diamond Lodgings 2015, Frommer's Exceptional and others.
The Beach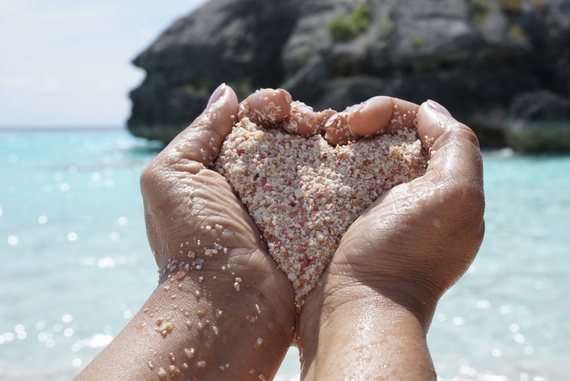 Horseshoe Bay located right next to the resorts private beach is Bermuda's most famous beach, and it's one of the best for families. Unlike most island beaches, Horseshoe Bay has a lifeguard on duty from May to September. We took the resorts shuttle to the beach and walked over to the horseshoe bay beach pretty much every day. The sand was a soft pink - a result of millions of tiny read sea creature that have been crushed by the powerful waves of the mid-Atlantic ocean. The South Shore has the best pink sand beaches. The resort also has its own private beach lined with lounge chairs and umbrellas.
Around Town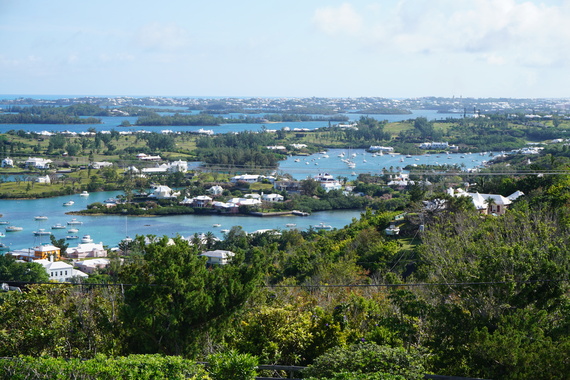 There is a complimentary ferry ride from the dock at the Waterlot to the Hamilton Princess, the resort's sister property. We availed this and went into town and spent an afternoon discovering the charming capital city of Hamilton. We had wanted to go to high tea while we were there, but we got distracted with the Rum Swizzles at Devil's Isle café and had to cancel our tea plans at the Hamilton Princess. The falafels, truffle fries and sweet potato fries we had with our Rum swizzles at the café was delicious. We heard good things about the Pickled onion as well. Forgot to mention the breakfast we had at The Spot, their omelets and raisin bread was spot on. We met the friendly owner Tom who came around to say hello. You can't hire cars in Bermuda, you can rent mopeds or scooters though. Taxis were available everywhere. Since our trip was short and knowing very well if we were left to our own means we won't discover 400 years of history of the island in a short 4 days, we went on a tour with Heidi with Byway tours to visit St. George, Gibbs light house and some of the beautiful bays of Bermuda. More about that later.
3 other Resort options around the island, because now that I know where Bermuda is and how to get there, I plan to take the family :)
The Hamilton Princess, a Farimont managed hotel is located by the harbor offers elegant rooms and suites of varying sizes and decor, many with private balconies and overlooking the Hamilton harbor. Some suites continue to offer the old colonial charm with wooden furnishing and hardwood floor. The hotel has undergone multi-million dollar renovations in the recent time and has added several amenities including an infinity pool and a restaurant offering al fresco dining with lovely view of the harbor.
Spread over 200 acres of land area in Rosewood Tucker's Point, the hotel and the rooms offer wonderful view of the Atlantic ocean as well as Castle harbor and Harrington Sound. It has 88 rooms with private balcony or patios. Some suites have fireplaces, dining areas and wet bars. The rooms are mostly painted with shades of green and yellow with stone toning. The hotel has its own private beach and many other exclusive amenities including a great in-house spa and it's own 18-hole golf course.
Perched in spectacular limestone cliffs, The Reefs is an award winning resort and overlooks one of the most beautiful private beaches. This boutique beachfront retreat is a relatively small but exclusive resort. It's a perfect place to relax, unwind and enjoy a romantic getaway, honeymoon or a family vacation.
Have you been to Bermuda? Is it on your bucketlist, if not you should add it now and go visit the Pink sand beaches!