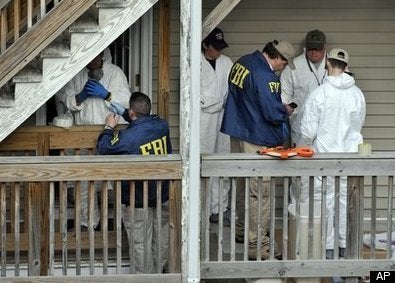 NEW YORK (AP) -- A Pakistani-born U.S. citizen was hauled off a plane about to fly to the Middle East and arrested in the failed attempt to explode a bomb-laden SUV in Times Square, authorities said Tuesday. One official said he claimed to have acted alone.
Faisal Shahzad was on board a Dubai-bound flight that was taxiing away from the gate at Kennedy Airport when the plane was stopped and FBI agents and New York Police Department detectives took him into custody late Monday, law enforcement officials said.
"I have a message for you to go back to the gate immediately so make the left turn when able," says the controller. "I don't know exactly why but you can call your company for the reason."

"We're trying to figure out what's going on here right now," says someone from the airline. "I'd like to request you to keep the flight plan open right now."
Authorities did not address Shahzad's plans in Dubai. The airport there is the Middle East's busiest and is a major transit point for passengers traveling between the West and much of Asia, particularly India and Pakistan.
Dubai-based Emirates airline said three passengers were pulled from Flight EK202, which was delayed for about seven hours. The airline did not identify Shahzad by name or name the other two passengers.
The aircraft and passengers were then screened again before taking off Tuesday morning, and the airline is "cooperating with the local authorities," Emirates said in a statement e-mailed to the AP. The other two passengers who had been removed were allowed to get back aboard the flight, the airline said.
U.S. authorities "will not rest until we have brought everyone responsible to justice," Attorney Eric Holder said early Tuesday, suggesting additional suspects are being sought.
In Pakistan, intelligence officials said at least one man has been detained in the southern city of Karachi in connection with the Times Square case: a man named Tauseef who was a friend of Shahzad. He did not say when the man was picked up.
Another Pakistani official said several people had been taken into custody since the failed attack. Both officials spoke on condition of anonymity because of the sensitive nature of their work.
President Barack Obama said "hundreds of lives" may have been saved Saturday night by the quick action of ordinary citizens and law enforcement authorities who saw the smoking SUV parked in Times Square.
"As Americans and as a nation, we will not be terrorized. We will not cower in fear. We will not be intimidated," Obama said.
Shahzad, 30, had recently returned from a five-month trip to Pakistan, where he had a wife, according to law enforcement officials who spoke to The Associated Press on condition of anonymity because of the sensitivity of the investigation into the failed car bombing.
Shahzad became a naturalized U.S. citizen last year shortly before traveling to Pakistan, a federal law enforcement official in Washington said, speaking on condition of anonymity amid the ongoing investigation.
Investigators hadn't established an immediate connection to the Pakistani Taliban
Related
Popular in the Community